A Friday Visit with Jim Korkis: Garner Holt Productions
By Dave Shute
Welcome back to Fridays with Jim Korkis! Jim, the dean of Disney historians, writes about Walt Disney World history every Friday on yourfirstvisit.net.
GARNER HOLT PRODUCTIONS
By Jim Korkis
In 2012, Garner Holt Productions in San Bernardino, California acquired the complete Disney animatronics parts inventory dating back more than forty years. The 500,000-part former MAPO inventory included components from Pirates of the Caribbean, Haunted Mansion, Great Moments with Mr. Lincoln and the Carousel of Progress. That means Garner Holt Productions now serves as the replacement parts lead for Disney audio-animatronics.
Garner Holt and his company was granted this unique honor because of its outstanding work on Disney theme park attractions as well as its commitment to innovation in building some of the most sophisticated animatronics figures ever created.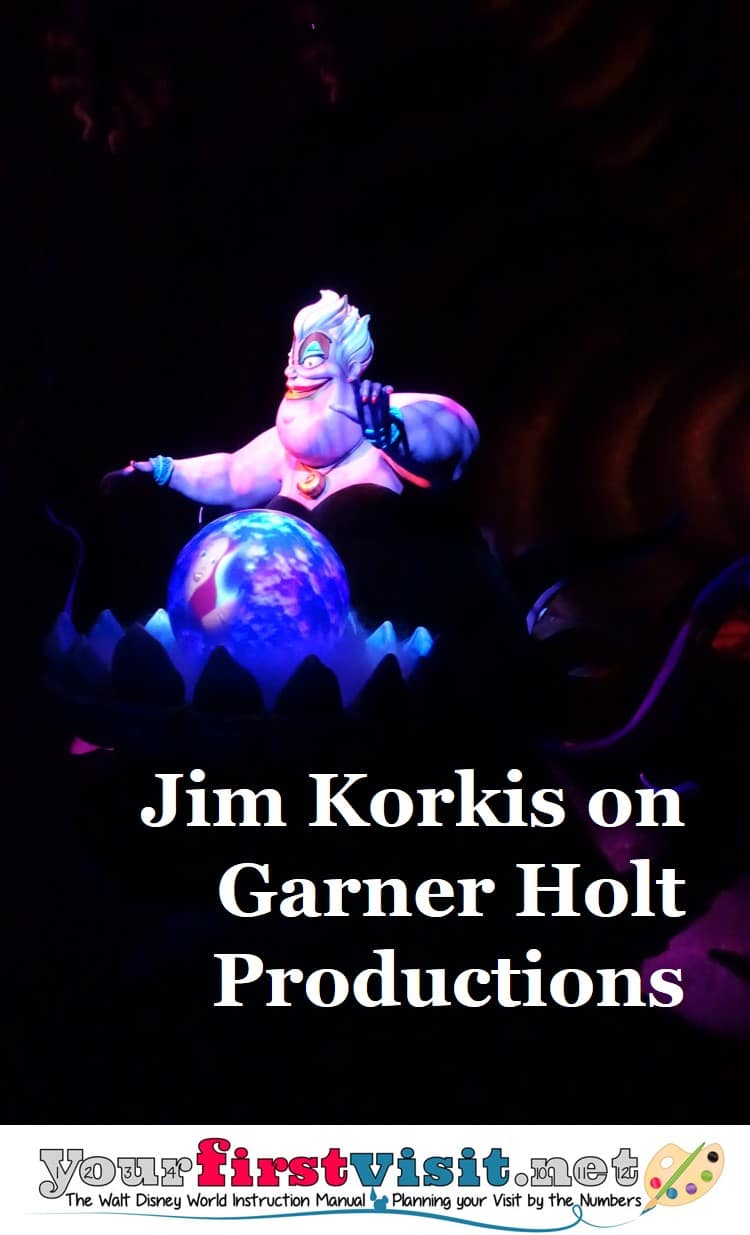 Garner Holt Productions has over five hundred audio- animatronics in attractions at nearly every Disney theme park around the globe, from the Buzz Lightyear Astro Blaster and Finding Nemo Submarine Voyage to Little Mermaid: Ariel's Undersea Adventure, the latest Matterhorn Abominable Snowman and Radiator Springs Racers.
The forty-five foot tall Maleficient dragon in the finale for Disneyland's Fantasmic! Nighttime show is the work of GHP.
"There were a few delays" creating that, Holt said. "You're talking about arguably the largest and most complex figure ever built."
In 1973 at the age of twelve, Holt visited Disneyland and decided he wanted to be an Imagineer. His racehorse-trainer father wanted him to become a veterinarian, but that vacation trip changed young Holt's life.
"That sealed my fate for the rest of my life," Holt said. "I still remember leaning over the front seat during the car ride home and saying, 'I'm going to build theme park rides'. "
The next day, Holt set up a card table in his father's garage and started building his own animatronics robot. Soon the entire garage had expanded into a workshop. With limited resources, Holt tried to recreate some of the Disneyland ride attractions.
In 1974 for Halloween, Holt built his own Haunted Mansion in the backyard with talking skulls and flying bats that turned a tidy profit for the 14-year-old. The backyard maze was so impressive that the young entrepreneur was hired the following year to build haunted houses for a pair of area shopping malls.
All the while, Holt continued to return frequently to Disneyland as much to figure out how the rides worked as to ride them. In 1976, he built a crude Uncle Sam animatronic as a tribute to Great Moments with Mr. Lincoln. Made out of fence posts and cobbled-together parts, the amateur animatronic moved in twenty-eight lifelike ways.
In 1977, the sixteen-year-old incorporated Garner Holt Productions, installing himself as president and chief executive. Executives at Walt Disney Imagineering had seen a video of the Uncle Sam figure and were impressed enough to visit. Among those visitors was Holt's personal hero, Wathel Rogers, considered the father of audio-animatronics.
The Imagineers encouraged Holt to stay in school and go to college, but Holt decided to devote his time to his new company. The company evolved into providing animatronics, show action systems, special effects, and other creations for theme parks, museums, retail and dining experiences, and other attractions including Knott's Berry Farm, Universal Studios, Las Vegas resorts, Chuck E. Cheese restaurants and more.
By 1997 Garner Holt Productions was being invited to be one of the bidders that the Disneyland Purchasing Department called in for their periodic new project bidder's conferences. In 2001, GHP produced animatronics including Jack Skellington for Disneyland's Haunted Mansion Holiday overlay. GHP was the first outside vendor to provide audio-animatronics for Disney.
"Guests don't realize that ninety percent of what you see of that overlay is actually stored inside the ride during the rest of the year," said GHP creative director Bill Butler. "If the lights were on and you could see around corners, it would be obvious. It's a huge space with lots of places to hide."
*  *  *  *  *
Thanks, Jim! And come back next Friday for more from Jim Korkis!
In the meantime, check out his books, including his latest, Call Me Walt, and his Secret Stories of Walt Disney World: Things You Never You Never Knew
, which reprints much material first written for this site, all published by Theme Park Press.


Follow yourfirstvisit.net on Facebook or Twitter or Pinterest!!
RELATED STUFF