A Friday Visit with Jim Korkis: The Lane Graves Memorial
By Dave Shute
Welcome back to Fridays with Jim Korkis! Jim, the dean of Disney historians, writes about Walt Disney World history every Friday on yourfirstvisit.net.
THE LANE GRAVES MEMORIAL AT DISNEY'S GRAND FLORIDIAN RESORT
By Jim Korkis
In August 2017, Walt Disney World installed a memorial sculpture of a lighthouse in a little alcove near the Big Pine Key building at Walt Disney World's Grand Floridian Resort and Spa near the beach, to honor Lane Graves.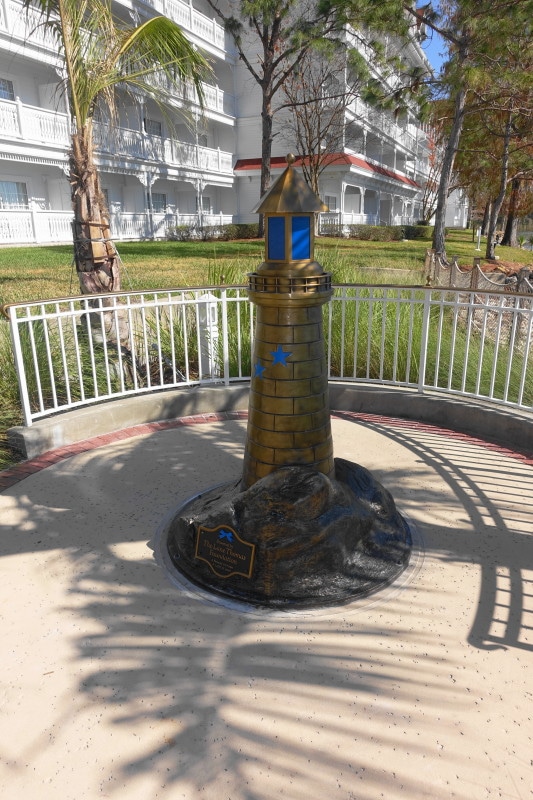 Lane Thomas Graves was the two year-old boy who was snatched by an alligator on June 14, 2016 at about nine o'clock in the evening at the Seven Seas Lagoon. His body was found after a sixteen hour search on June 15th by divers.
Graves was with his family from Elkhorn, Nebraska. His parents are Matt and Melissa Graves and at the time they were also accompanied by their four year old daughter.
The Orange County Sheriff's Office recovered the body of the boy, intact and about fifteen yards from where he was taken and about six feet underwater. A medical examiner determined that Lane had a traumatic neck injury and drowned and his death was ruled an accident.
Lane's death marked the first alligator attack on the park's property since a predator bit the leg of an eight-year-old boy, Paul Santamaria, and tried to drag him into the water at Disney's Fort Wilderness campground in 1986. Lane's death was the first alligator fatality in Disney World's 45 year history.
Alligators have been prominently seen on WDW property since its opening in 1971. During the search for Lane, investigators pulled and killed six gators from the area but were not able to fully determine if they had captured the culprit. Officials estimated the responsible gator to be between four and seven feet long and two of the gators were at least seven feet.
The Florida Fish and Wildlife Conservation Commission, which generally responds to nuisance gator reports, gives Disney full autonomy in handling the problem on property and isn't often involved.
The family was relaxing on the shore in a Grand Floridian play area when Lane bent over to scoop wet sand into his small plastic bucket in order to build a sandcastle on the beach. The area had signs posted against swimming in the lake, but they didn't warn of the lurking gators.
Lane's father, who was standing nearby heard a splash and turned to see the alligator grab Lane's head and jumped into the water, pulling on the gator's snout in an unsuccessful attempt to free his son from its grip. Seconds later, the gator pulled Lane underwater and both disappeared into the Seven Seas Lagoon. The father was injured and treated.
After the attack, Disney built wide boulder walls and fences along all of its breaches in an effort to keep alligators away from the shore. They also put up signs warning of alligators and snakes, and instituted training for cast members.
The statue of a lighthouse is a symbol of the Lane Thomas Graves Foundation — a charitable fund created by the boy's parents after his death that helps financially support families with children who need organ transplants.
The gold and blue statue, marked with two stars, was placed near where the tragedy occurred. A plaque at the bottom reads: "Presented to the Lane Graves Foundation. A beacon of hope. A light of love."
In a statement issued by Lane's parents, they said: "We find comfort that so many people continue to remember our sweet boy, Lane, and we believe the lighthouse stands as a beacon of hope and support for families in the depths of despair."
George A. Kalogridis, the president of Walt Disney World Resort, stated, "To provide continued awareness of the foundation and its mission, we commissioned an original sculpture of the lighthouse the foundation uses as a symbol of love and hope, to be installed on our property."
The memorial is both a lovely and tragic reminder of the life and death of Lane Thomas Graves.
*  *  *  *  *
Thanks, Jim! And come back next Friday for more from Jim Korkis!
In the meantime, check out his books, including his latest, Call Me Walt, and his Secret Stories of Walt Disney World: Things You Never You Never Knew
, which reprints much material first written for this site, all published by Theme Park Press.


Follow yourfirstvisit.net on Facebook or Twitter or Pinterest!!
RELATED STUFF