Disney World Crowds: Christmas 2017 and New Year's 2017/2018
By Dave Shute
DISNEY WORLD CROWDS FROM LATER DECEMBER 2017 TO EARLY JANUARY 2018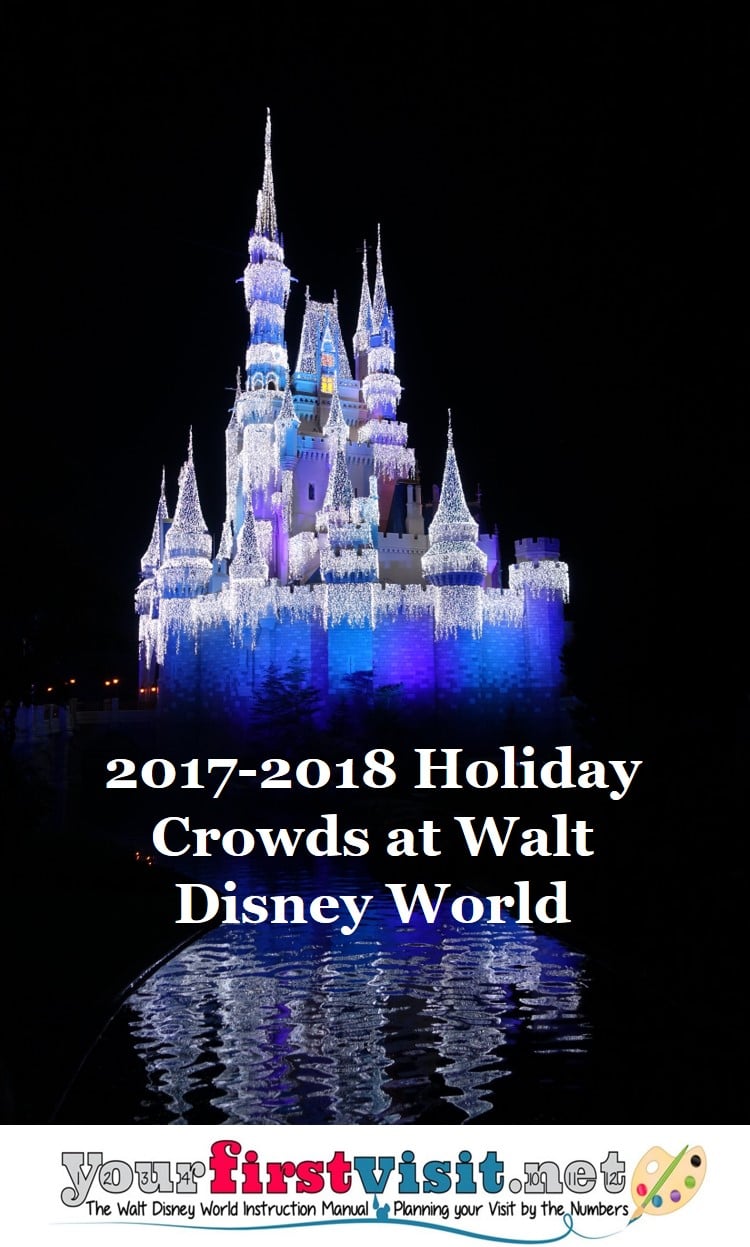 Disney World sees its highest crowds and prices of the year in the later third of December and the beginning of January, in the weeks around Christmas and New Year's Eve.
This is for a pretty basic reason: kids are out of school then.
However, not every school district has the same break schedule.
In 2017, as always, there's more kids out the week between Christmas and New Year's than before or after.
Unlike 2016, because of the Monday Christmas (the first since 2006), there's not a lot of kids out the week before Christmas. Crowds the first part of the week of December 16 will be fine, but will build at the end of the week and be massive by December 23, 2017.
The week after New Years in 2018 has many more kids on break than usual, so I expect it to be heavily crowded through January 8, 2017.
SCHOOL BREAKS AND DISNEY WORLD CROWDS
Most years, there two typical sorts of breaks:
Long breakers–districts that take at least 2 full weeks (and three weekends) off
Short breakers–districts that take off as close to only December 25 to January 1 as they can
As a result, the period Christmas-New Years is always mobbed at Disney World, as everyone is out of school then, but the periods before and after vary from year to year depending on what day of the week Christmas falls.
In 2017, a Monday Christmas put long-break districts in the position having to pick when to schedule their second week–before Christmas weekend, or after New Years. Enough put it after New Year's that I expect to see heavy crowds that week.
Note that I had originally forecast the week beginning 12/16/2017 as "high crowds." However, more long-break schools than I'd expected put their second week in January rather than December, so I am now calling that a moderate-plus crowd week–which is the combined effect of moderate-minus early in the week and high late in the week.
ACTUAL 2017-2018 CHRISTMAS SEASON SCHOOL BREAKS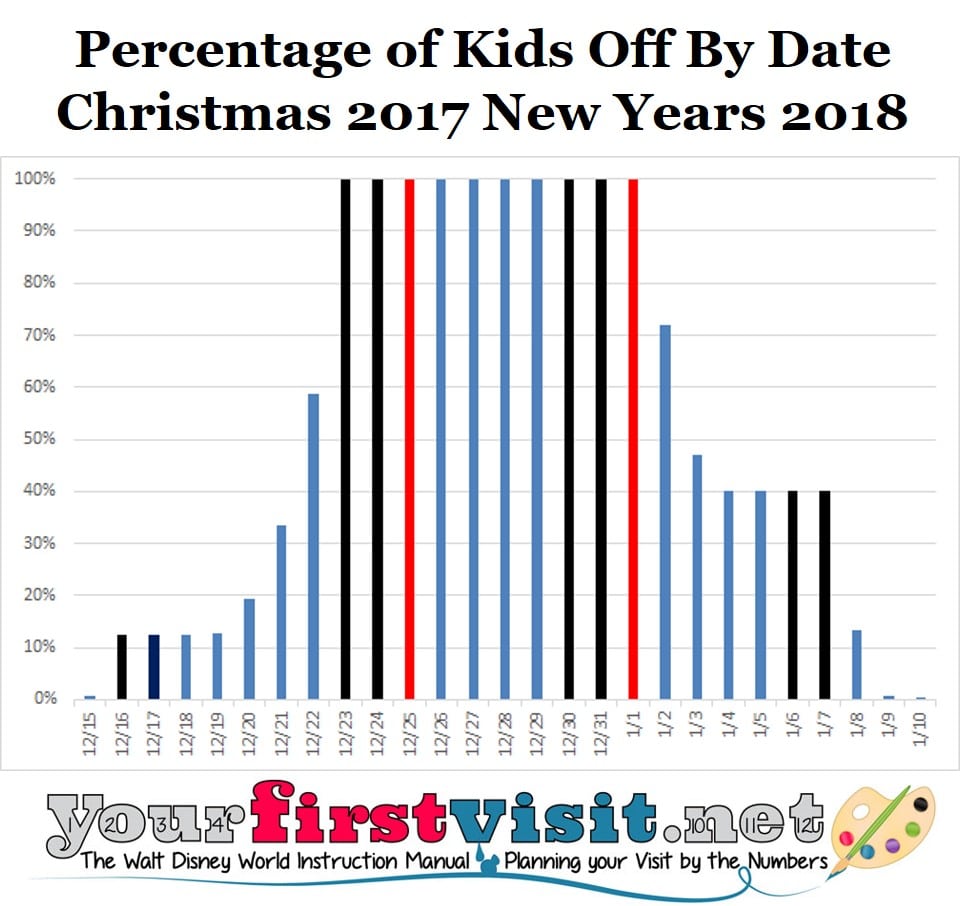 The chart above illuminates this.
It's based on data from a weighted sample including more than 270 of the largest relevant US public school districts with almost a third–more than 15 million–of total US school kids included.
The holidays are red, the weekends black, and weekdays blue.  Click the image enlarge it.
You can see that some breaks begin Saturday the 16th, with hardly any kids on break before then. More kids go on break beginning the 2oth, and by the 23rd everyone is on break.
Pretty much everybody stays out of school through January 1, 2018, and while many go back to school January 2 or 3rd, almost 40% of US schoolkids remain on break through January 7.


Follow yourfirstvisit.net on Facebook or Twitter or Pinterest!!
RELATED STUFF