March Update to The easy Guide
By Dave Shute
A few days ago co-author Josh and I published an updated version of our guidebook, The easy Guide to Your Walt Disney World Visit 2017.
We pride ourselves on writing the best-reviewed, most accurate and most up-to-date Disney World guidebook series ever, and part of keeping it up to date is revising it several times a year.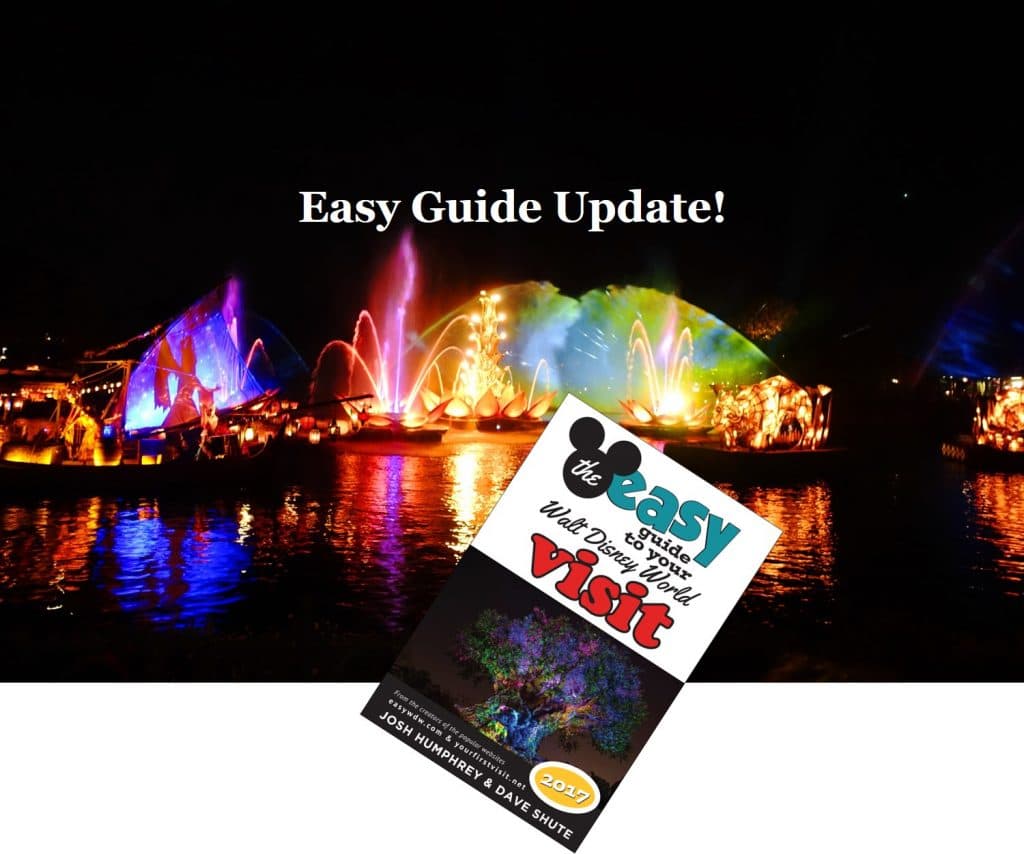 Our latest revision included more than 60 pages of changes. Key changes are below.
CHAPTER 1: HOW TO USE THIS BOOK
Chapter 1 includes three things: guidance on how to use the book, boiling down our recommendations—especially for first timers–by chapter; and "what's new" for returning visitors.
The key changes are in "what's new," and point out
The loss of the evening parade at Magic Kingdom
The new show Happily Ever After, which will replace Wishes in May
The new evening attractions at Animal Kingdom, and the late May opening there of Pandora: World of Avatar
The projected end of the Wilderness Lodge refurb, and the beginnings of major refurbs at Caribbean Beach and Coronado Springs
The ticket price increase of February 2017
CHAPTER 2: WHY AGE AND HEIGHT MATTER and CHAPTER 3: HOW LONG TO STAY
These two chapters saw only minor changes.
In Chapter 2, we added the new rides to open at Pandora: World of Avatar to our summary table about the appropriateness of rides for folk of different ages, and to the ride height restrictions chart table
In Chapter 3, we updated some ticket price material
CHAPTER 4: WHEN TO GO
In Chapter 4 we sharpened up material for which dates are now firm—or more firm–including
The opening of Pandora May 27
The kick-off of the Epcot International Food and Wine Festival in August and its last day of November 13
The possibility that Mickey's Not-So-Scary Halloween Party will begin August 25
CHAPTER 5: WHERE TO STAY
Most of the changes in Chapter 5 were from or about resort refurbs
The opening of the Copper Creek Villas at the Wilderness Lodge in mid-July, and other refurb-related WL items
The already-started demolition, construction, and room refurbs at Coronado Springs
The beginning-in-May replacement of the food, shopping, and bar at Caribbean Beach with temporary facilities while new constructions launches
The refurb at Pop Century that kicked off earlier this month
Minor updates on refurbs at the Dolphin and the Yacht Club
CHAPTER 6: HOW TO SPEND YOUR TIME
Chapter 6 is the heart of the book, and saw 22 pages of changes from us—well, actually, almost entirely from Josh.
Just a few highlights of the updates here include:
Substantial revisions to the Animal Kingdom guide and cheat sheet, especially the touring plans, principally based on the effects of Rivers of Light on priorities and touring. (Our update for Pandora will come out once it is stable, likely in late June; see both of our sites for FastPass+ and touring plan advice well before then.) The new Animal Kingdom material of course includes an all-new review of Rivers of Light
Updates on the changes to the park opening procedures and minor changes to the Epcot touring plans—mostly cleaning up typos
In the Hollywood Studios section, updates on the changes to the park opening procedures and more detailed reviews of the two daytime Star Wars shows, and a revised approach to seeing Fantasmic and the Star Wars fireworks. No significant touring plan changes, other than even more emphasis than we already had to keep refreshing for new FastPass+ opportunities.
Updates on the changes to the park opening procedures and evening offerings at Magic Kingdom, and minor changes to the Character-Centric Touring Plan, Morning Day 2
CHAPTER 7: WHERE TO EAT
Like Chapter 6, Chapter 7 saw dozens of changes
New or completely redone reviews include
Paddlefish
Planet Hollywood Observatory
Las Ventanas
Other changes included
New character breakfast with Rapunzel, Flynn, Ariel and Eric
Shift of the characters at Hollywood & Vine at lunch
New Dining Plan prices
CHAPTER 8: WHICH TICKETS TO BUY AND HOW MUCH TO BUDGET
Disney raised ticket prices in February 2017, so all our pricing material has been revised. One ticket form is gone, a new one has been added, there's now a penalty for not buying in advance, and a new expiration policy is in place—we cover all of these.
CHAPTER 9: HOW TO SET EVERYTHING UP AND GET EVERYTHING DONE
In Chapter 9, we made no substantive changes, but rather only cleaned up some awkward wording (the 90,000 other instances of awkward wording in Chapters 1-8 remain).
*  *  *  *  *
The easy Guide is the only Disney World guidebook to offer free updates to the current year edition.
We sent out emails last week to those already on the update list.
To join our list—you'll get the latest update, plus we'll do at least one more update to this edition, after Pandora opens (after then, we'll turn to the 2018 edition)– just follow the instructions below!


Follow yourfirstvisit.net on Facebook or Google+ or Twitter or Pinterest!!
RELATED STUFF