Review: Breakfast at Sanaa
By Dave Shute
Sanaa, the great table service restaurant at Kidani Village, has been serving counter service breakfast for a couple for months now, and I had a chance to check it out in mid-November.
Kidani Village is a DVC property with much going for it, but until recently it was weak on dining options at lunch and especially at breakfast.
Until Sanaa opened for breakfast, morning options included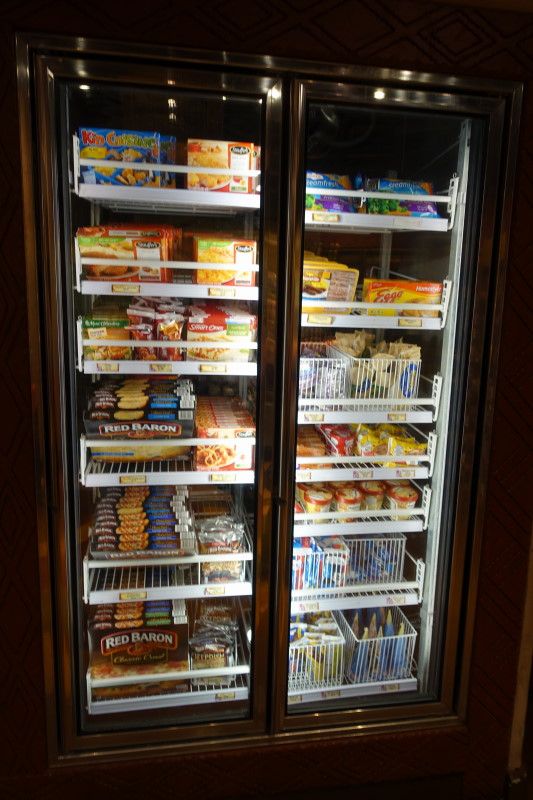 The gift shop is pretty well stocked with food.
A couple of months ago, however, Sanaa opened up for breakfast in counter service style.
Basically, breakfast is a set of grab and go options plus some hot meals.  You can combine both, and eat them either in Sanaa or back in your room.
Here's the menu for the hot items (click it to enlarge it):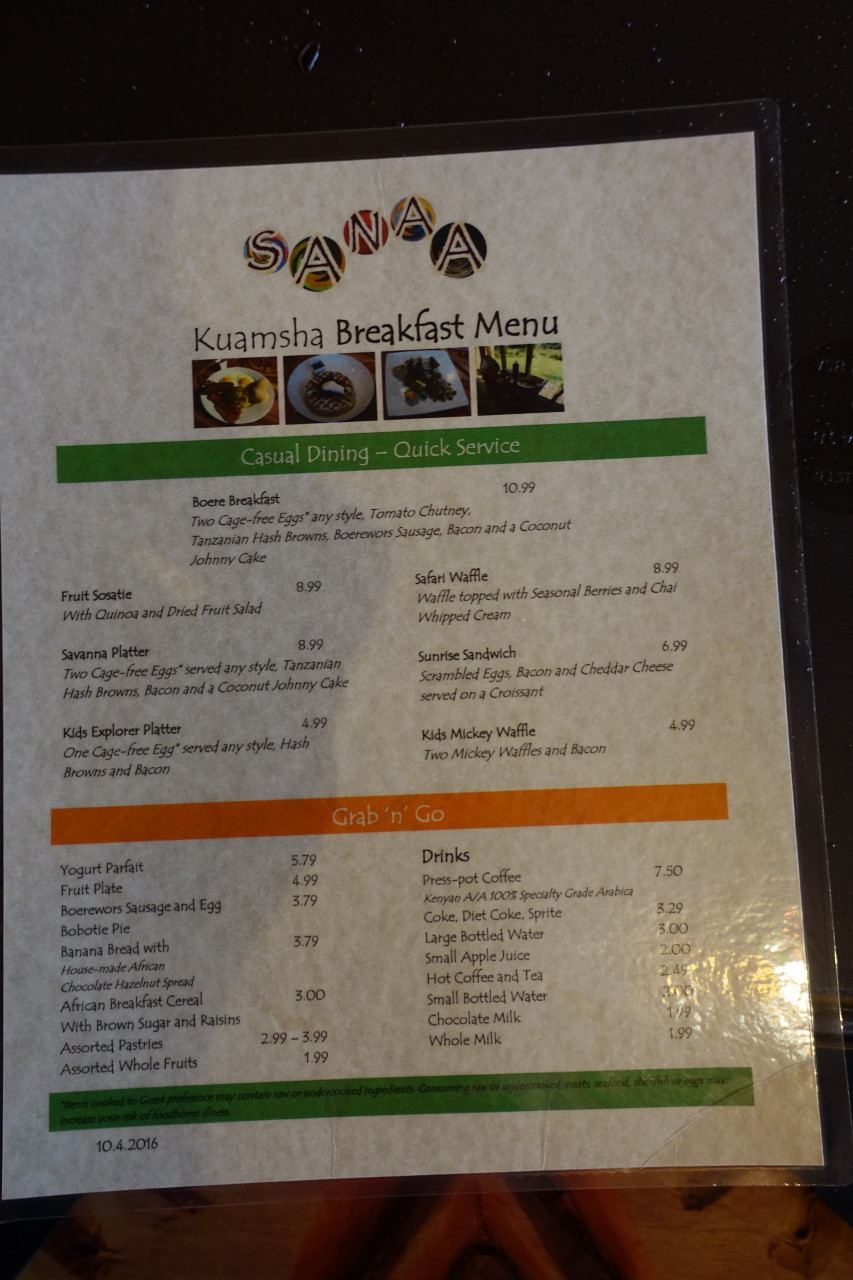 You enter, and grab anything you want from the grab and go stations: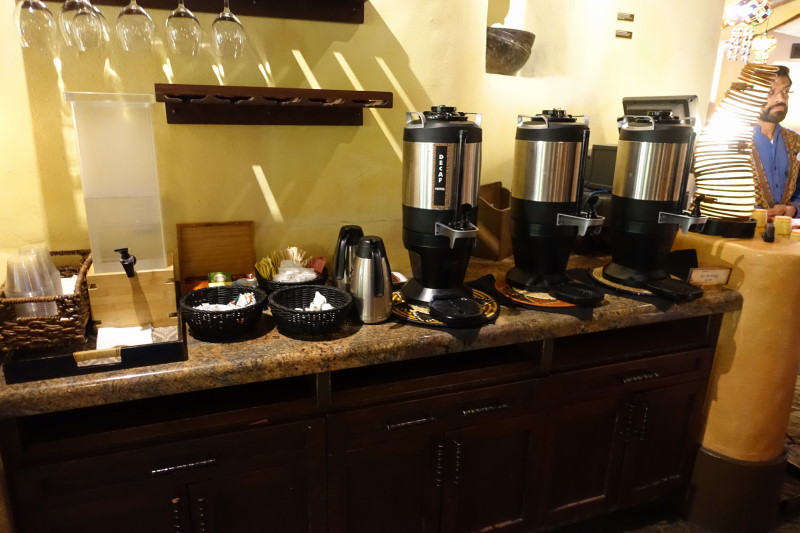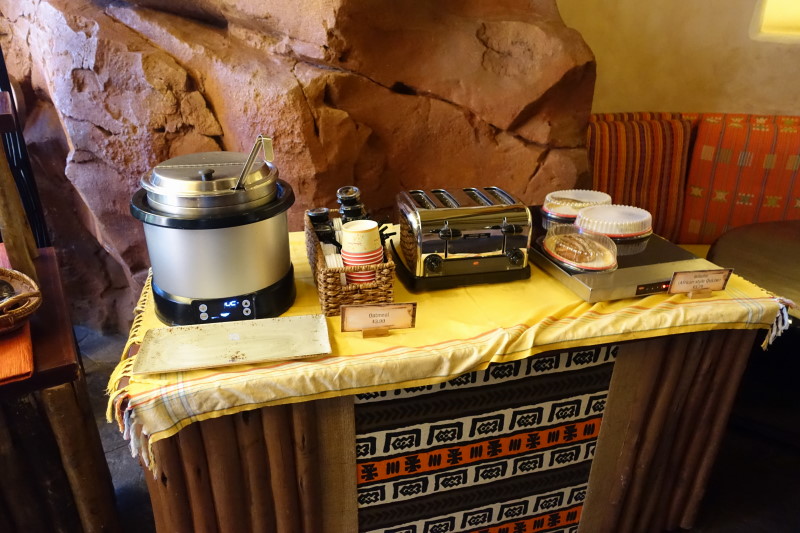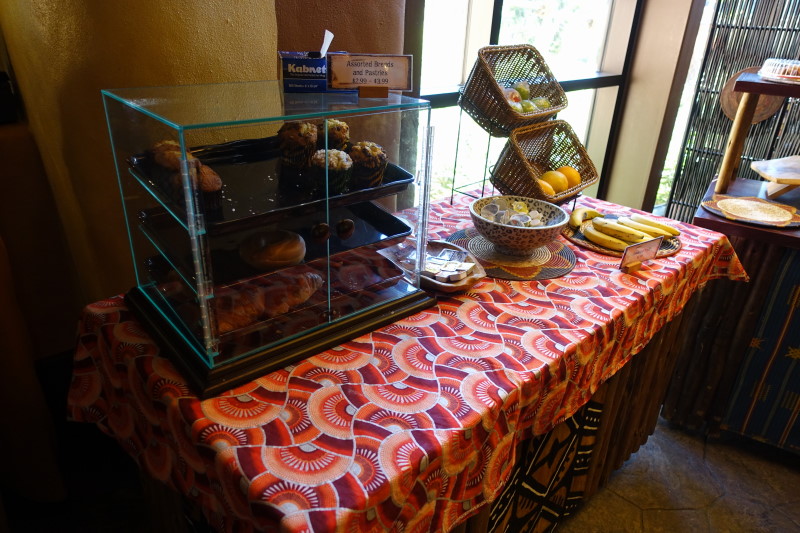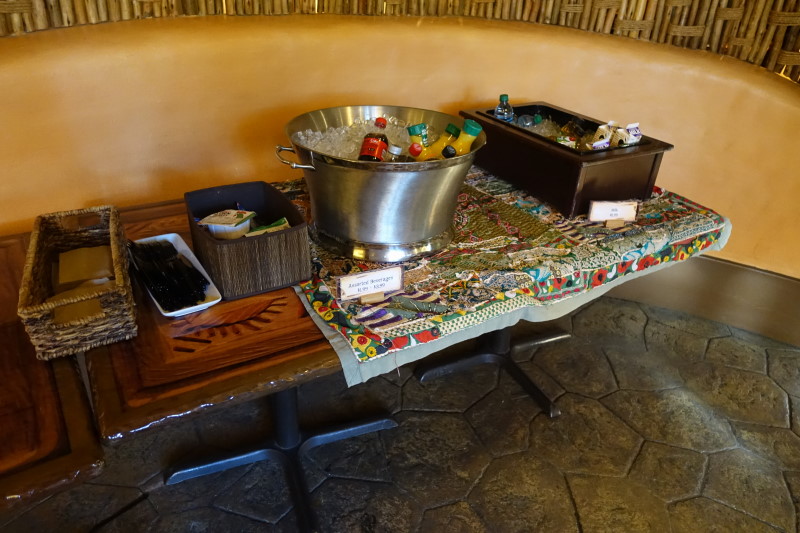 Bring these to the register…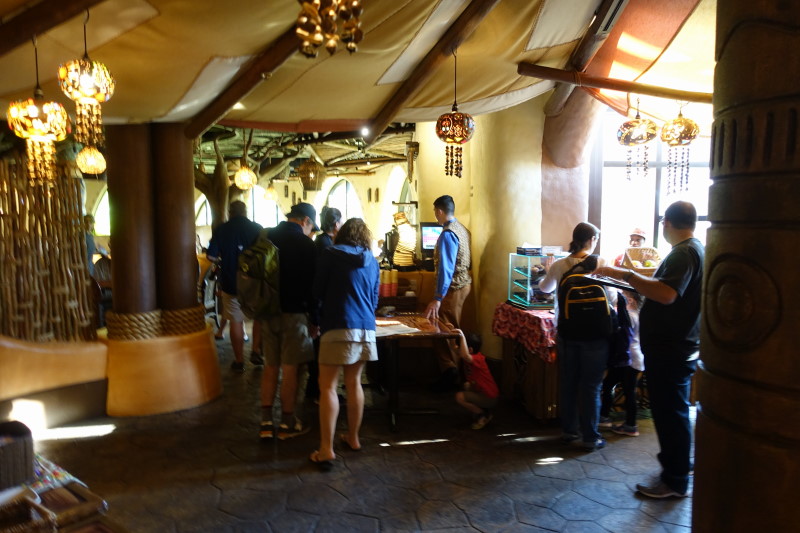 …and at the register order any hot meals you want.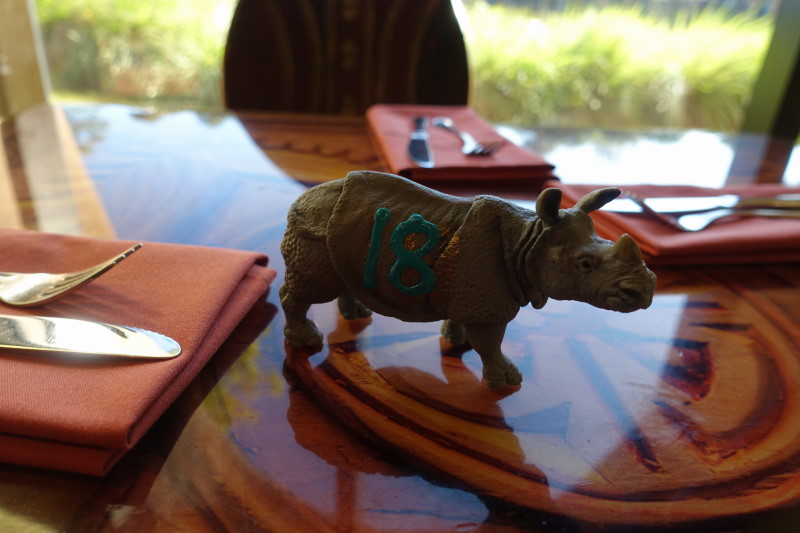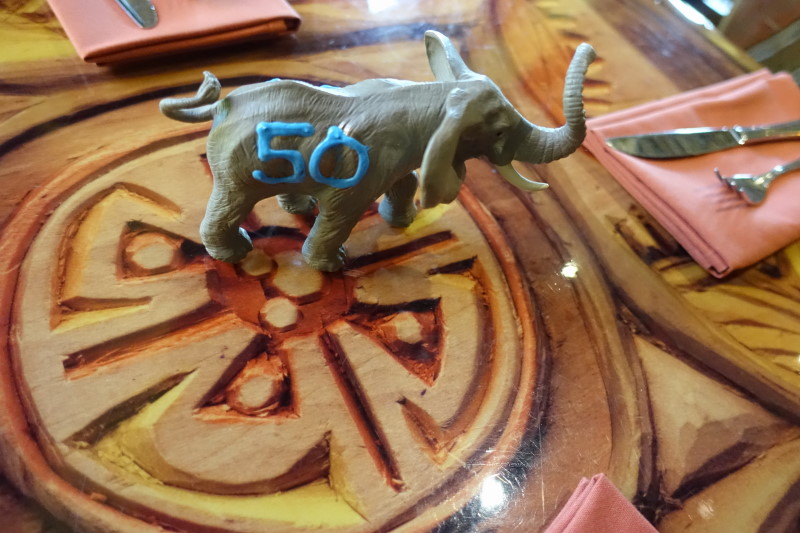 Pay, and you'll get a numbered animal that you take with you to whatever open table you want. Your hot meals will then be delivered to your table, as identified by the number on your animal.
Both my visits were a little after 9a (breakfast is served 7a-10a) and at both most interior tables were empty, and about half of the windows tables were available: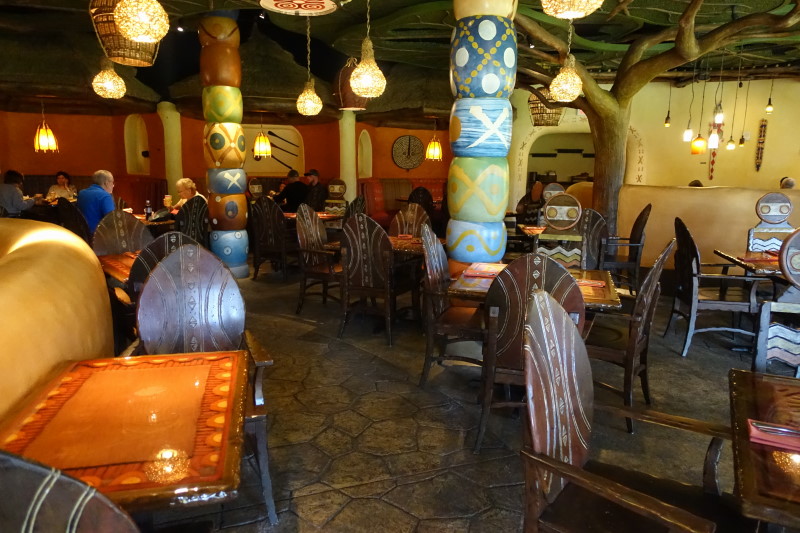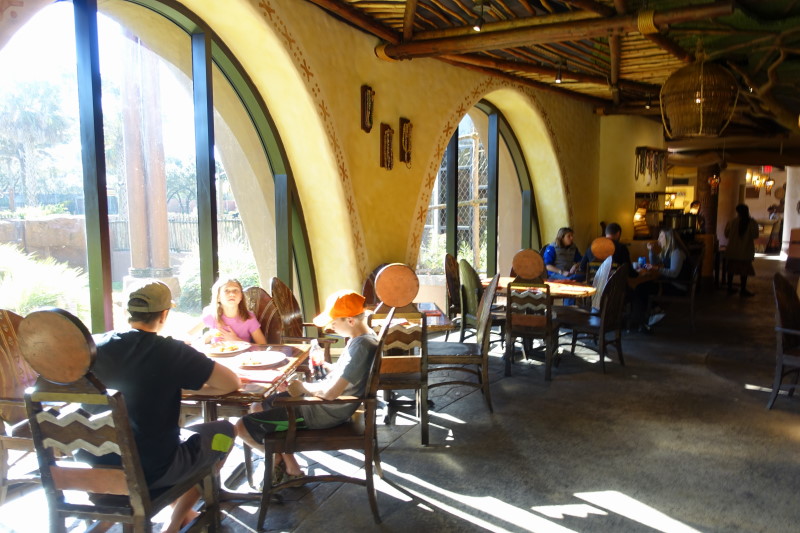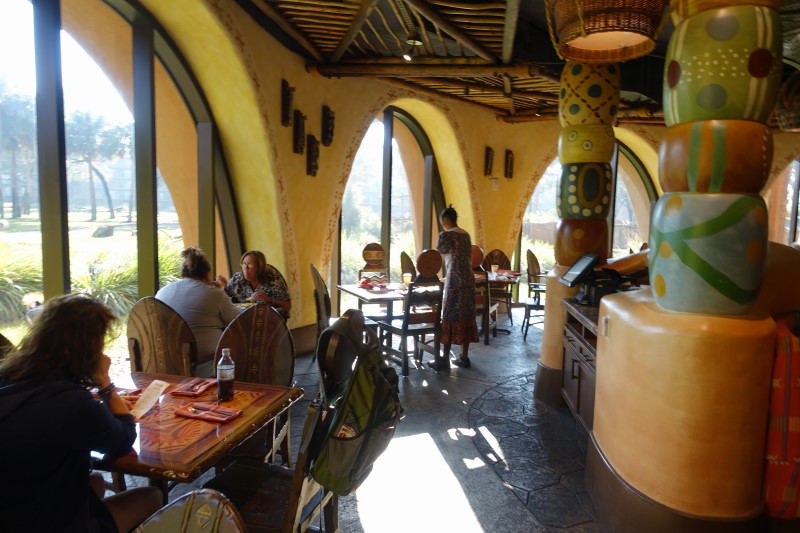 Among the menu options, I tried the Savanna Platter…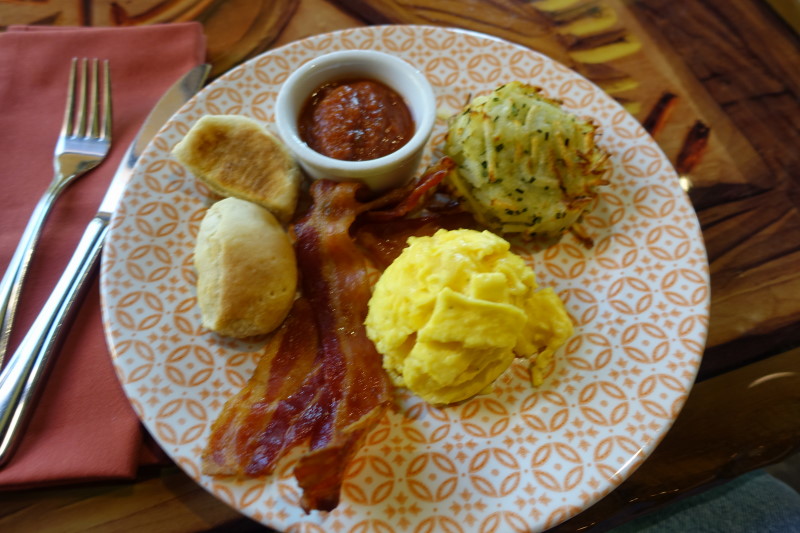 …and the Safari Waffle.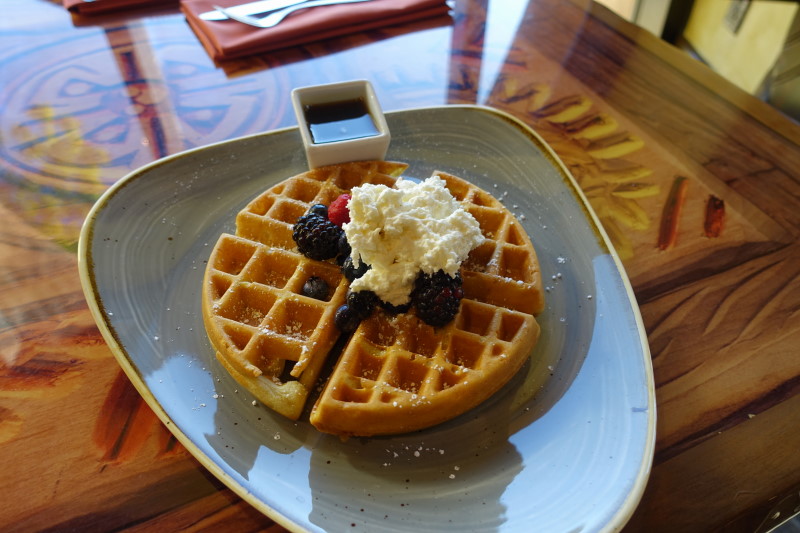 Each was excellent. The Safari Waffle was out within six minutes, but a kitchen snafu (they had my ticket as number 0, not number 50) with the platter meant it took almost half an hour–it was fine when it did come out, though.
The set-up through ordering has more of an air of slapped-together than I'd really like, driven, I imagine, by the need to create a temporary grab and go and ordering area in the morning, and then having it disappear in time for the table-service lunch.
But once you are at your table, and have your food, all is well, and if you have a window table, you'll get views like these: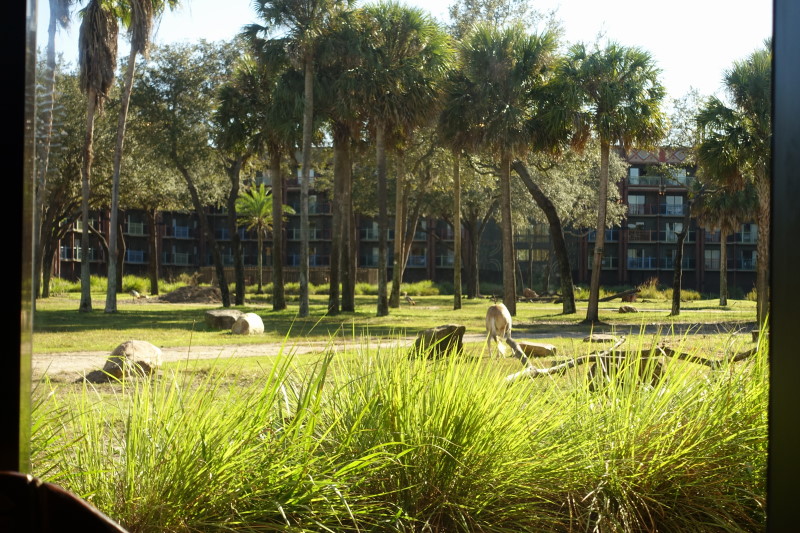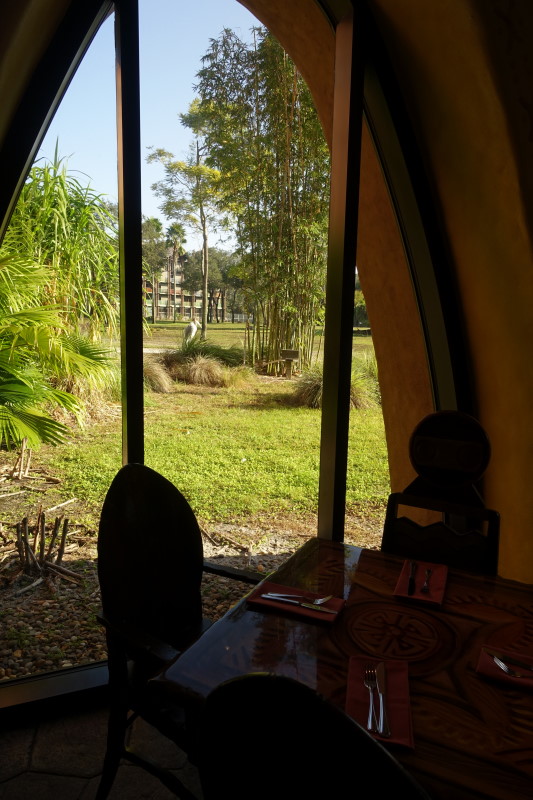 Begun as a test, the breakfast offering seems to have been formalized, but in mid-December 2016 the breakfast menu was still not listed on Disney's Sanaa webpage.
It is a great convenience however, making up for one of Kidani's notable weaknesses, so if you are staying at Kidani, give it a try!
While on the topic of dining at Kidani, I should also note that I found the Samawati Springs pool food menu more expansive than at my last visit (or maybe I just didn't notice it).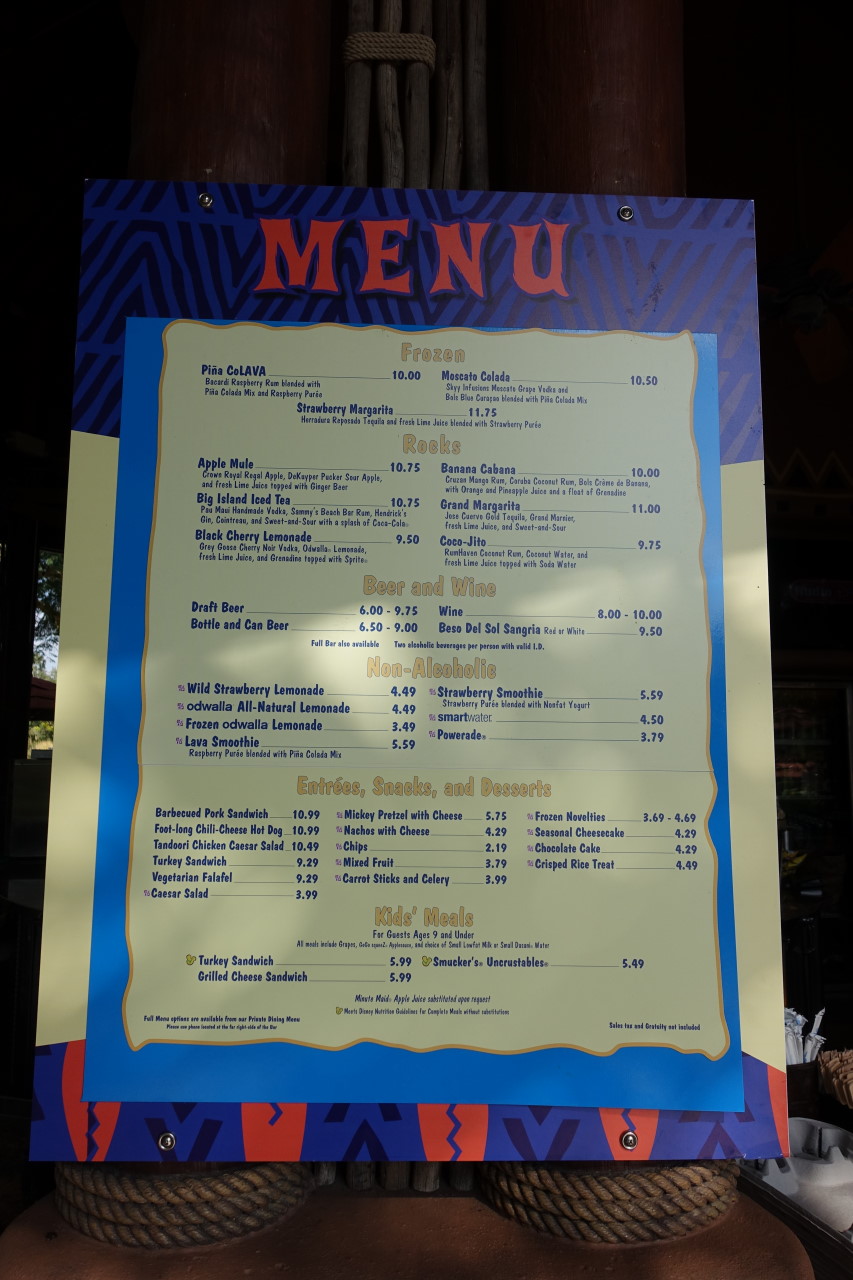 Here it is–click it to enlarge it!
Kidani used to have two major issues: weak breakfast and lunch counter service offerings, and long walks (up to a quarter of a mile each way) from its furthest rooms to its central services.
Sanaa breakfast, and the entree options on the pool menu, go a long way to fixing the first issue, so I hope the Sanaa breakfast continues!


Follow yourfirstvisit.net on Facebook or Google+ or Twitter or Pinterest!!
RELATED STUFF