A Friday Visit With Jim Korkis: Why Did Jennings Osborne Have So Many Christmas Lights?
By Dave Shute
Welcome back to Fridays with Jim Korkis! Jim, the dean of Disney historians and author of Jim's Gems in The easy Guide, writes about Walt Disney World history every Friday on yourfirstvisit.net.
JENNING OSBORNE'S LIGHTS
By Jim Korkis
Sadly, this holiday season is the last for the Osborne Spectacle of Dancing Lights at Disney Hollywood Studios. There is always the hope that Disney might relocate the beloved lighting display somewhere else.
William Jennings Osborne, who preferred being called Jennings, was born in 1943. With his loving wife, Mitzi, they founded the Arkansas Research Medical Testing Center in Little Rock, Arkansas in 1968. With the success of the business, the couple bought a large estate in the middle of town.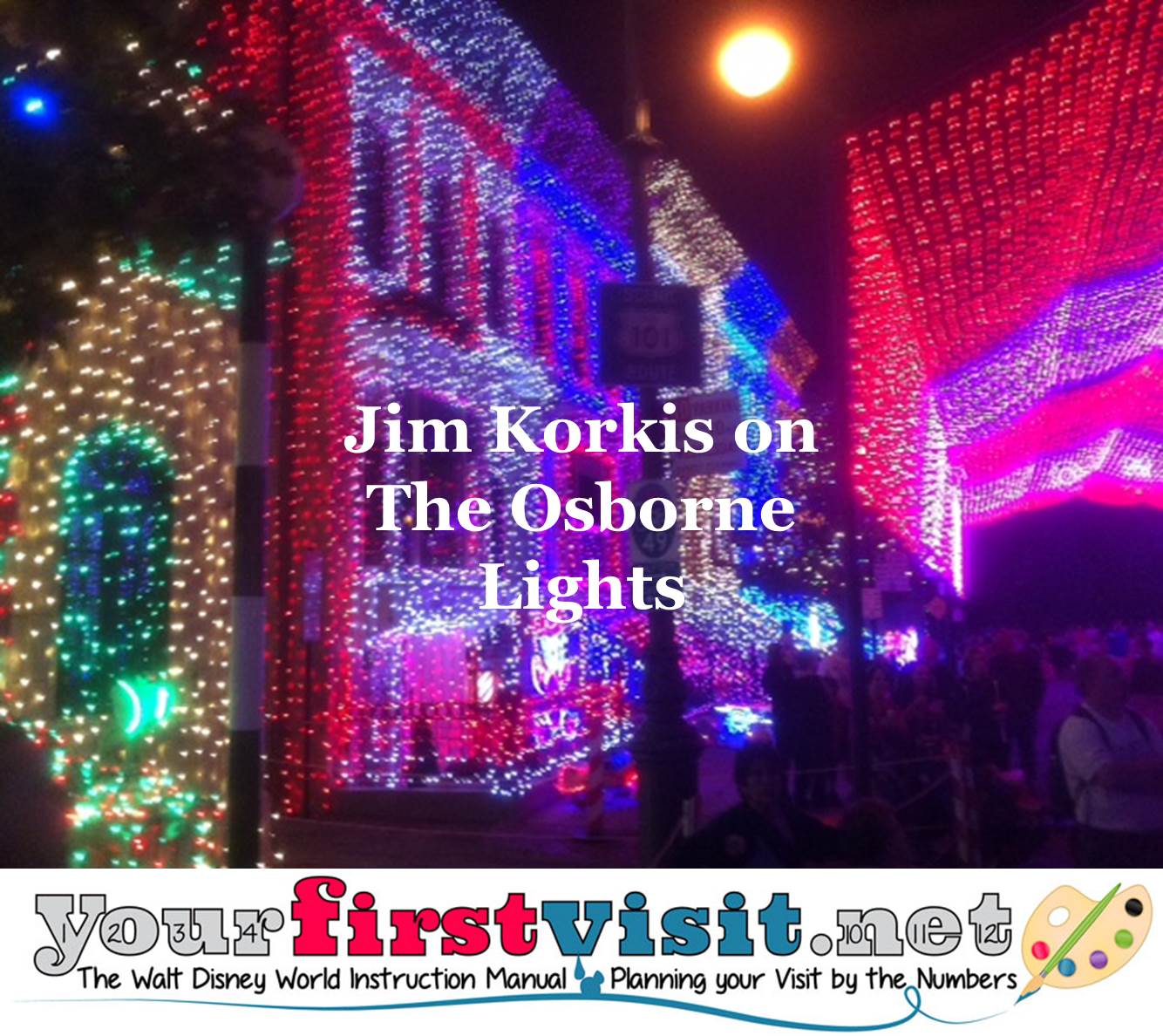 In 1980, they had a daughter named Allison Brianne who went by the nickname Breezy from her middle name, even as she grew into adulthood. Her father, as might be imagined, was extremely busy with his business and so was not always around. When Breezy was six years old in 1986, he asked her what she wanted for Christmas expecting some type of popular toy on maybe even a pony.
Breezy replied that she wanted to spend time together with her often absent dad hanging lights on the outside of the house for the holidays. Jennings realized that he was missing the most important part of his life, spending time with his young daughter. That Christmas, Jennings extravagantly decorated the outside of the house with over a thousand Christmas lights to the joy of the entire family.
Every year after that, it became a tradition and Jennings kept adding more and more lights. However, Jennings home was located on one of the busiest streets in Little Rock and as the fame of this display spread, it resulted in severe traffic problems as visitors clogged the street to experience the illuminated spectacle.
When neighbors complained, Jennings bought the houses on either side of him and decorated them as well.
The display grew to millions of lights and in 1994 six neighbors filed a lawsuit with the county court that they won which Jennings appealed to the state Supreme Court and lost as well. Finally, Jennings appealed to the United States Supreme Court that was denied and he was ordered to no longer operate the magnificent display.
"I do this to make people happy," Jennings told the New York Times newspaper in December 1994 to try to rally support. "It just makes me so sad that a few people could ruin something that so many enjoy. Every day is Christmas to me and I want to take everybody along."
Walt Disney World Executive Vice President Bruce Laval saw the report on CNN and assigned Show Director John Phelan to contact Jennings in the hopes of having an annual Christmas event at Disney's Hollywood Studios to match the ones offered at the Magic Kingdom and Epcot.
Jennings and his family were huge Disney fans and an arrangement was made. Jennings never received any money for the use of his lights. His family would usually come down to Walt Disney World for about a week during the end of December and be put up as Disney's treat at the Grand Floridian to visit the parks. The family would come over one night to Disney MGM Studios where a special ceremony was held for Jennings and his daughter Breezy to turn on the lights that evening.
Jennings passed away from complications of heart surgery at the age of 67 in July 2011.
Even though Jennings was ordered to remove his massive light display on his home, he did continue to decorate the outside of his houses in a more modest fashion until his death. He and Breezy still hung some of the decorations themselves.
*  *  *  *  *
Thanks, Jim. There's more on the Osborne Lights here. I'm hoping to see them this weekend, then agian on our December visit.  The end of an era…
Come back next Friday for even more from Jim Korkis!
In the meantime, check out his books, including The Vault of Walt
, Who's Afraid of the Song of the South?, and The Book of Mouse
, and his contributions to The easy Guide to Your First Walt Disney World Visit, all published by Theme Park Press.
Follow yourfirstvisit.net on Facebook or Google+ or Twitter or Pinterest!!
RELATED STUFF