Review: The Osborne Family Spectacle of Dancing Lights at Disney's Hollywood Studios
By Dave Shute
"THE ULTIMATE AMERICANA CHRISTMAS DISPLAY"
Hey–this show had its last run in 2015!
The Osborne Family Spectacle of Dancing Lights is the main Christmas season special feature at Disney's Hollywood Studios.
Showing at various places in the Studios backlot since the mid-90s, it is now found in Streets of America.
This part of the backlot was once used for actual filming, and was then much more generic than today, so it could stand in for many different communities.
The Osborne lights first were in the residential section of the backlot–demolished to make way for Lights, Motors, Action.
They were then moved to the current Streets of America location, and the Streets were re-staged to convey specific cities. See The Imagineering Field Guide to Disney's Hollywood Studios
 for more.
The Osborne Family Spectacle of Dancing Lights is made up of more than 5 million lights that drape the buildings in Streets of America and are synchronized to holiday music, flashing and changing colors with the beat.
It's difficult to describe, and my photos don't really do it justice.  You just need to see it.
REVIEW: THE OSBORNE FAMILY SPECTACLE OF DANCING LIGHTS
The Osbornes are a Little Rock family whose patriarch, Jennings Osborne (who passed away in 2011) perhaps got a little carried away with the whole Christmas decorations thing.
Despite eventually buying the houses that neighbored his, both to avoid their objections to his spectacular annual displays and to provide more storage space, eventually his display was closed down by the Arkansas Supreme Court.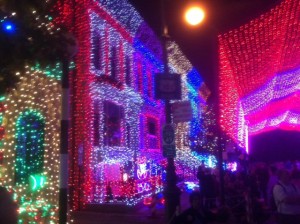 According to a great Jim Korkis article on the history of this attraction, Disney staff saw press coverage of the ruling shutting down the Osborne family display at the same time as they were developing holiday concepts for the Studios.
Communications and commitments ensued, and a few weeks later four 18-wheelers filled with lights and such from Arkansas showed up at Walt Disney World.  Hill quotes Joe Phelan, Show Director for Disney Creative Entertainment, as noting that thanks to the generosity of Jennings Osborne, the Studios would "be home to the ultimate Americana Christmas display."
The show happens throughout the evening from 6p until park closing during the holiday season.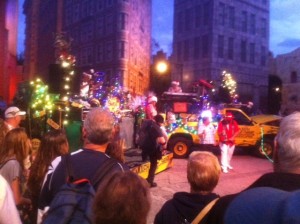 It kicks off each night with a lighting-up ceremony, and the night I saw it a band played to warm the crowd up for the opening.
I have mixed feelings about the value of seeing the lighting-up show.
It's enough fun that seeing it is in the Basic Itinerary.  But it's very crowded, and if you've seen enough before everyone else has, it can be a challenge to exit.
The lights themselves are definitely worth a look…the lighting-up ceremony is optional.
And Jennings Osborne?  God bless, rest in peace, and thank you…
RELATED STUFF