The WDW Magazine Magic Kingdom Resorts Issue is Out
By Dave Shute
Earlier this month–I was on vacation, so got behind–the latest edition of WDW Magazine came out.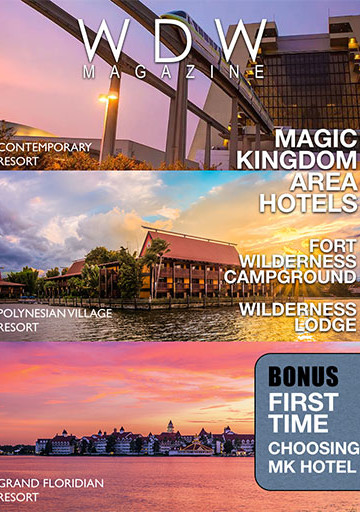 This month, the mag focuses on the Magic Kingdom area resorts–the monorail resorts
and also the Wilderness Lodge and its Villas (soon undergoing refurb, see this), and the Cabins and Campsites at Fort Wilderness.
Editor Carl Trent has this to say about this month's edition:
"I don't think there is a more diverse group of hotels anywhere than you'll find around the Magic Kingdom. You have everything from a luxurious Spa and Resort to camping in tents, all within a short boat ride to the Most Magical Place on Earth.
I think you're going to love our tour of the Magic Kingdom Area Hotels."
The magazine is available on iTunes, for Android, and on the web.
I've got a couple of things in this month's magazine.
I write the "Helping Hands" column for first timers, and this month's column focuses on comparing the Magic Kingdom area resorts on various key features–themes, pools, room quality, dining, etc. I've stayed in each–and each major room option within them–multiple times, with more than 30 rooms stays across these five resorts and their villas. So you can trust this overview…
I also did the article on the Polynesian, which is my top-recommended resort for first timers, despite some continuing construction. As a bonus, this article is based on the review of the Poly in the Disney World guide book that Josh of easyWDW and I co-wrote, so you can use it as a test of whether or not you'd find the book helpful!
Curious?  Of course you are! Check WDW Magazine out.
Follow yourfirstvisit.net on Facebook or Google+ or Twitter or Pinterest!!
RELATED STUFF