"Fall Breaks" and Autumn 2015 Crowds at Walt Disney World
By Dave Shute
FALL BREAK CROWDS AT WALT DISNEY WORLD?
One of the things you'll see now and then on the web is the claim that "fall breaks from school create big crowds at Walt Disney World."
"Fall breaks" are multi-day school holidays before Thanksgiving, and, if material, would have an effect on Disney World—because Disney World is most crowded when it's easy for kids to go.
If you check the facts, though, you'll find that fall breaks are both uncommon and scattered across October and early November—other than Jersey Week and the weeks before and including Columbus Day.
Outside of those three weeks, you are much more likely to run into trouble in the fall by choosing to go to the Magic Kingdom or Epcot on a bad day—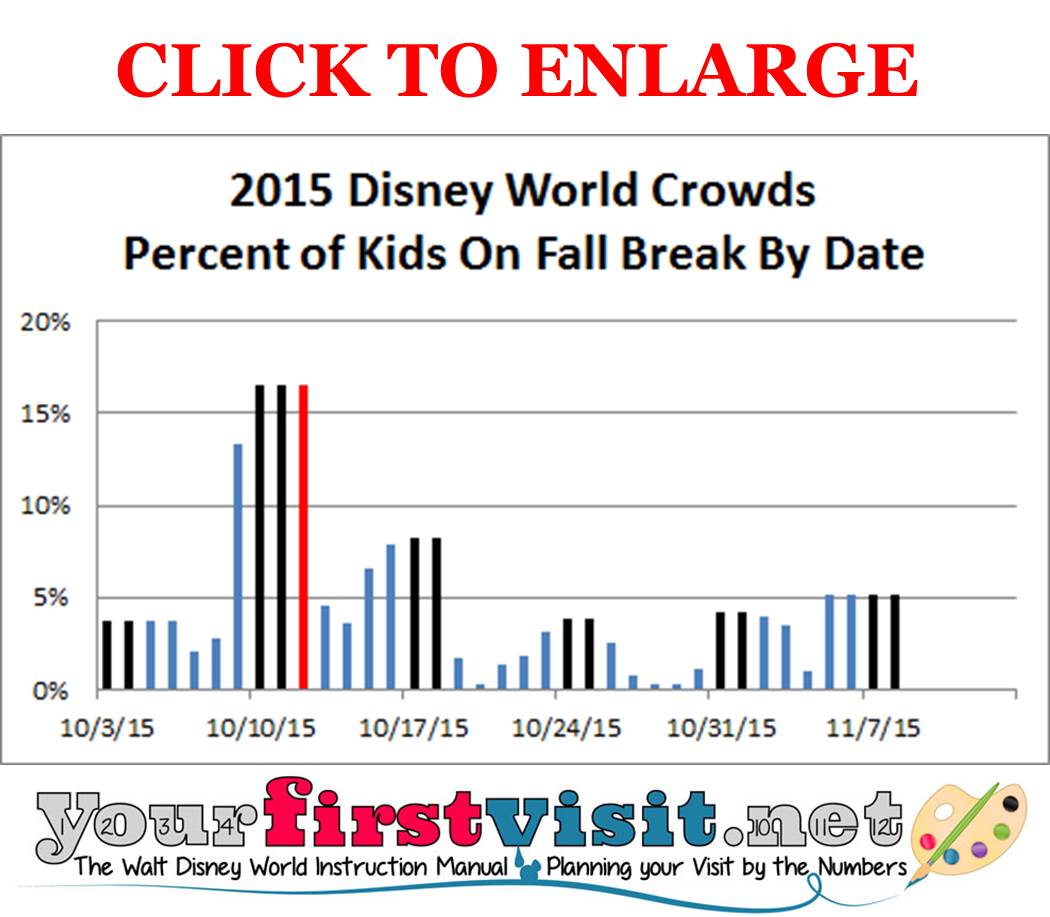 See the chart, which shows the weighted percent of US school kids in my database with more than a three-day weekend in 2015 in October and in November before Thanksgiving week.
In it, weekends are in black, and Columbus Day is in red. (The mid-week Veteran's Day has no impact on breaks in 2015.) Everything else is blue.
The first conclusion you can draw is that the only time when more than 5% of kids are having more than a three day weekend is just before and then over the week that includes Columbus Day.
These are already known to be moderate crowd weeks—from the Columbus Day holiday and Canadian Thanksgiving—so as a "fall break" there's no real news here.
Note also that no kids in my database of the 2105-2106 school year calendars of more than 12.4 million kids have a break weekend that extends to Veterans Day.  This holiday is celebrated on its actual date—November 11–although if it occurs over the weekend, days off will be on Friday or Monday.  So more than half of years, it does not lead to a three day weekend, as it does not in 2015. Since it is a Wednesday in 2015, breaks are not built around it at all.
Moreover, even if it does lead to a three-day weekend, most private, non-unionized employers don't have it as a holiday, so it's not a particularly great time for parents to go to Walt Disney World.
Second, beyond those, there's not a lot of material fall breaks.  Yes, you can see them every week shown, but not much–at most around 5% of kids during Jersey Week. and more typically much less.  There's just not enough here to materially affect your choices as to when to go to Walt Disney World, other than Jersey Week and the weeks before and including Columbus Day.
Note: none of this is about Thanksgiving week, which is quite crowded and a lousy time to go!
Follow yourfirstvisit.net on Facebook or Google+ or Twitter or Pinterest!!
RELATED STUFF