Review: Trattoria al Forno on Disney World's BoardWalk
By Dave Shute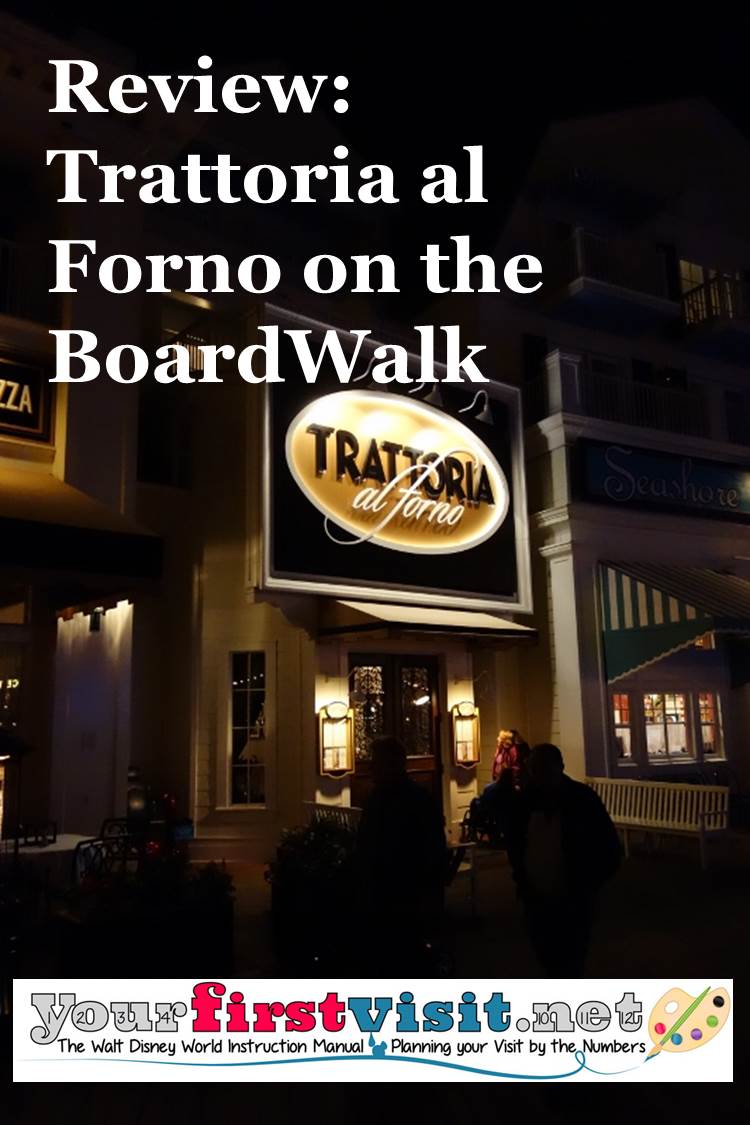 Trattoria al Forno (Italian for "tavern baked") opened on Disney World's BoardWalk in December 2014, replacing Kouizzina. My sister, dad and I had dinner there at the end of January 2015.
Disney's word on Trattoria la Forno is this:
"Showcasing traditional techniques and artisanal artistry, this convivial trattoria celebrates the diversity of Italian cuisine with authentic ingredients and recipes hailing from all over "The Boot," from Milan to Rome. House-made-daily mozzarella atop Neapolitan-style pizzas, satisfying hand-rolled pastas, velvety risottos, and seasonal seafood and vegetables make this dining destination a must for anyone serious about fresh Mediterranean fare."
…and we have a little more detail in our book, The easy Guide: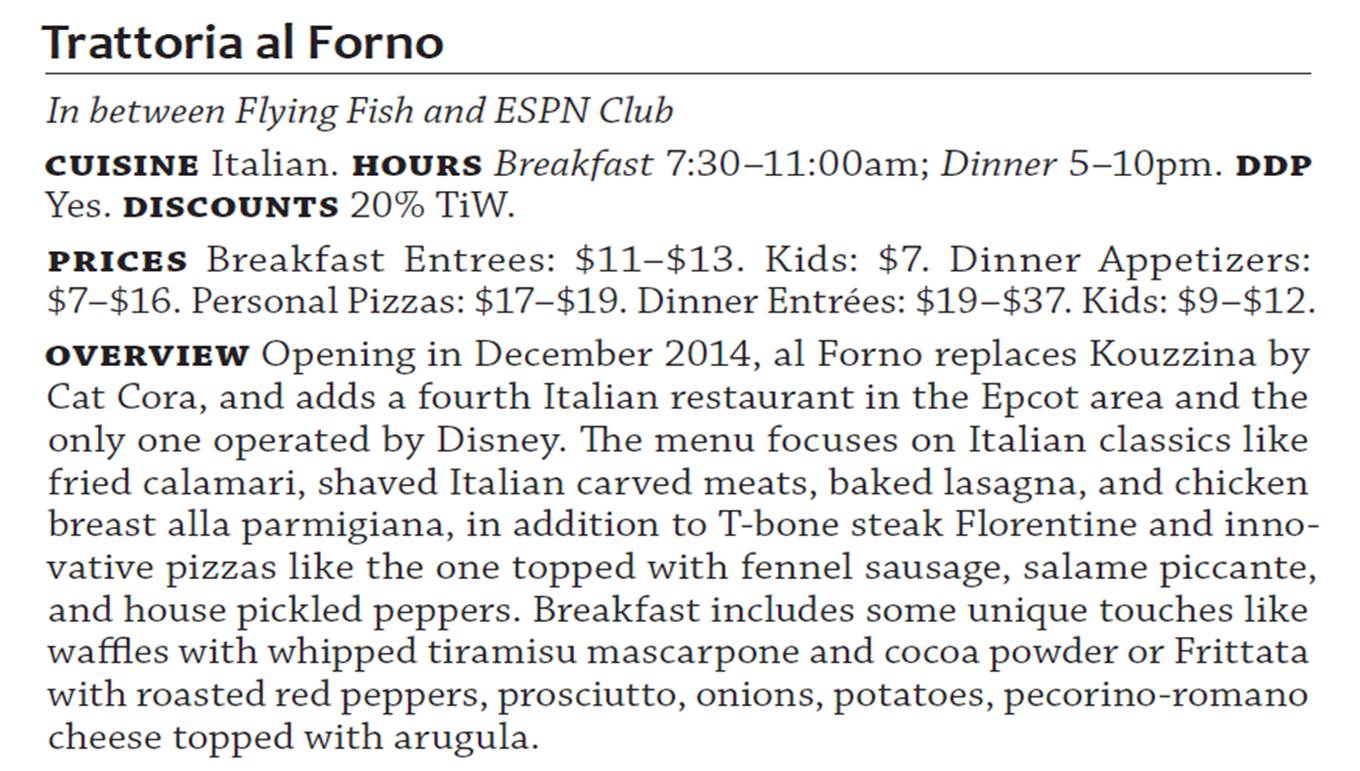 Trattoria al Forno makes for four Italian restaurants in the area, but unlike the two in Epcot, requires no park tickets. The third option is also outside of Epcot—Il Mulino in the Swan—and Trattoria al Forno is a little more kid friendly, and largely lower priced, than Il Mulino.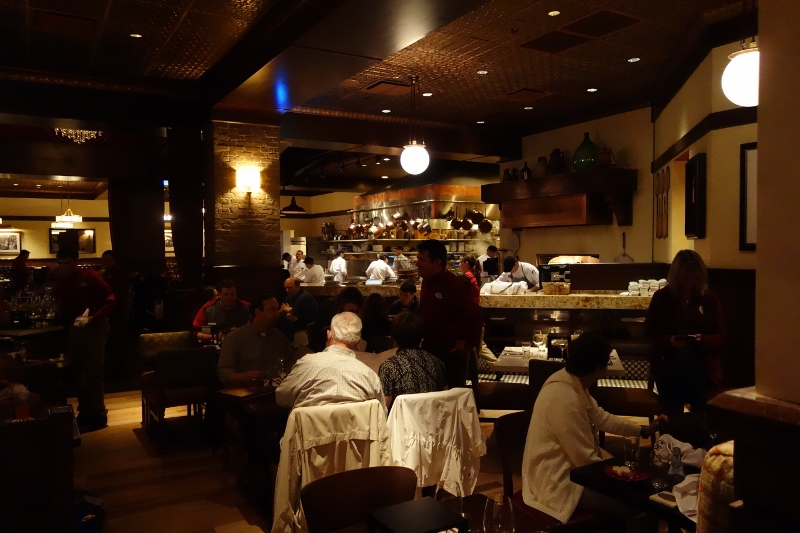 Among the BoardWalk offerings it's a pretty safe choice for families—while not nearly so fine as the dining at Flying Fish, it is also not nearly so expensive, and less of a niche offer than are the ESPN Club and the Big River Grille and Brewing Works.
Early reports revealed service issues, but other than a long delay in seating we didn't see any—likely because Trattoria had been open more than 6 weeks at our visit, giving time for operations to become more stable.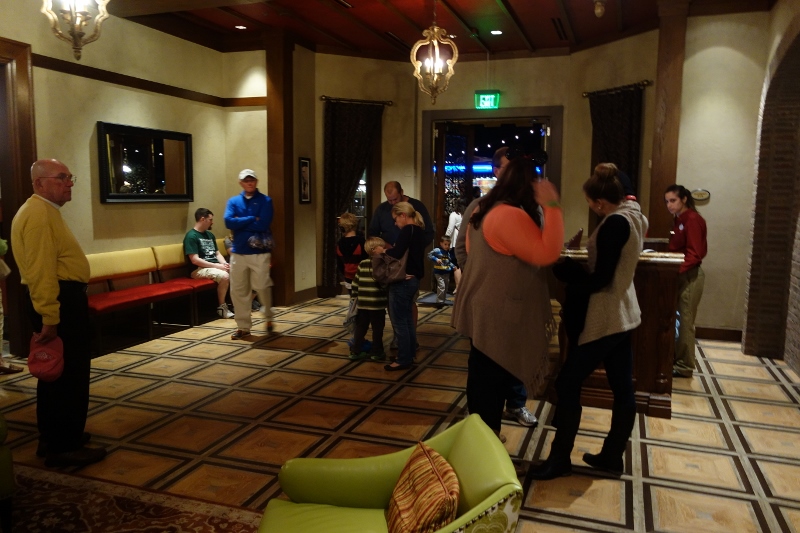 We arrived a little early for our Friday evening 7.20p ADR and were told that seating was running about 15 minutes late, and were given an expected time to be seated of 7.35 to 7.40p. We were actually seated at around 7.45. The gathering area outside the main dining rooms was unexceptional, and had few seats.
(Up until recently, Disney's page on Trattoria la Forno said it was only taking reservations through April 30. My guess is that among other things this was to give them the data to re-balance the reservations offered to how long guests were actually taking to dine. This message is now off, and reservations are available the usual 180 days out. I suspect waits will improve after April 30, based on new standard times for table occupancy.  )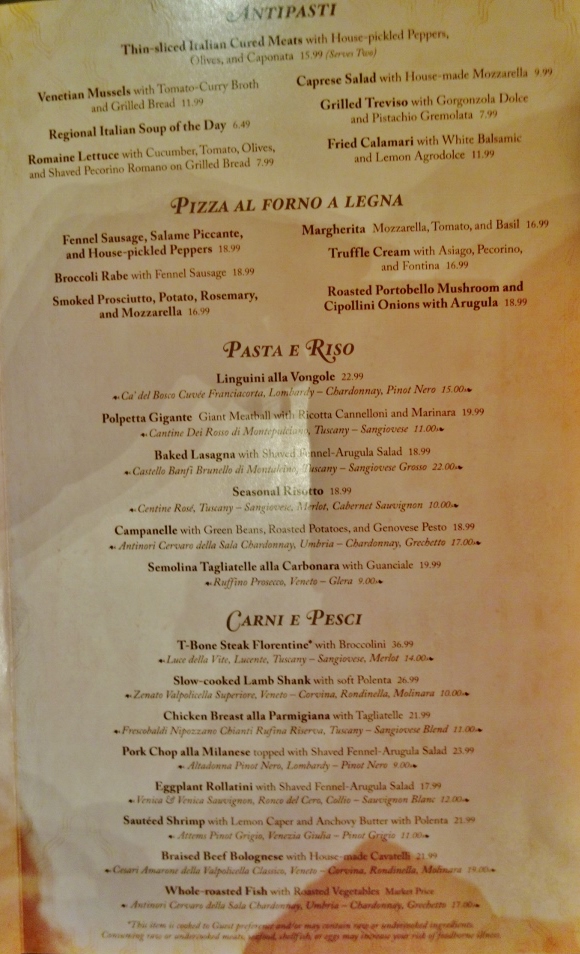 Trattoria al Forno has a distinct, Italian-only wine list, and a brief menu (click to enlarge), though one with likely enough variety and different price points to intrigue most. Much pasta is house-made daily, as is the mozzarella.
Our server, Andrea, was terrific. My dad can be an active and engaged customer—and he was so even before he started wearing dual hearing aids. Andrea positioned herself perfectly so he could hear, understood his old style drink order ("Gin martini, no garbage, dirty ice") and helped my sister select her wine.
Our meal started with bread, which was my biggest disappointment, as it was room temperature, rather than warm. Olive oil for it is at the table, and for barbarians, butter is available upon request.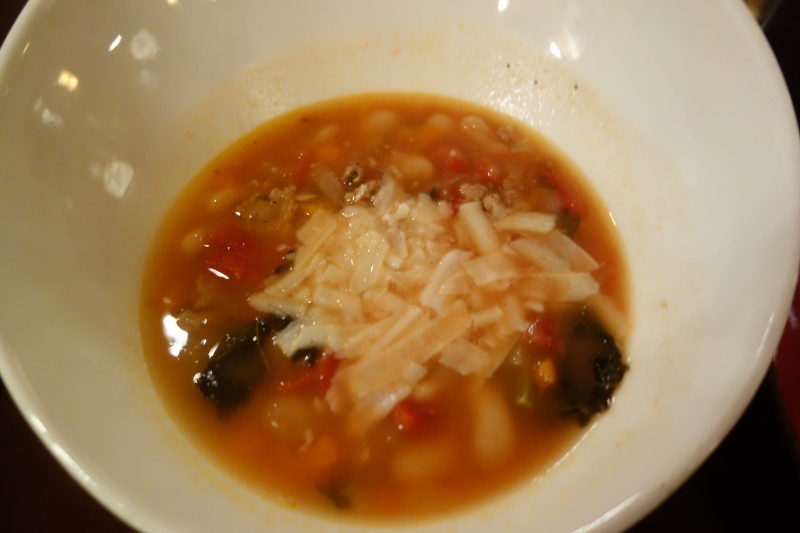 Violating the precept that for a review one should order the stable and popular items on the menu, not ephemera, I had the soup of the day—similar in its broth to minestrone, and delightful.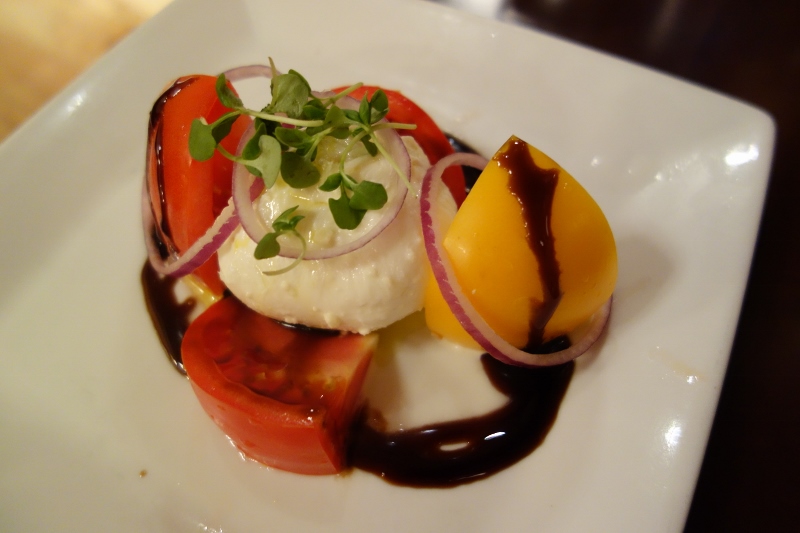 My sister and I both had the Caprese salad. I loved everything about it, especially the presentation and homemade mozzarella, but my sister would have preferred much more basil and was a little thrown off by the onion.
I'm always glad to see an interesting variant on such a standard (so long as the tomatoes and mozzarella remain great!) but it's also easy to see how perhaps if one orders a Caprese salad one ought to get tomatoes, mozzarella, and lotsa basil.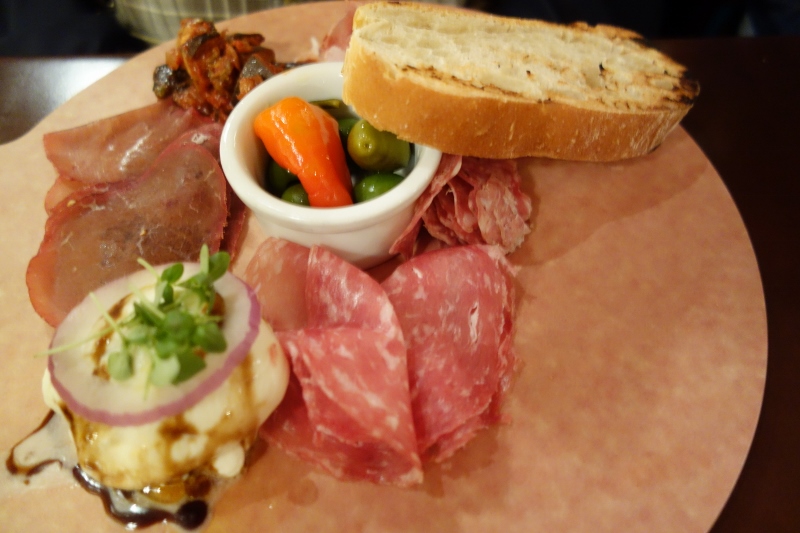 My dad eats like a bird these days, so he ordered only the "Thin-Sliced Italian Cured Meats with House- Pickled Peppers, Olives and Caponata." (This appetizer serves two.)
This is exactly as described except it also includes a slice of bread (which we liked better than the table bread) and is not your classic antipasti plate—no cheese is included, for example, and it's thin on vegetables. Andrea asked without prompting if he wished to add mozzarella, and of course he did. He was less keen on the mozzarella than my sister and I were—perhaps because, unlike say some hunks of Parmigiano-Reggiano, mozarella is not strongly flavored enough to stand up to the meats, pickled veggies, etc.
My dad—a bit of a connoisseur of Italian meats—thought it overall so-so, but he did take what he didn't eat home in a doggie bag for later!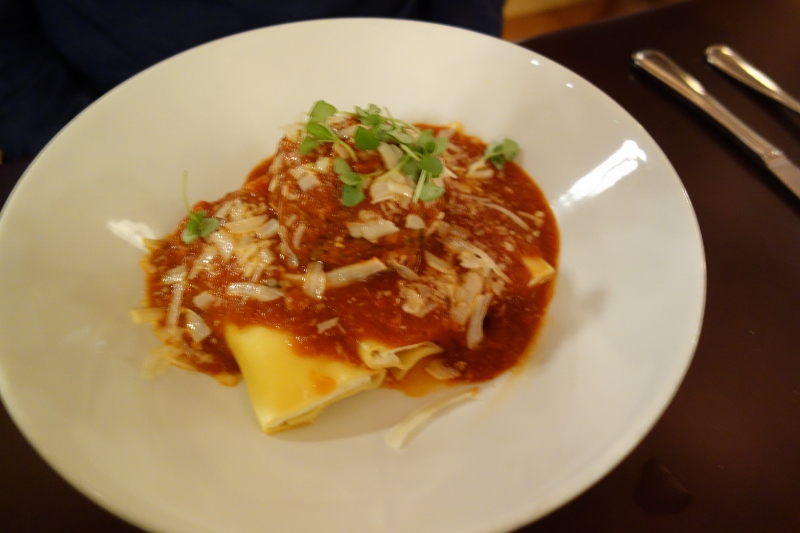 My sister ordered the "Polpetta Gigante"—"Giant Meatball with Ricotta Canelloni and Marinara" (I would have ordered it if she hadn't—I could never turn down a "giant meatball") and loved it. The meatball was indeed giant, but evenly cooked, gently spiced and delightful, as was the cannelloni.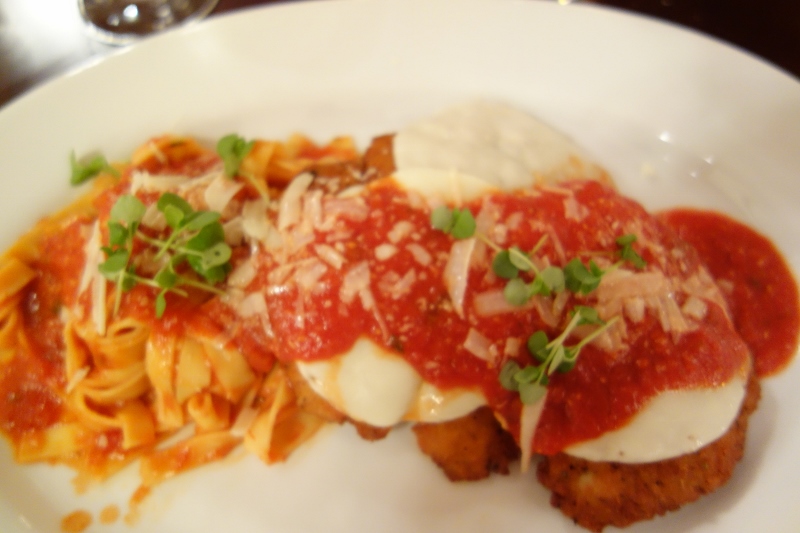 This time remembering to follow Josh's dictum, I had the Chicken Breast alla Parmigiana with Tagliatelle. I was impressed by this simple dish—in particular with how hot and crisp the breading was even under the cheese and sauce.
Having learned earlier that day how much work it was to push someone around in the parks in a wheelchair, we were all too tired for dessert…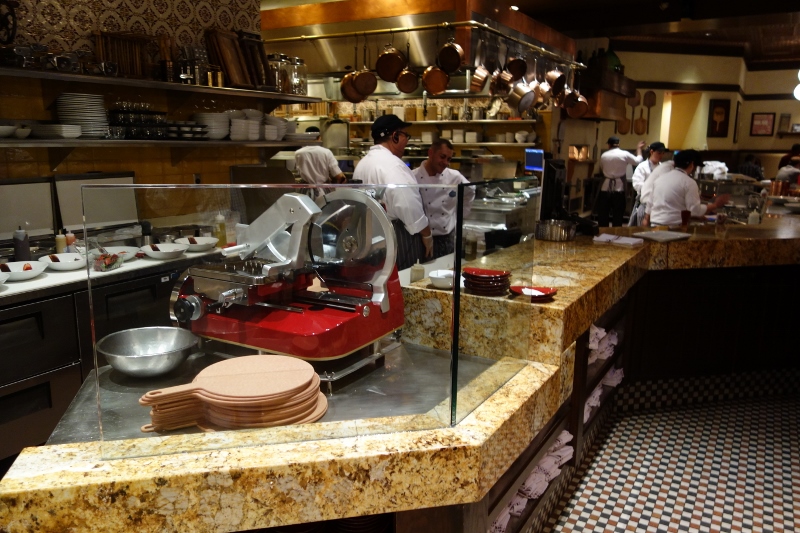 The kitchen in Trattoria al Forno is right there (as it was in the past restaurants that occupied this spot) and the various dining spaces are themed to show the growth over a time of a family's hospitality into all the spaces of their home. You are unlikely to notice this, at least in the dark.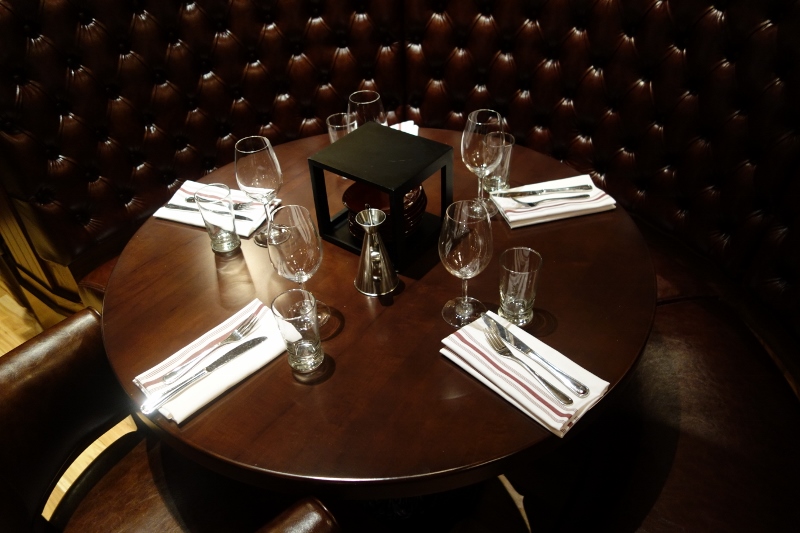 By no means a destination restaurant, even so we really liked Trattoria al Forno. It's better suited to typical family dining for most than any of the other BoardWalk options, but also good enough for a lower-priced adult date-night venue.
I'll definitely be back—and next time, I'll try an on-menu soup—and all the desserts!!
(Josh's review here on easyWDW.com has more and better pictures, plus experience with other menu items.  Check it out!)
Follow yourfirstvisit.net on Facebook or Google+ or Twitter or Pinterest!!
RELATED STUFF