Amenities at Disney's Old Key West Resort
By Dave Shute
(For the first page of this review of Disney's Old Key West Resort, see this.)
AMENITIES AT DISNEY'S OLD KEY WEST RESORT

Because the two sets of options at the Wilderness Lodge, Animal Kingdom Lodge and Saratoga Springs are so different, and the Polynesian offering is so distinctive, for review purposes I count a total of twelve resorts, but rank only eleven.
Their overall ranking for first time family visitors is as follows:
(My rankings exclude the Polynesian Villas and Bungalows, as the offerings there–except Studios–are so different from all the rest. Ranking solely among Studios, the Poly Studios would come near the top of the list.)
These resorts are available to anyone to reserve through the regular Walt Disney World website or resort reservations phone number at 407-939-7675.
They also are available to the general public at great discounts through renting points from a Disney Vacation Club member. (They are also of course available to these members themselves.)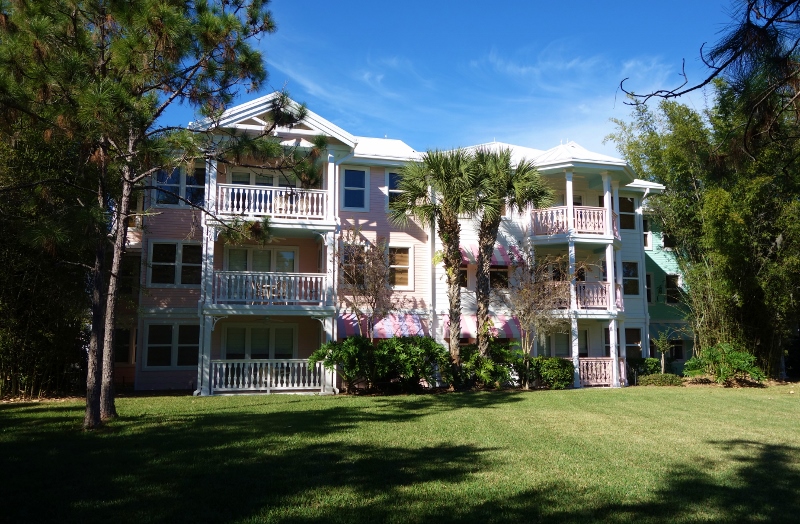 Disney's Old Key West Resort is described on Walt Disney World's website as "an island hamlet of brilliant green landscapes, pastel-colored Victorian architecture and ornate gingerbread accents…nestled among swaying palm trees, shimmering waterways and… lush golf fairways."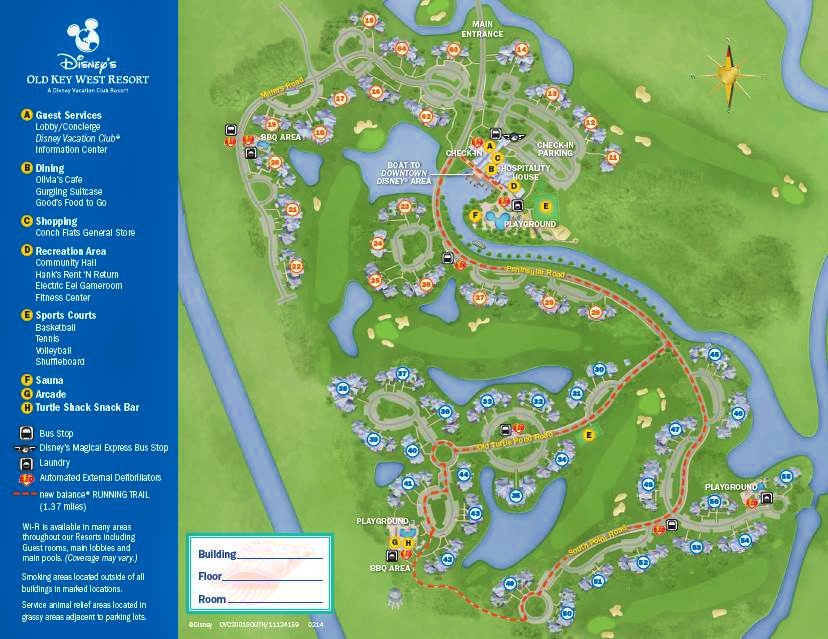 Its 156 acres include an area called the Hospitality House, near the top and at the right of the map. You'll find pretty much everything here except your room itself and some quiet pools.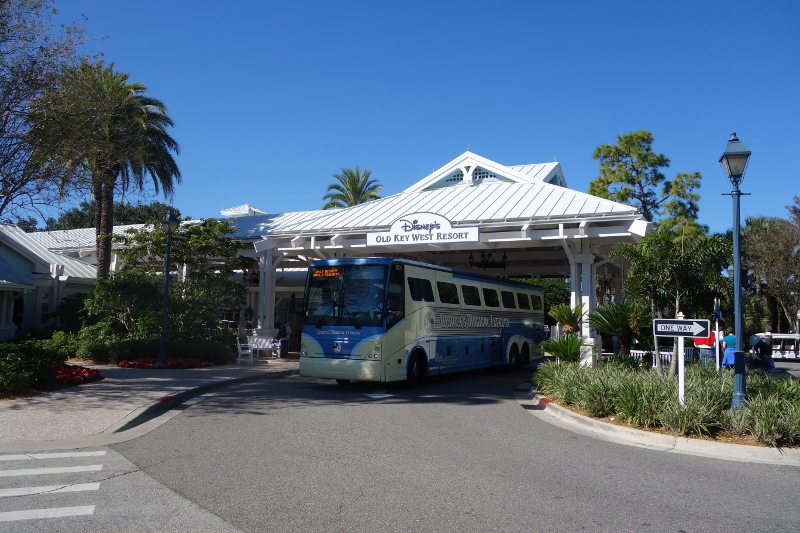 Bus service at Old Key West is convoluted, because of all the dead-end roads.  Currently, all buses have the Hospitality House as their last stop, and another stop a short walk away (near building 28 on Peninsular Road) as their first stop.
This means you can take any bus to the Hospitality house, and walk to the Peninsular Road stop and take any bus back to the stop nearest your room. But ask the bus driver when you get on, as things can change.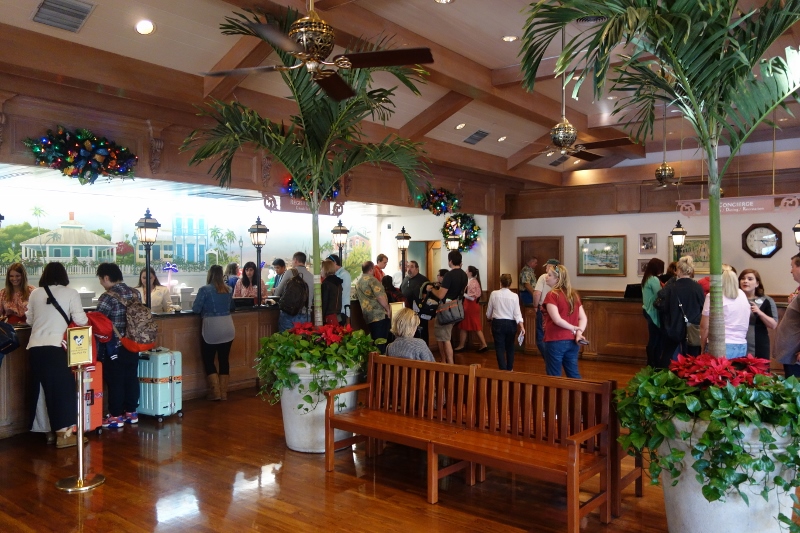 The Hospitality House area includes the check-in lobby, where you'll also find concierge services…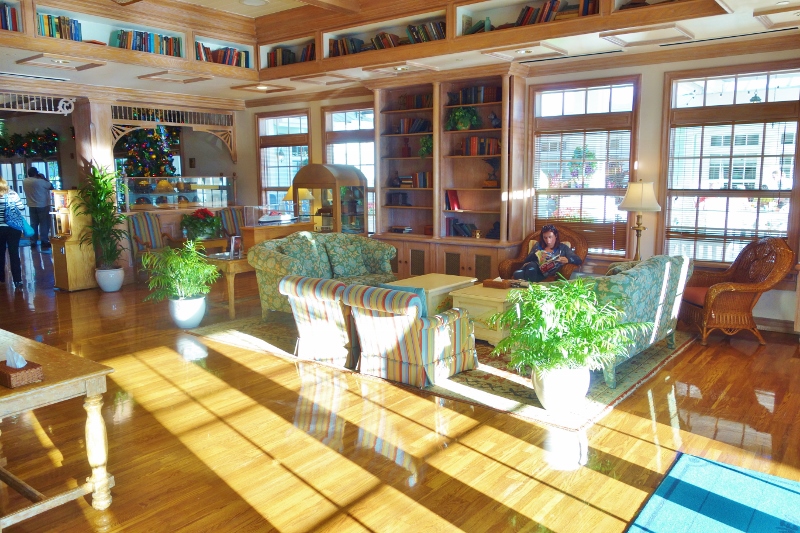 …a comfortable lounging room off the lobby…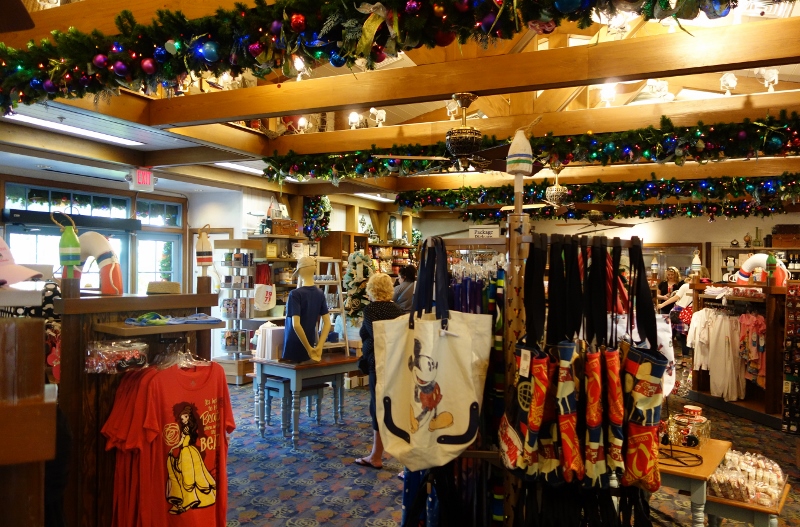 …and a well-stocked shop…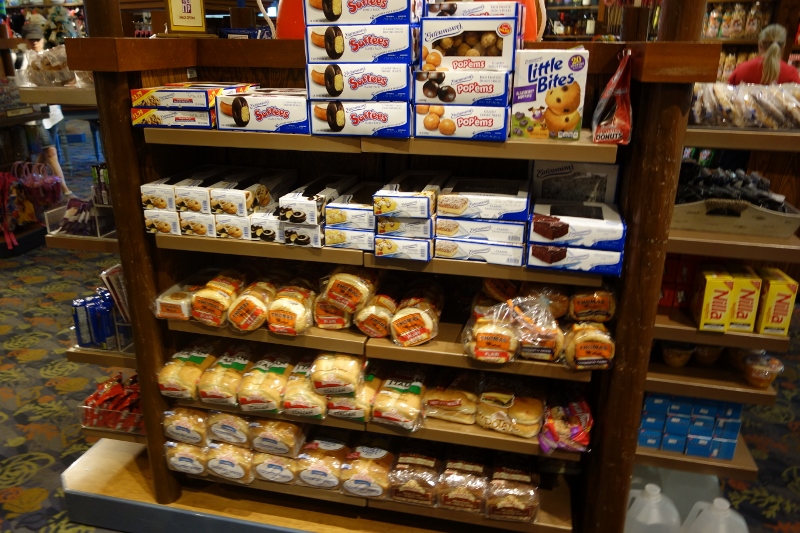 …with a nice assortment of groceries…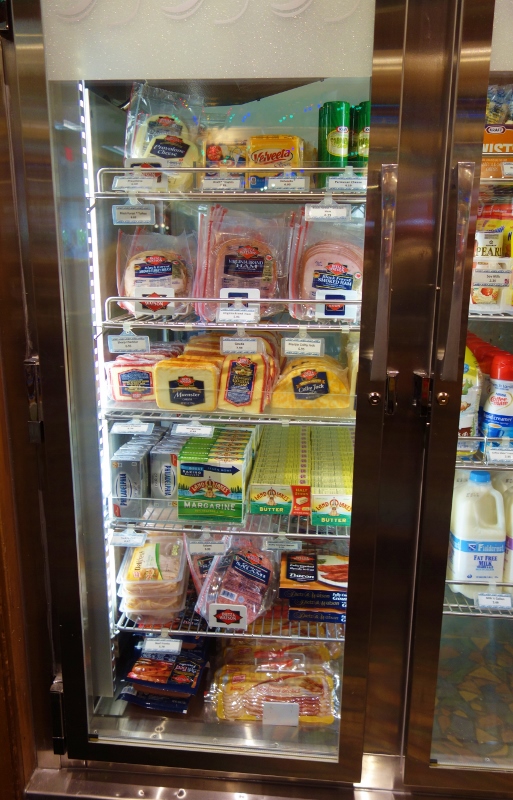 …which makes sense, given all the kitchens here.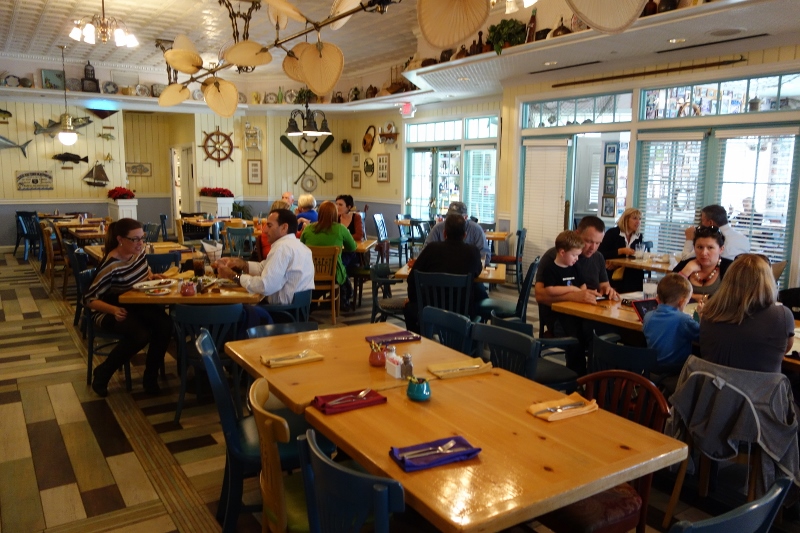 Also in the Hospitality House area you'll find the table service restaurant, Olivia's.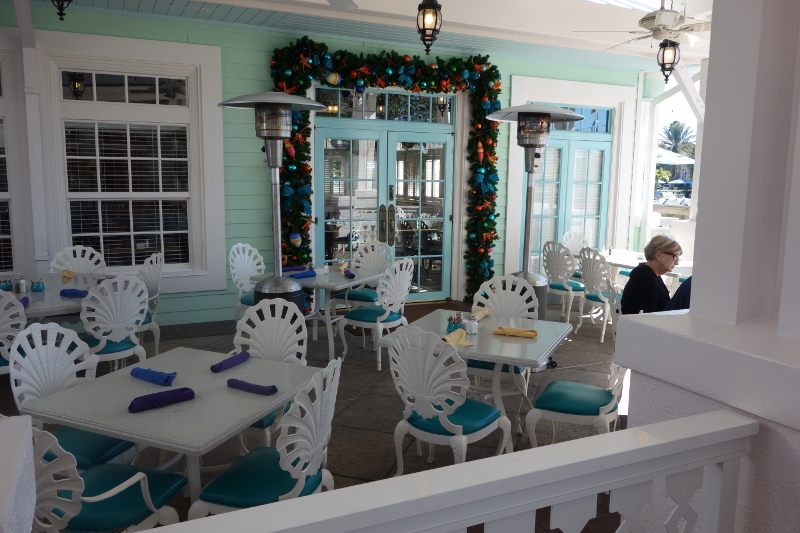 Outdoor seating for Olivia's is available too.
Here's the review of Olivia's from our book The easy Guide to Your Walt Disney World Visit 2019: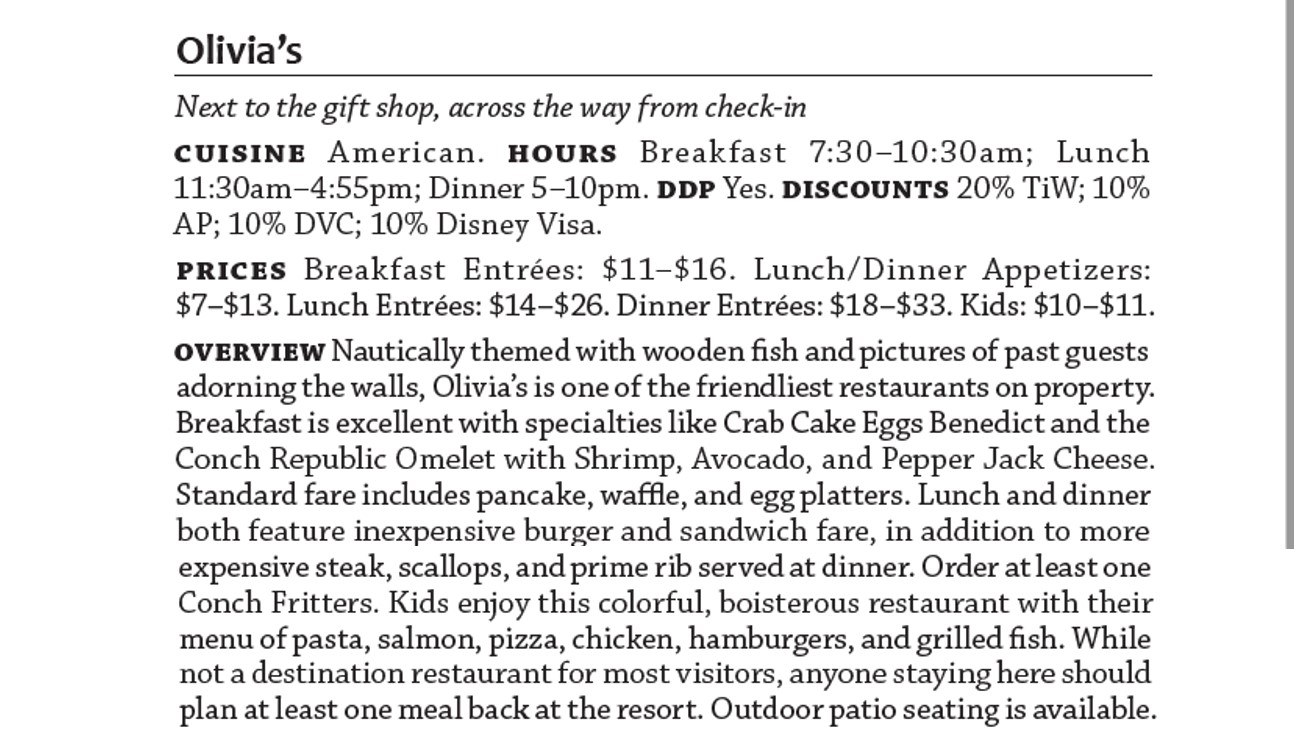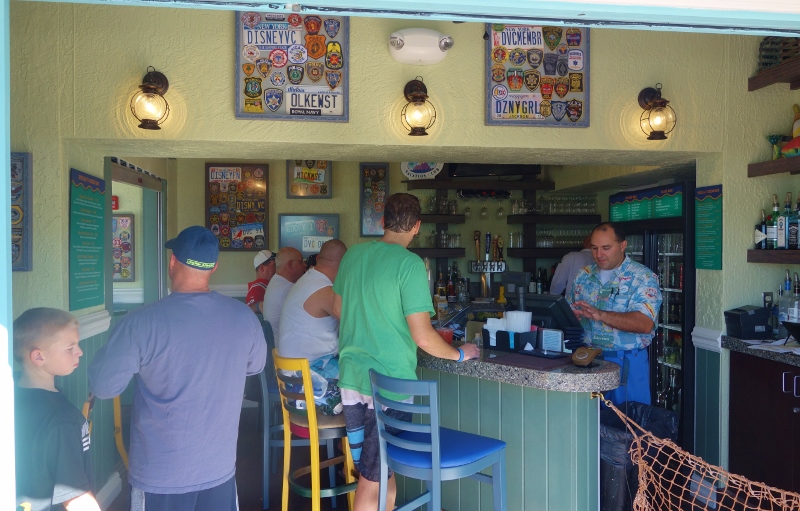 Outside you'll find a very small bar…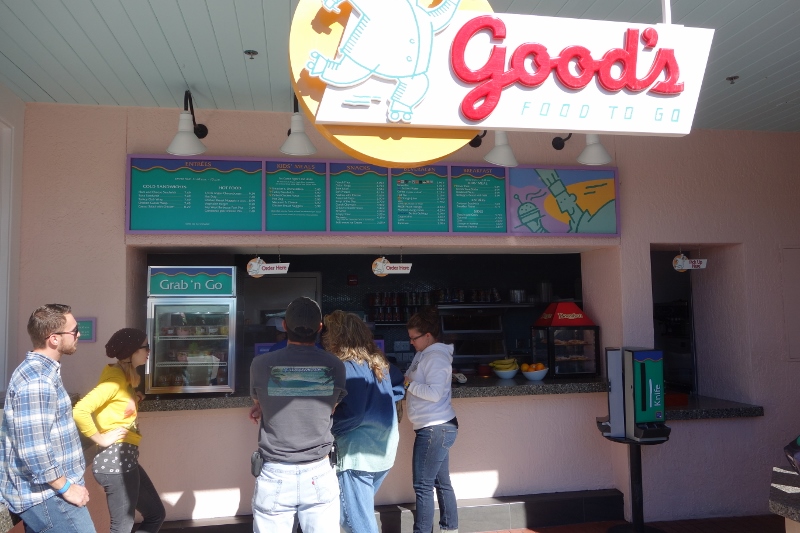 …and next to it a very small snack bar, which is the only counter-service offering here.

The menu is quite limited (as always on this site, click the image to enlarge it)…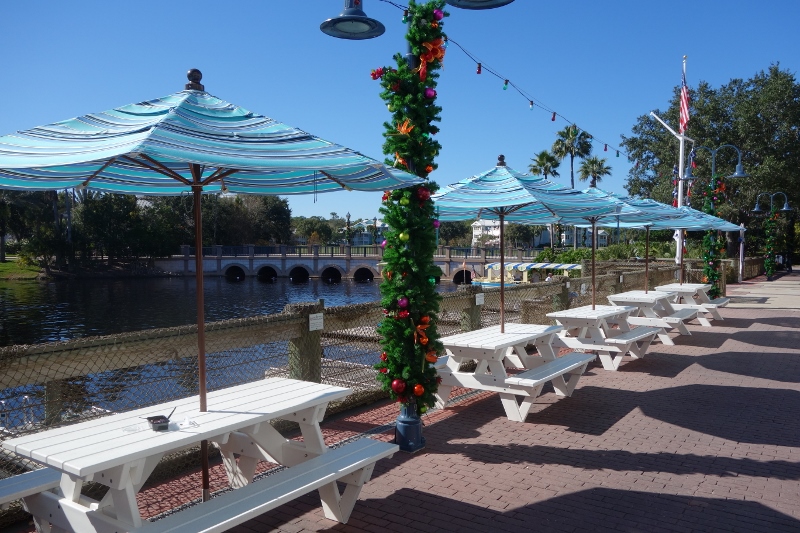 …and there's no indoor seating for it–just outdoor tables.
There's another snack offering with an even more limited menu at the far end of the resort near the Turtle Pond quiet pool… understandable, I suppose, given all the kitchens, but awkward for anyone on the dining plan…or in a studio.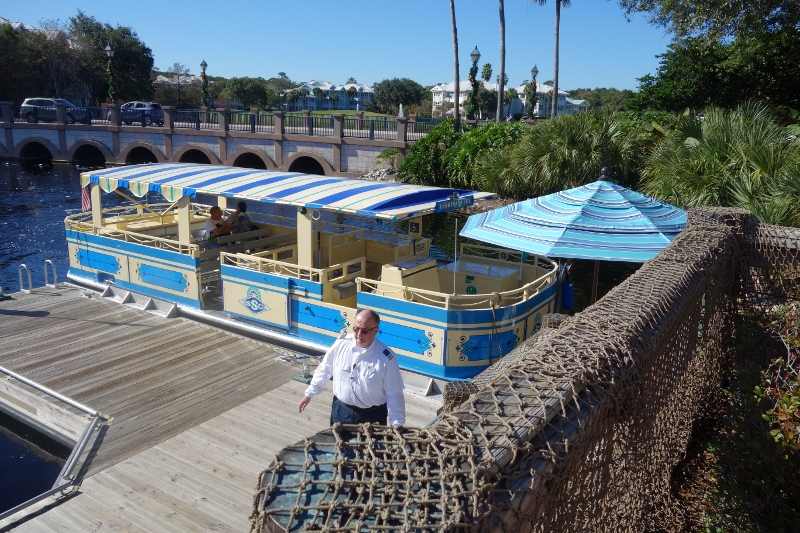 Also in this water-side area is the dock where you can catch a ferry to Downtown Disney.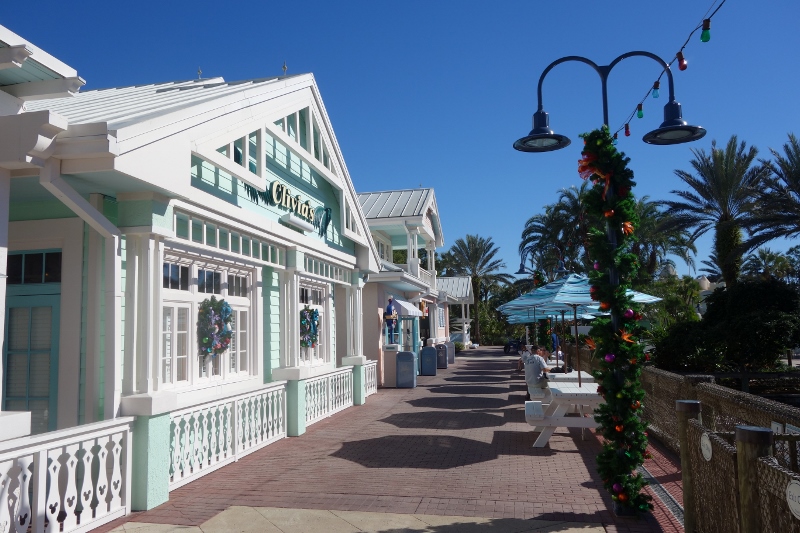 Further down this waterside walkway, past the pool (more on that in a minute)…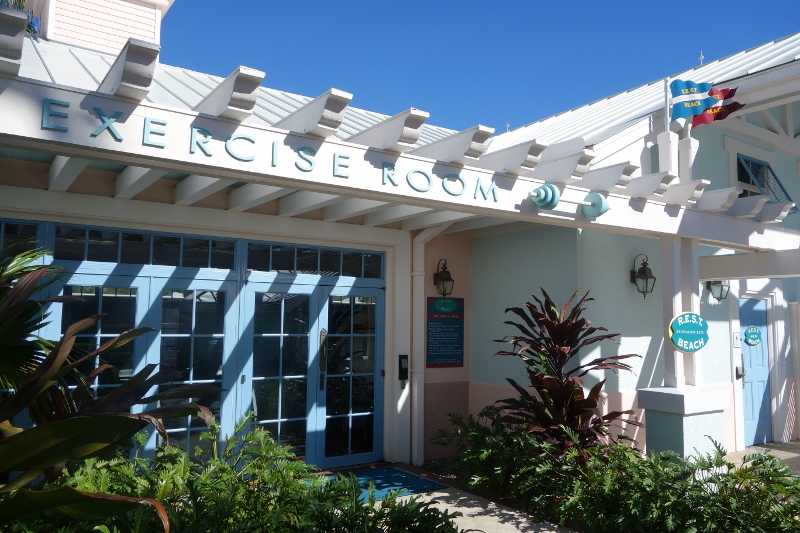 …you'll find this gym.
THE POOLS AT DISNEY'S OLD KEY WEST RESORT
This review continues here!
PAGES: Previous |  1  |  2  |  3  |  4  |  5  |  6  |  7  |  Next 


Follow yourfirstvisit.net on Facebook or Twitter or Pinterest!!
RELATED STUFF