Hollywood Studios Day 1: Thursday FastPass+ Lower Crowd Seven Night Itinerary, Sunday Arrival
By Dave Shute
HOLLYWOOD STUDIOS DAY 1: THURSDAY AGENDA
Today you have the morning off and then begin your visit to Disney's Hollywood Studios, which you will complete Sunday morning.
You should have FastPass+ for the Frozen Sing-Along, Voyage of the Little Mermaid, and Toy Story Midway Mania. You have no scheduled dining today. Today's plan is to work four scheduled shows in around you FastPass+ and some minor attractions.
(Note: this is from the FastPass+ Lower-Crowd Seven Night Itinerary, Sunday Arrival Variant. It does not work all weeks–use the comment form to check in on yours!)
FIRST THINGS
Sleep in and be at the park by noon.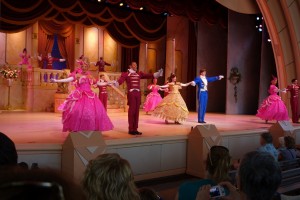 AT THE PARK
Grab a Times Guide and check the timing for Lights Motor Action, Beauty and the Beast, and Fantasmic
See the Great Movie Ride (if lines are too long, get a fourth FastPass+ after Toy Story Mania)
See Voyage of the Little Mermaid (FP+)
See Walt Disney: One Man's Dream
See Toy Story Midway Mania (FP+)
See the Frozen Sing-ALong (FP+)
See Beauty and the Beast
Be at Fantasmic 30-45 minutes before showtime. Fit dinner before or after
PREVIEW OF TOMORROW
Tomorrow you continue your visit to the Magic Kingdom.
Follow yourfirstvisit.net on Facebook or Google+ or Twitter or Pinterest!!
RELATED STUFF