Park Hopping With FastPass+
By Dave Shute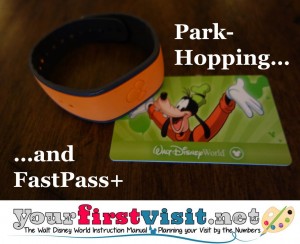 "Park Hopping" is going to more than one Walt Disney World theme park in a day.
This requires a "park hopper" add-on to base tickets—currently about $63 extra per person for a ticket of two to ten days. (And no–you can't just use "two days" of one regular ticket…)
(There's another way to do more than one park in a day, that I'll come back to in a minute.)
Most longer visits by first-time visitors can be designed to avoid the need for this extra cost add-on, but for some it will make sense–especially those on shorter trips–and many returning visitors have enjoyed the flexibility that hoppers give them.
Park hoppers let you
Have dinner or evening drinks in a different park than you began the day in—particularly in Epcot, and a particular boon for those staying in the Epcot resorts
See the Magic Kingdom evening events while beginning the day in a less crowded park—a particularly good plan during the "party season," the period from mid-September to mid-December when many nights the Magic Kingdom closes at 7p for the Halloween or Christmas Party—and as a result is mobbed during the days it is open late and has the full parade and fireworks program
Start the day at a morning Extra Magic Hours Park, but head to a different park later in the morning or early afternoon as it becomes increasingly crowded
Until, that is, FastPass+.
As of now, and perhaps for all eternity, you are limited to three FastPass+ per ticket per day, and those in only one park. So while you can still hop, you can use your ticket to get FastPass+ in only the first or the second park—and not both.
PARK HOPPING WITH FASTPASS+ IN ONE PARK
This has caused a bit of a ruckus, but it's still easy to hop if your purpose is dining or evening entertainment. Neither of these requires a FastPass+, and moreover, in the ancien regime of legacy FastPass, arriving at a park for dinner or the evening shows would usually mean that the Fastpasses for that day would all be gone anyway by then.
If your purpose in hopping was to go from one park's morning Extra Magic Hours to see a less crowded park's attractions later in the day—well, based on my experience with FastPass+ in four tests over the last 5 months, I think you can do just fine, especially if you are staying in a Disney owned and operated resort—and hence are eligible not only for Extra Magic Hours, but also for scheduling your FastPass+ ahead of time.
Book your three Fastpass+ in the second park, and your hopping will work well. You may see one fewer headliner, but you will have a more predictable—and peaceful-day.
In the olden days before late January 2014, you'd show up for morning Extra Magic Hours, see some headliners in the first hour, and typically pull a couple of more via fastpasses. At the second park, depending on crowds, Fastpasses still available for distribution at the time you arrived, and—most importantly—resilience for staying in the park for late return times, families would typically get two to three more Fastpasses.
With FastPass+, you will miss one or two headliners in the first park from not being able to get fastpasses there, but will see potentially one more at the second park. Moreover, your experience at the second park will often be much less nerve-wracking and much more humane than under the old system with its fully-distributed Fastpasses and late return times.
If you are flexible with times, you will be able to group your three FastPass+ more tightly than you ever could in a former hop (because you were then stuck with the return times offered), and so your time in the second park will be much more productive. Moreover, you will know before you go what your FastPass+ schedule will be, and know exactly what you will get—neither was possible in the old system.
For people who have been to Disney World a lot, it's still a bit astonishing that under FastPass+ they can still see a ton of rides in Fantasyland during Magic Kingdom Morning Extra Magic Hours, and then be able to see Toy Story Mania or Soarin at a known time with an afternoon FastPass+ at the Studios or Epcot…
PARK HOPPING WITH FASTPASS+ IN BOTH PARKS
And there's another way to make hopping go even better if you plan to do it only one or two days. Instead of buying a park hopper, buy a second ticket.
As explained here, the three FastPass+ per day limit is per ticket, not per person. With two tickets, you can get three FastPass+ in each park.
With two tickets, you'd use the one linked to your MagicBand to book three FastPass+ ahead of time in the second park. You'd use the other ticket to enter the morning park (not, though, on an Extra Magic Hours day—because you would then need your MagicBand to enter and then everything blows up…). Hit a headliner at park open, and then book the rest of your morning's FastPass+!! When appropriate, head then to the second park for three more FastPass+!
This is very expensive—an extra one-day ticket for a typical family of four is around $400, and an extra two-day ticket more than $750. But you also save the hopper cost—around $250. So the net cost is around $150 (or about $13 for each extra FastPass+) if you'd planned to hop for just one day, and $600 (or about $21 for each extra FastPass+) for two days.
For many families this will be not of value. Others will sensibly balk at the cost, or simply not be able to afford it. But for some, buying two tickets even at this cost and then hopping with FastPass+ at each park will be well worth it!
Follow yourfirstvisit.net on Facebook or Google+ or Twitter or Pinterest!!
RELATED STUFF