Quick Update on the Meet-Up, 2nd FastPass+ Test, and More
By Dave Shute
QUICK UPDATE ON THE MEET UP
Well, the big joint fan meet up with Steve from MilitaryDisneyTips.com has come and gone, and I am just beat!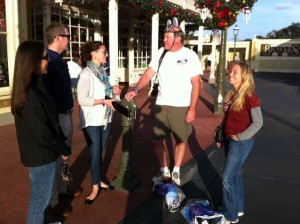 I lost count, but Steve, the writer/webmaster of MilitaryDisneyTips.com (right, with the hat) thinks that more than forty of you visited with us.
Hundreds more dropped by virtually on Facebook and Twitter!
This site exists to help, and all the time you folks write your appreciation–see the "puffery" on the lower left for just a tiny sample.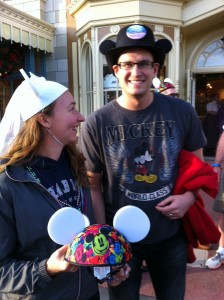 But taking time out of your Disney vacation to come see and thank a balding old guy…well you take my breath away with gratitude!
The couple above ruined their honeymoon by coming to visit!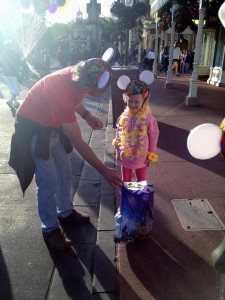 The "Glow with the Show" hats were gone within moments–the little girl got the second to last.
We'll be announcing the winners of the hats from the virtual part of the meet up on Twitter and Facebook shortly.
The meet-up started by the hat shop, and there were four people waiting before we'd even begun!
Then a neat surprise–Josh from easyWDW.com and Lisa rolled up!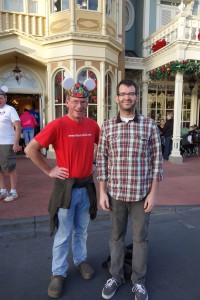 I'd spent much of Monday afternoon with Josh scheming over some stuff, so I was a little star-struck to see him twice in one Disney World visit!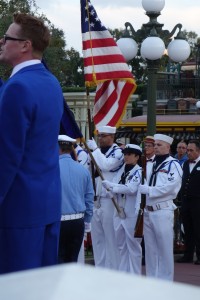 We all wandered closer to the flagpole for the retreat, then returned to the meet-up spot.
After it formally ended–and we are pretty formal here, you know–Josh and Lisa treated us to Fastpasses for the Jungle Cruise, re-themed as the Jingle Cruise this holiday season.  I laughed like a seven year old…
Josh and Lisa then peeled off, and Steve and I wandered the park, keeping people posted where we were and continuing to meet throughout the evening!
More details and photos will be out later, but thanks to all who came, to Allison and Leah from Destinations in Florida for their help and support, and most of all to Steve!  You rock, man…
TEST NUMBER TWO OF FASTPASS+
I'd done my first test of the new FastPass+/MagicBands system in September, focusing on rides. (Report of that test here.)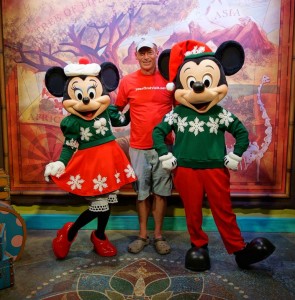 On this visit, my focus was on testing FastPass+ at character greetings…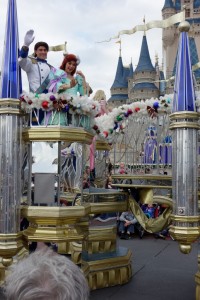 …parades…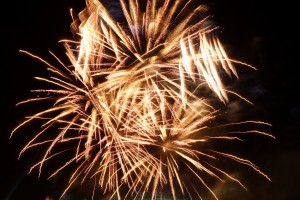 …and fireworks.
I have a lot more thinking to do before I can turn these experiences into recommendations, so stay tuned…
FIRST STAY AT THE VILLAS AT DISNEY'S GRAND FLORIDIAN RESORT & SPA
I began this visit at the Animal Kingdom Lodge, and ended it at the Wilderness Lodge.  I'll be updating the reviews of each soon.
But the real prize of this visit was several nights in a two-bedroom villa at the brand new Villas at Disney's Grand Floridian Resort & Spa.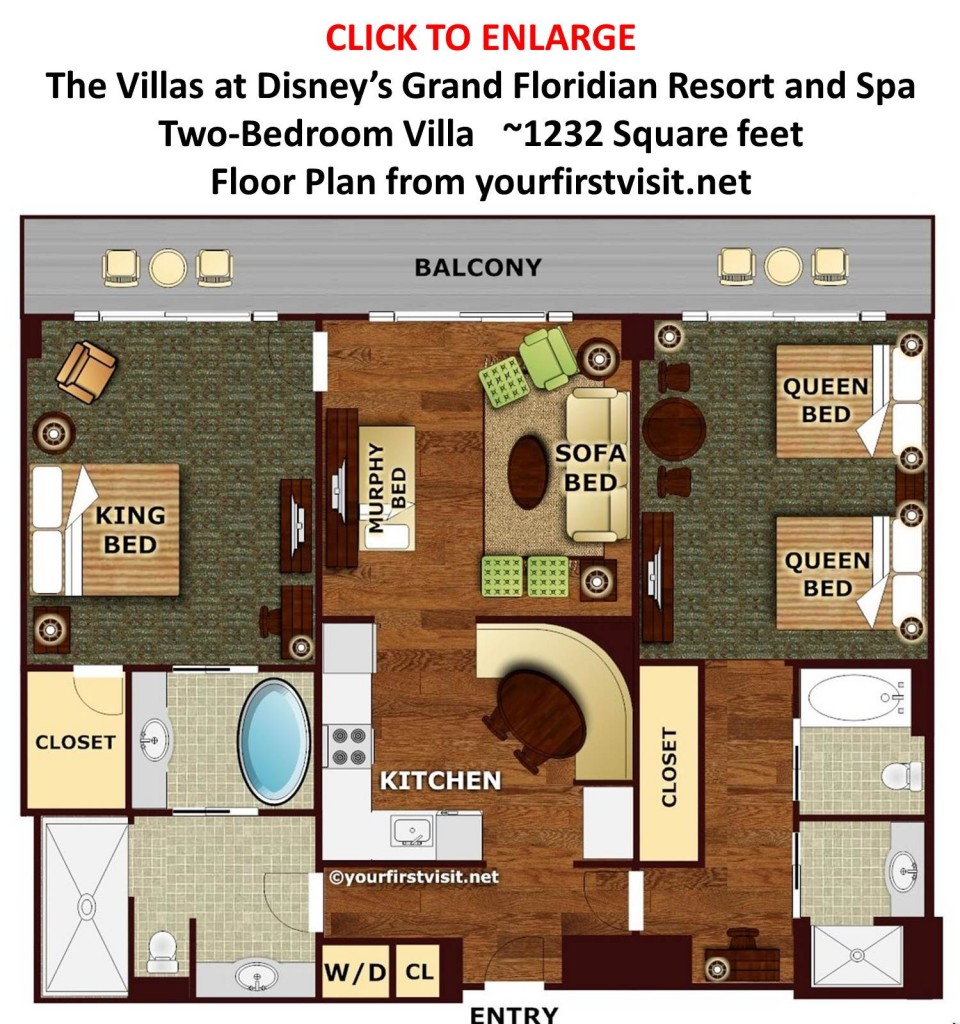 I'll be publishing a full review shortly, and in the meantime, Denise and I are working on floor plans. When the full set is out, these will be the most accurate floor plans for these villas ever published!
OK that's it for now, off to the airport. I'll be putting up more on all this soon, and thanks again to all of you who stopped by!
Follow yourfirstvisit.net on Facebook or Google+ or Twitter or Pinterest!!
RELATED STUFF