More and Less Crowded Days at Disney World Parks
By Dave Shute
PICKING THE BEST AND WORST DAYS TO VISIT THE DISNEY WORLD PARKS
As I've noted extensively elsewhere, this time of year–basically, until December 20, excluding Thanksgiving Week–although Disney World is largely un-crowded, you can choose your way into a really crowded park.
The issue is varying evening hours and entertainment, which can draw, or repel, huge numbers of people.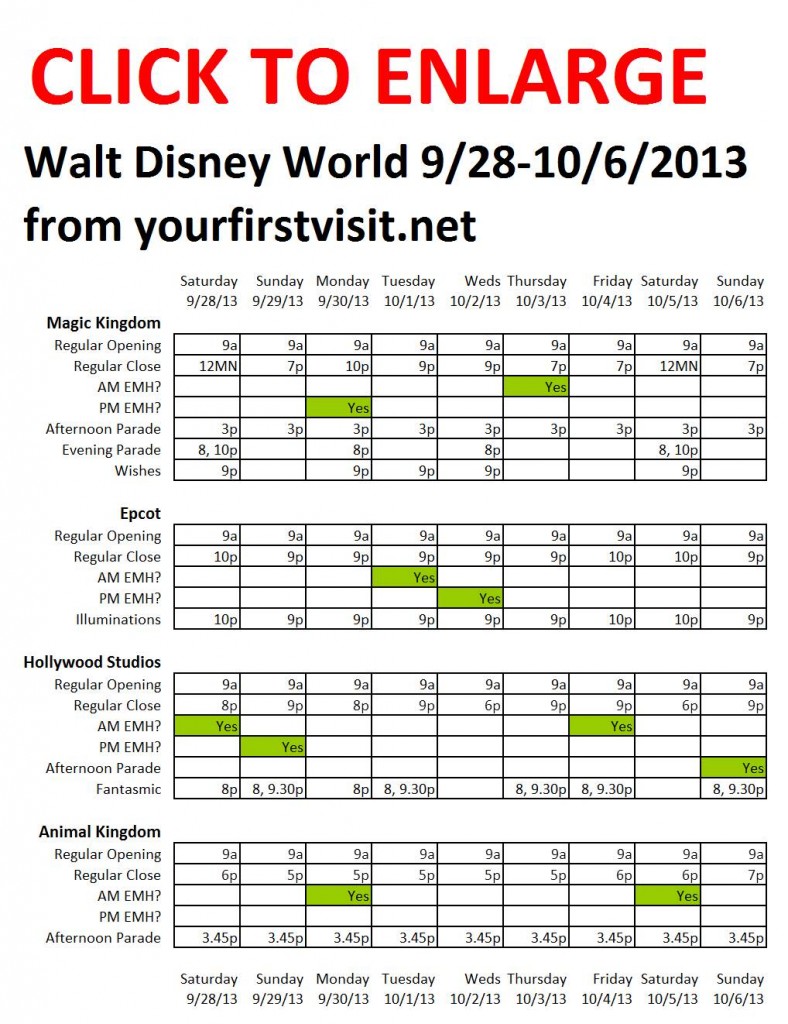 This week is a particularly good example (see the image, from the calendar I post every Friday), with
Here's the basics: people are repelled by early closes and the absence of well-loved evening shows, and attracted by late closes and the traditional evening entertainment.
So look at Saturday 10/5 at the Magic Kingdom–it's the only day in a four day stretch where the park is open later than 7p, and when Wishes and the evening parade will be showing. Moreover, Disney's Hollywood Studios closes quite early, and people will avoid that park and be particularly drawn to MK for the same reasons.
So the Magic Kingdom will be just mobbed the 5th.
At Disney's Hollywood Studios, the 3rd and 4th, with normal closes and normal evening entertainment, are between two days with 6p closes and no evening shows.  Both dates will be much more crowded than the early-close 2nd and 5th.
The 4th will be particularly crowded at the Studios.   On the 4th, it has morning Extra Magic Hours, which always draws extra people from the Disney resort hotels–and those without park hoppers then stay all day. Moreover, there's nothing going on at other parks other than Epcot's later 10p close to draw people away from it. And the Magic Kingdom's 7p close will have people looking away from the Magic Kingdom for the next best alternative…
So the takeaway?  If you can see the evening shows on a different night, then make your principal park visits on days with they have materially early closings. 
You will find easy lines and un-crowded parks, and see more than you would on days with longer hours–because those longer hours attract disproportionate crowds!
Follow yourfirstvisit.net on Facebook or Twitter!
RELATED STUFF