The Common-Sense Guide to Easter Week at Walt Disney World
By Dave Shute
The weeks before and after Easter are two of the most wildly crowded weeks at Walt Disney World.
The common-sense approach to handling them is to run, screaming, back home.
But if that's not an option for you, here's some more common sense that might help.
HANDLING YOUR DAYS AT WALT DISNEY WORLD DURING EASTER WEEK
You need a good plan for each day.  I've already covered this here, but the basics are
PICKING WHICH PARK TO VISIT WHICH DAY
Don't let me mislead you–from March 23, 2013 through April 6, 2013 every day is gonna be just rotten.  But some days are better than others.
The trick to finding the best days to visit the parks is to figure out what everyone else will do, and do the opposite.  This is the "judo" of Walt Disney World.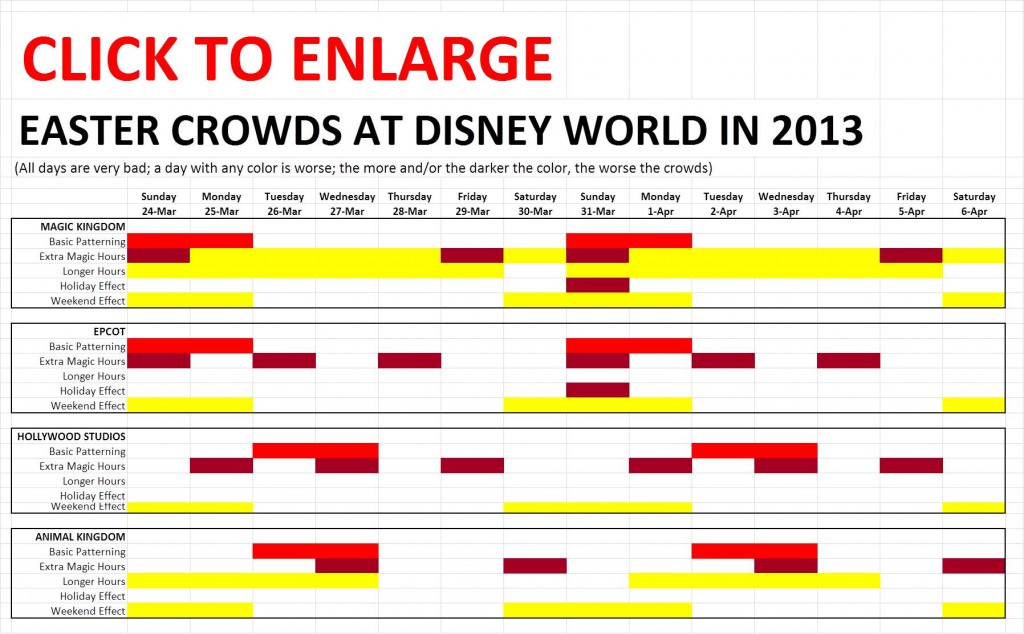 I've done this for the two weeks around Easter, where days with more color, and especially more darker colors, are worse.  See the chart–click it to enlarge it.
The best days at a given park will have three characteristics:
They'll have no color at all
Other parks will have lots of color
The day will be right after, right before, or ideally, sandwiched between, days at the same park with lots of color
Epcot on March 27 is a perfect example of this.
BUILDING THE DAILY CROWD FORECASTS
The chart is built on the five common sense items that drive crowds at Walt Disney World:
The basic patterning of visits: The most common full day is Sunday, and people tend to see the Magic Kingdom and Epcot the first few days of their trip, and Hollywood Studios and Animal Kingdom after
The effect of Extra Magic Hours: Extra Magic Hours draw people staying in the ~30,000 Disney World hotel rooms, and those without hoppers then stay all day. So crowds are higher than on on-EMH days.  Note that the Magic Kingdom has Extra Magic Hours every single day, which makes things rough for those staying off site.  I've given the Magic Kingdom the darkest color here only on days with both morning and evening Extra Magic Hours
The extra attractiveness  of days with longer operating hours–a big issue at some times of the year, not much of a factor these weeks, because operating hours and evening shows are pretty consistent.
The holiday effect–people are drawn to the Magic Kingdom in particular, and also to Epcot, on major family holidays
The weekend effect: both longer and shorter visits tend to include weekends, so Saturday, Sunday, and Monday are particularly crowded days.
Combine all these drivers, and you can see how some days will be worse, and some better.  The weeks overall will be horrible–but having a plan will help a lot, and picking your days carefully will help some too!
Follow yourfirstvisit.net on Facebook!
RELATED STUFF