Review: Zagat Orlando City Guide 2013
By Dave Shute
DINING OUTSIDE OF WALT DISNEY WORLD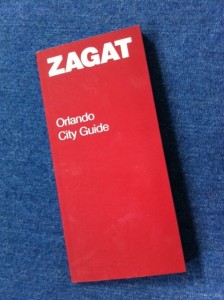 This site has lots of advice on where to dine at Walt Disney World–see this for a recent introduction to its "Where to Eat" material.
It lacks, though, material on anything off-property, and is thin on some on-property areas, like Downtown Disney and the Swan and Dolphin.
Those looking to supplement–or ignore!–my suggestions would be well-served by grabbing a copy of the Zagat Orlando City Guide
.
THE ZAGAT ORLANDO CITY GUIDE
The Zagat Guide to Orlando–a 2013 edition published in late 2012–is a long and slim 158 page guide to Orlando dining, nightlife, shopping, and attractions.  More than half the book is devoted to Orlando area dining, with 360 restaurants ranked and (briefly) reviewed, and that's its real strength.
The dining section begins with summaries of top-ranked restaurants in various categories, including "Most Popular," "Top Food" (overall and also by cuisine, by "special features," and by location), "Top Decor," "Top Service," and "Best Buys."
It then gives even more detailed lists of top-ranked venues in the special features, cuisines, and locations categories, and then shifts to more than 50 pages of detailed individual restaurant entries, arranged alphabetically.
So you can use the guide in many ways.  You can look for a venue in any of the category rankings covered in the first sections, or you can check out an alternative you are considering in detail in the listings section.
Compared to this site's material, the Zagat Orlando City Guide has much more comprehensive coverage, especially–as you might imagine–outside of the core Disney World properties. It can help with Downtown Disney and Universal Orlando dining much more than I do–and also of course with dining unrelated to theme parks!
Among the Disney World venues, Victoria and Albert's shows up at or near the top of any category it is eligible for, and Jiko also does quite well.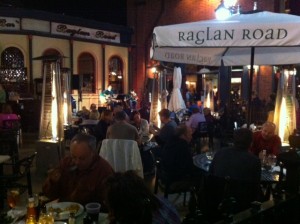 Curiously, neither Rainforest Cafe nor Raglan Road is included…which would be my top-ranked restaurants in Downtown Disney for families and adults respectively.
But regardless of these lacunae, I still think the Zagat Orlando City Guide is a great buy for visitors wanting to go outside the Disney World walls for their dining, or for those looking for another source of guidance.
I much prefer it to on-line alternatives like TripAdvisor, because while like them it's crowd-sourced, it is also both curated and edited.
Follow yourfirstvisit.net on Facebook!
RELATED STUFF