2013 Winter Ride Closures at Walt Disney World
By Dave Shute
RIDES CLOSED FOR REHAB IN THE WINTER OF 2013 AT WALT DISNEY WORLD
The winter of 2013 is seeing the usual spike in ride closures at Walt Disney World.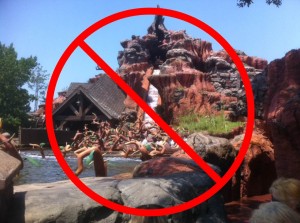 With Disney World's new web calendar, this is a little harder to figure out than it used to be.
(Well, with Disney World's new calendar, everything is harder to figure out than it used to be.)
But here's the  Disney World ride closings I know about:
Splash Mountain: closed until March 19
Mad Tea Party: closed January 7 until February 18
Kali River Rapids: closed January 6 until February 14
Liberty Square Riverboat: closed February 1 through February 7
Beauty and the Beast: closed January 1 through January 7
Disney Junior: closed January 14 through February 14
The Many Adventures of Winnie the Pooh: closed January 22 through January 24
The Barnstormer: closed January 29 and 30.
Every year rides are also closed for rehab and repair at other times as well, but the period after New Years and before President's Day is the most predictable time for this to happen.
That's why these weeks are dinged in this site's rankings of the weeks of the year for first time visitors who may never return–why go during a time when you know you will miss some great rides?
RELATED STUFF