Review: Pirates of the Caribbean: The Legend of Captain Jack Sparrow at Disney's Hollywood Studios
By Dave Shute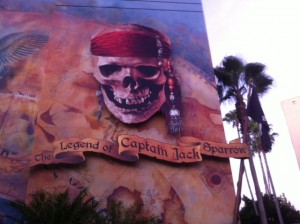 Pirates of the Caribbean: The Legend of Captain Jack Sparrow formally opened at Disney's Hollywood Studios last week (it'd been in soft opening for a couple of weeks before then) and I had a chance to see it the other night.
This is a great little divertissement for big fans of the Pirates movies, or for those interested in developments in theme park tech and implications for future rides.
If your family fits into one of these two groups, it's definitely worth seeing. If not, give it a pass unless you've got time on your hands.
PIRATES OF THE CARIBBEAN: THE LEGEND OF CAPTAIN JACK SPARROW
This attraction has been described everywhere as a "walk-through" attraction, which is true I suppose if you are used to short walks.
It includes an unthemed outdoor (but roofed) queue, and two interior spaces that you walk into and experience.
However, the second space and what happens there really is the show, so think of it as more like a theater show–queue, pre-show, and show–than a walk through, and you'll get it.
The second space includes a richly detailed physical set and multiple video and image projection deployments.
The quality of the video and image projections is astonishing, and sets a new bar for theme park tech.  Pirates of the Caribbean: The Legend of Captain Jack Sparrow combines image projections like what you'll see on Cinderella's Castle during Celebrate the Magic with the kind of lifelike video of Harry, Hermione and Ron that you can see at Harry Potter.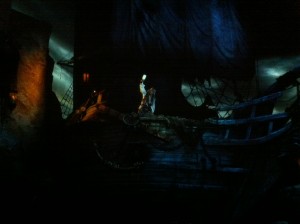 But the character video (of Captain Jack, reprised by Johnny Depp)  is even better than at Harry Potter, with astonishing dimensionality and detail–I have never seen video so life-like.
My photo doesn't come even close to doing it justice–no two-dimensional medium could. (And yes, it's a lousy shot anyway…but click it to enlarge it and it gets a little better…)
That said, though, there's not quite enough here for anyone other than a Captain Jack or a theme park tech fan.
So why is it here? A couple of possibilities.
First, while all the noise lately has been about New Fantasyland, the fact is that each of the other Disney World parks has also had a recent minor upgrade—zebras on Kilimanjaro Safaris, the re-done test Track at Epcot, and this at Hollywood Studios.  (More on all this later this month.)
Each of these adds a little marketing frisson to its respective park, takes a little pressure off the Magic Kingdom, and–perhaps–creates the talking points to justify an early 2013 ticket price increase.
Second, and I'm pretty sure I'm kidding here, this may simply be a bit of spite from DHS towards MK.  Disney's Hollywood Studios has had a Little Mermaid show for a long time, so what's up with Magic Kingdom getting all excited about a recycled D-Ticket Ariel ride?  If MK can tread on the Studio's Little Mermaid turf, well then DHS can grab a little Pirates and call it its own.
And third, this may be a test bed for future ride technologies, especially for "Avatarland."  Disney still plans on doing Avatar at the Animal Kingdom. I'd been wondering about how it will depict the incredible visual setting of that film.  But the combination of images, projections, and physical settings in Pirates of the Caribbean: The Legend of Captain Jack Sparrow shows just how well that could be done…
So if you are a fan of the Pirates movies or of theme park tech, or just have some time to spare while at the Studios, check out Pirates of the Caribbean: The Legend of Captain Jack Sparrow!
RELATED STUFF