Review: Kilimanjaro Safaris at Disney's Animal Kingdom
By Dave Shute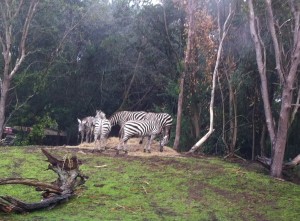 Kilimanjaro Safaris is the quintessential ride at Disney's Animal Kingdom Park, wonderfully combining the park's two major themes of animals and conservation.
It has recently re-launched with some elements added and some taken away. The combined effect is a new level of clarity for what was already a great ride, further solidifying its position as a not-to-be-missed attraction at the Animal Kingdom.
REVIEW: KILIMANJARO SAFARIS
When Disney's Animal Kingdom park opened in 1998, Kilimanjaro Safaris was the park's signature attraction and its biggest crowd magnet.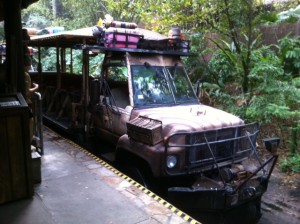 Then as now the ride was principally about taking an open-air truck on safari into Harambe Nature Preserve, and seeing lots of African (and Central Florida…) wildlife in the flesh.
At opening, however, for a couple of reasons, that was not quite enough, and a story overlay about poachers, a baby elephant named Little Red, and Little Red's mom Big Red, was added.
There were, I think, a couple of reasons behind this overlay.
One was Michael Eisner's over-dedication to the idea of "story" at the Disney parks.
Eisner came to Disney from studios, not parks, and did not initially get the parks, how they were different, and why they succeeded.  However, he quickly and a little too firmly got the thought that Disney told stories on its rides and in its parks, and got a little carried away in the service of story–most comically at Pleasure Island, which opened just a year after the Animal Kingdom, but also on Kilimanjaro Safaris.
So it wasn't enough to have a safari ride; what was needed was a ride with a story–with a clear conflict and denouement. So the ride opened as a two week safari interrupted by a poacher chase and the rescue of Little Red.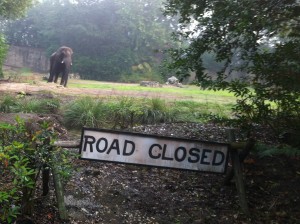 This also served another need at the time–that the Animal Kingdom not be seen as a zoo.
"You aren't riding around looking at animals," it could be claimed; rather, "you are on a thrilling adventure that just happens to involve riding around looking at animals, and we swear we're not a zoo."
The story overlay–even with changes right before opening–never really did work. The tone of the ride changed too much in the poacher chase, and the final poacher scenes simply looked too fake–too Jungle Ride–compared to all that came before.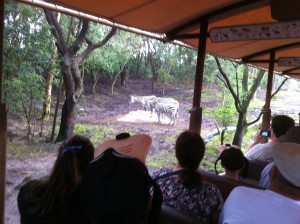 Disney cut out some more of the Little Red story a couple of years ago, and now it's completely excised.  The poacher campground area has been replaced with a zebra herd, and Little Red is gone for good.
This required some cuts to the script that the ride's drivers followed, and Disney has taken the opportunity of the re-write to punch up the script with more stories and facts about the animals themselves.  These animal stories and facts have always been part of the ride, but now they go broader and deeper.
As a result, what used to be a great and stunningly well-done safari ride marred by a needless story and some weak visuals at what should have been its climax is now simply and cleanly a great safari ride!
And it's way cooler than anything you could see at a zoo, while preserving, and not being afraid of, all of what's best about zoos.
RELATED STUFF