My Sister's Glasses
By Dave Shute
WRITE A CAPTION FOR THE PHOTO BELOW IN THE COMMENTS FIELD!
Welcome to those coming from Capturing Magical Memories as Magical Blogorail Teal gets even sillier than usual this month.
This month, we are each posting an image and inviting our readers to write captions for it in the "comments" section!
My image is from a family visit to Disneyland in the late 60s or early 70s.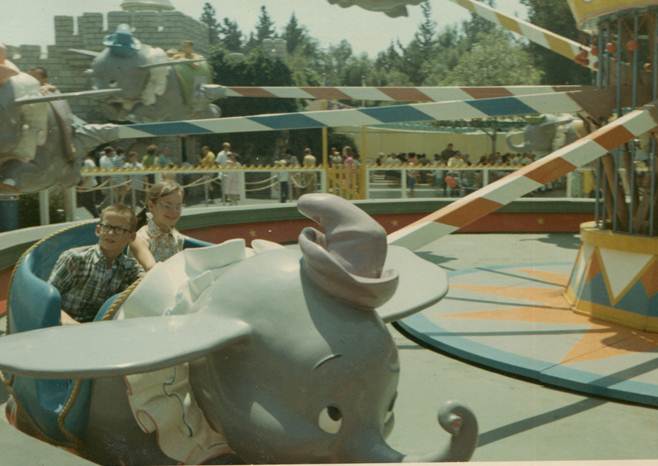 I'm on the left; my sister is on the right.  Dumbo, with some astonishment,  is trying to see her glasses more closely.
My sister has since grown up a lot, and changed her glasses; I look pretty much exactly the same as back then….
Insert your own caption for the photo in the comments form below!
MORE FROM MAGICAL BLOGORAIL TEAL
Thank you for joining Magical Blogorail Teal this month. Our next loop will be in August with an all new theme. Keep checking in with our blogs in between loops to keep up to date with our Disney info, photos and stories.
If you are looking for more Disney magic, you can make your way over to The Magical Blogorail website to see all our members and their blogs, as well as all our previous loops.
Here is the map of this month's Magical Blogorail Loop should you happen to have to make a stop along the way and want to reboard:
1st Stop ~   The Disney FAITHful
2nd Stop ~ The Many Adventures of a Disney Lovin' Spectrum Mom
3rd Stop ~   Capturing Magical Memories
Final Stop ~ yourfirstvisit.net
RELATED STUFF