Disney World Bucket List
By Dave Shute
A BUCKET LIST FOR WALT DISNEY WORLD
Welcome to those of you joining from  The World of Deej as Magical Blogorail Teal focuses on Disney World bucket lists this month.
MY DISNEY WORLD DREAMS
A "bucket list" is a list of stuff you want to do while you still have a chance, and especially stuff you might not pursue if you didn't think it through and make a commitment to getting it done.
So what are the things I hope to do someday at Walt Disney World? They fall into a few groups:
Do some special hotel stays
See a fifth gate
Stay during the Christmas holidays
Take some tours
See the rest of the Disney parks
SOME SPECIAL HOTEL STAYS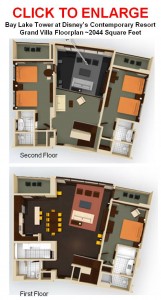 One thing I'd love to do someday is stay in one of the Disney Vacation Club Grand Villas–especially one with a Magic Kingdom view at Bay Lake Tower.
This would be fun, comfortable, and incredibly expensive–in 2012 it goes for around $1900 to $2600 a night, pre-tax.
This expense is what puts it on the bucket list…if I don't start saving for it 5 years in advance it'll never happen!
Another less pricey bucket list idea is camping at Fort Wilderness for two or three weeks. 
I love tent camping, and love Disney World, so combining the two is a no-brainer.  The rest of my family is not so keen on the combination, so we do it rarely–I think I've camped three times at Fort Wilderness, and each time less than a week.
Well, tent camping means a lot of gear, and that means driving.  Disney World is an 18 hour drive from where I live.  Combine the drives with the time it takes to set up and tear down a campsite, and it's hard to have a relaxing visit if it's just within a week off of work.  Two or three weeks would be much more relaxing and fun!
SEE A FIFTH GATE
A fifth gate should open within my lifetime–and maybe even a sixth–and I can't wait to see it!
VISIT DURING CHRISTMAS AND NEW YEARS
Sensible people avoid Christmas, New Year's Eve, and everything in between at Walt Disney World, because of the crowds and prices.
But I'm not always sensible, and it would be fun…well, maybe, not fun, but interesting–to see the Magic Kingdom on Christmas Day, and spend New Year's Eve at Epcot…
TAKE SOME TOURS
Disney World runs some special tours, and there's a couple I'd like to take someday–the "Behind the Magic" tour, and the steam trains tour…
SEE THE OVERSEAS PARKS
I've seen all the domestic parks, but not any of the overseas ones.  Disneyland Paris will happen for us someday, for sure, but to see the Asian parks will take some planning and some saving.  I hope someday to be able to say I've seen them all.
MORE DISNEY BUCKET LISTS FROM MAGICAL BLOGORAIL TEAL
Thank you for joining me today. Your next stop on the Magical Blogorail Loop is  The Disney FAITHful.
Here is the map of our Magical Blogorail loop should you happen to have to make a stop along the way and want to reboard:
RELATED STUFF