Holiday Crowds at Walt Disney World
By Dave Shute
CHRISTMAS IS COMING AND SO ARE THE DISNEY WORLD CROWDS…
The busiest days of the year at Walt Disney World begin later this week, and peak next week.
Today, a little less than half of kids are on Christmas break.
More start going on break beginning the 21st, and by the end of this week, the 23rd, about 70% of kids will be off.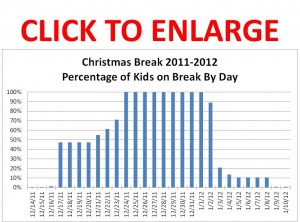 By Saturday, Christmas Eve, all kids are off.
According to the Orlando Sentinel, the busiest day at Orlando International this holiday season will be Friday the 23rd, followed by Thursday the 22nd.
Later next week, likely more than 70,000 people will visit the Magic Kingdom on an average day, with totals perhaps well above that, possibly leading to park closures.
The hourly ride capacity at the Magic Kingdom is on the order of 40,000 people, implying average waits of 90-120 minutes for the most popular rides.
Bathroom waits may seem as long…as may waits for food, even if you eat early or late.
COPING WITH THE CHRISTMAS SEASON WALT DISNEY WORLD CROWDS
Having a great vacation at Walt Disney World at this time of the year requires a behavior, an attitude, and—possibly—a chunk of cash.
The behavior is that you have got to be out of bed at times that perhaps you'd rather not. That way, you avoid all of the people who are still in bed.
The secret to minimizing the effect of crowds at Disney World is always arriving before the parks open. Arriving early will be even more critical during the next two weeks.
Arriving really late is another option.
For example, on 12/26 the Magic Kingdom, including Extra Magic Hours, will be open for 20 hours–from 7a until 3a.
The attitude you need to have is that you aren't going to see all the rides, will have to wait quite a while for many of those that you do see, and that all of this is really fun.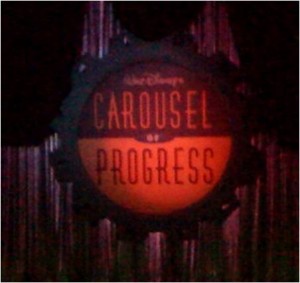 People watch…
Enjoy all the street-side shows and minor entertainments that don't require waits…
See the less popular but high-capacity rides like the Carousel of Progress, the Hall of the Presidents, and the Liberty Belle…
And be prepared to knock off for the morning, the afternoon, or the day, when it all becomes a bit too much of an adventure.
Finally, there is one way you can possibly buy yourself out of some troubles.
You should use the FASTPASS system, of course. FASTPASSES are a tool for avoiding waiting in line. See this for more on how they work.
The problem with FASTPASS is that you can only get one every two hours (sooner first thing in the morning), and that the supply of them is quickly exhausted on wildly busy days.
This means that you may only be able to get two or three per day before they run out.
However, you can double your FASTPASS pace by throwing money at the problem.
Buy—and use—two tickets per person to enter the parks. Each ticket is its own FASTPASS privilege, which means you can get twice as many FASTPASSES per period of time.
For example, at the Magic Kingdom, you could start your (early) morning by FASTPASSING Splash and Big Thunder Mountains, see non-FASTPASS Fantasyland rides until you become eligible for another set of FASTPASSES, FASTPASS Peter Pan and Mickey's Philharmonic, begin using your FASTPASSES on the mountains, and so on…
You can see more details on this expensive but possibly vacation-saving strategy here.
RELATED STUFF