Personal Favorites: Magic Kingdom Attractions
By Dave Shute
THE PERSONAL FAVORITES SERIES
This post is one in a series about personal favorites. See lower on the page for more about this series.
FAVORITE ATTRACTIONS AT THE MAGIC KINGDOM
Based on what I do when I'm at Walt Disney World–even when I'm very busy doing research for this site, and have only an evening at the Magic Kingdom–I have four clear personal favorites at the Magic Kingdom:
Peter Pan's Ride
Space Mountain
Splash Mountain
Walt Disney's Carousel of Progress
I find Peter Pan's Ride continually charming.  A few simple design decisions–flight, and forced perspective–led to a (mostly) consistently wonderful show. 
The economy of the design is also striking–there's not a lot to Peter Pan, and not much of a building to hold it in.  Yet even so it is a wonderful example of the theme park designer's art.
A few parts were poorly imagined from the start, and/or have been showing their age for a while. 
The volcano/mermaids section is the best example.  Anyone have any aluminum foil and orange paint they could lend to Disney?
Otherwise Peter Pan is wonderful.
Space Mountain is what it is–see this for a review after its recent refurbishment.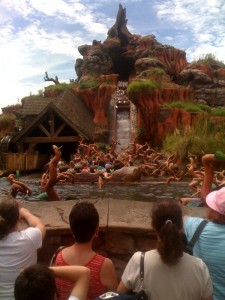 Splash Mountain is the essential Disney: great setting, great audio-animatronics, great story, great weenie, great ride. 
Don't let what you see from the outside put you off–95% of this nicely long ride is sweet and gentle. 
My 80 year old parents had been avoiding Splash Mountain for twenty years based solely on the water plunge you see from the outside. 
When I finally succeeded in talking them into riding it, they just loved it!
WALT DISNEY'S CAROUSEL OF PROGRESS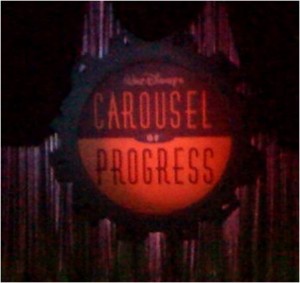 My true favorite at the Magic Kingdom, however, is Walt Disney's Carousel of Progress.
This isn't just because it's the only ride in all of Walt Disney World that Walt Disney himself touched.
And it isn't just because it's the only ride which has been quoted as Walt Disney's favorite attraction, and about which he said it should never cease operations.
And it isn't just because the ride had made its way–with multiple changes–from the 1964 World's Fair, to Disneyland, to the Magic Kingdom
Rather, though all of these count with me, it's my favorite instead because the ride epitomizes the two fundamental themes of Walt Disney's life–and hence of Walt Disney World itself: nostalgia, and faith in progress.
I delight also in these themes, and hence love Carousel of Progress.
The ride–which takes a typical American family, as defined in the 1960s, through the kitchen-appliance centered progress of the twentieth century–isn't for everyone, and for that reason I have it on my "Rides that Might be Skipped" list.
But for those for whom it touches a chord, it will do so strongly, and will resonate for years afterward.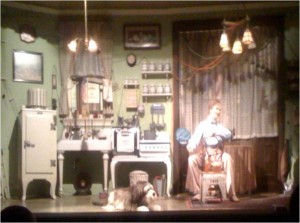 The approach to progress it takes is not naive.
Most scenes have some element of minor disaster–ranging from fuses blowing out to the electrocution of Christmas dinner.
The more simple-minded will note that this represents the self-deconstruction of the ride's hegemonistic ideology.
More sophisticated observers will note that these disasters illustrate that progress, and the search for the new and the better, has always been driven by many nuts among the fruitcakes!
The advice on this site—when to go, where to stay, what to do, etc.–is aimed at the typical family visiting Walt Disney World for the first time, unsure if they will ever return.
It is based not on personal favorites or my own taste, but rather on a combination of facts, analysis, inference and judgment about what would be best for such a family. 
My personal favorites can be quite different from my advice for these families–particularly because I'm older and hence traveling with twenty-year-olds, not little kids; have been to Disney World more than thirty times; and know I'll be coming back!
I thought at least some might be interested to hear about some favorites…if for no other reason than so that they can argue, using the comment form below!
Home    Donate    Sitemap    FAQ    Travel Agents
RELATED STUFF