Brazil Pavilion to Join Epcot's World Showcase?
By Dave Shute
RUMORS OF BRAZIL COMING TO EPCOT
The second half of last week was abuzz with rumors of discussions between Disney and the Brazilian government regarding a Brazil Pavilion in Epcot's World Showcase.
I first noticed it here, which referenced this, which in turn cited this.
This is just a rumor right now—and for almost 25 years, every single rumor about a new country coming to Epcot has been false. Based on that, you should probably stop reading this now.
(If you are in the mood for unfounded rumors that are more fun, check out this instead.)
On the other hand…
MAYBE BRAZIL REALLY IS COMING TO EPCOT
Epcot certainly needs freshening, both in general and in response to Harry Potter.
Brazil would be a great choice, much more so than other recent rumors—Russia?
First, Brazil makes sense as a pavilion, being a visually, architecturally, culturally, and gastronomically rich country.
Second, Brazilians love Orlando and Walt Disney World. Millions of Brazilians visit Orlando every year; the thousands of Brazilians coming to this site (especially from viajandoparaorlando.com) have made Brazil its third largest source of non-US visitors, after Canada and the UK.
If there were to be a Brazil Pavilion at Epcot—and here I am shifting from rumors to pure speculation—I'd hope it would include an E-Ticket ride that would include elements of the stunning visuals of Impressions de France with the physical movement of Soarin and a ride vehicle like the system that enables the shift from film to a built environment in Harry Potter and the Forbidden Journey.
Such an active travelogue—perhaps including the Amazon, Sao Paulo, Rio de Janeiro, and Carneval—could be a ton of fun!
There's several places in the World Showcase that a Brazil pavilion could go.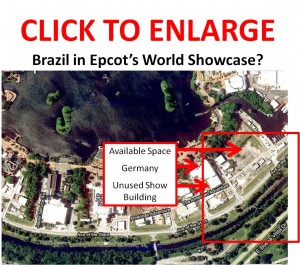 The best spot is between China and Germany, occupying the space behind the current Outpost.
This spot can take advantage of the ride building that was built behind Germany but never used.
See the image.
Re-use of this space will speed time to open and lower total costs.
Well, it's just a rumor—but I'd sure love to see a Brazil pavilion at Epcot!  And to hear what my Brazilian readers think!
RELATED STUFF