Basic Itinerary Less Second Sunday
By Dave Shute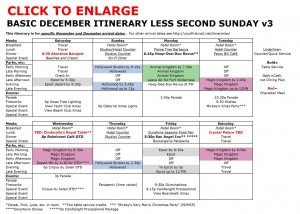 OVERVIEW
This itinerary, (click to open; when open, click again to enlarge) and its associated To-Do List are for the basic December weeks, but one day shorter, skipping the second Sunday.
If you must skip a day, this itinerary is much better than the alternative of skipping the first Saturday, as it preserves your day off on Thursday, which you will need!
The entries below provide daily guidance and your To-Do List.
LINKS FOR THE BASIC ITINERARY LESS SECOND SUNDAY
LINKS TO DAILY GUIDANCE FOR BASIC ITINERARY AND VARIANTS
BASIC ITINERARY: Summary To-Do List Sat Sun Mon Tues Weds Thurs Fri Sat Sun
BASIC ITINERARY LESS SECOND SUNDAY: Summary To-Do List Sat Sun Mon Tues Weds Thurs Fri Sat
BASIC ITINERARY LESS FIRST SATURDAY: Summary To-Do List Sun Mon Tues Weds Thurs Fri Sat Sun
BASIC ITINERARY LESS FIRST SATURDAY AND SECOND SUNDAY: Summary To-Do List Sun Mon Tues Weds Thurs Fri Sat
BASIC ITINERARY 5 NIGHT VERSION: Summary To-Do List Sun Mon Tues Weds Thurs Fri
BASIC ITINERARY RELAXED VERSION: Summary To-Do List Sat Sun Mon Tues Weds Thurs Fri Sat Sun Mon
ITINERARY LINKS