Hollywood Studios Day 1 Disney World 2016 FastPass+ Basic December Itinerary
By Dave Shute
HOLLYWOOD STUDIOS DAY 1: MONDAY AGENDA
You will begin your visit to Disney's Hollywood Studios today, completing it Wednesday afternoon and evening. Two days is way more than enough time, so, thanks to FastPass+, you get to sleep in each day.
You should have FastPass+ for Toy Story Midway Mania, Star Tours, and the Frozen Sing-Along.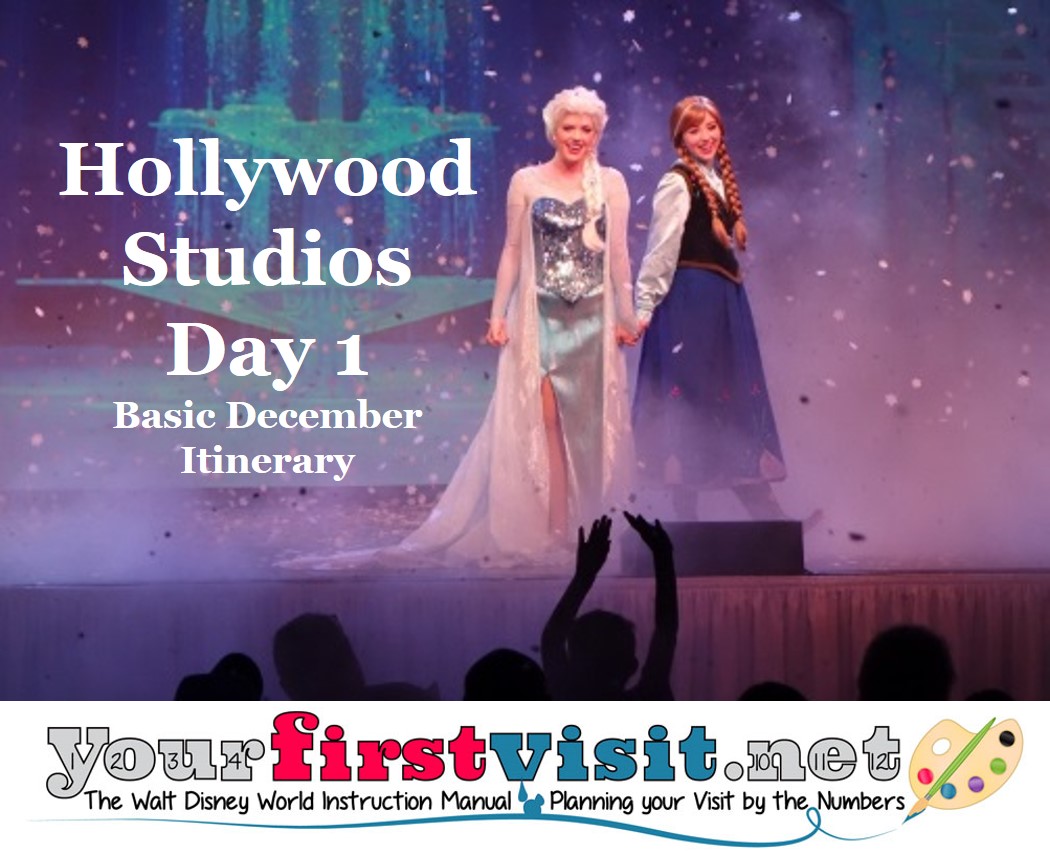 You have dinner at the Hoop-Dee-Doo Revue at Fort Wilderness at 6.15p, and need to be at the Studio's Fort Wilderness bus stop by 4.45p.
(Note: this is from the 2016 Basic December Itinerary. The itinerary works only for the three weeks after Thanksgiving. See this for other itineraries.)
AT THE PARK
Arrive at Hollywood Studios by noon
Pick up a guide map and "Times Guide." Check the times of the Indiana Jones show against your FastPass+ and pick a show to visit.
Head to Great Movie Ride and see it unless lines are too long.  If so, see it Wednesday
See Toy Story Midway Mania (FP+)
Have lunch at Backlot Express
Fold in the Indiana Jones stunt show among Muppet Vision 3D, the Frozen Sing-Along (FP+) and Star Tours (FP+)
Around 4.30p head for the bus stops outside the main entrance and look for the bus to Fort Wilderness.
AT FORT WILDERNESS
Take the bus to Fort Wilderness, then take any internal bus to the Settlement. Find the Hoop Dee Doo area, and check in for the 6.15p show.
See Hoop-Dee-Doo!
Ask the cast members outside for the best way to get back to your hotel.  Most likely you will return by boat to the Magic Kingdom, and catch a bus or monorail there.  But special buses may be running…
PREVIEW OF TOMORROW
Tomorrow you sleep in, then continue your visit to Epcot beginning in the late morning, and shift to the Magic Kingdom for the Christmas Party in the afternoon and evening.
MATERIAL IN THIS DISNEY WORLD ITINERARY


Follow yourfirstvisit.net on Facebook or Google+ or Twitter or Pinterest!!
RELATED STUFF