Disney World Spring Break Crowds in 2017
By Dave Shute
DISNEY WORLD SPRING BREAK CROWDS IN 2017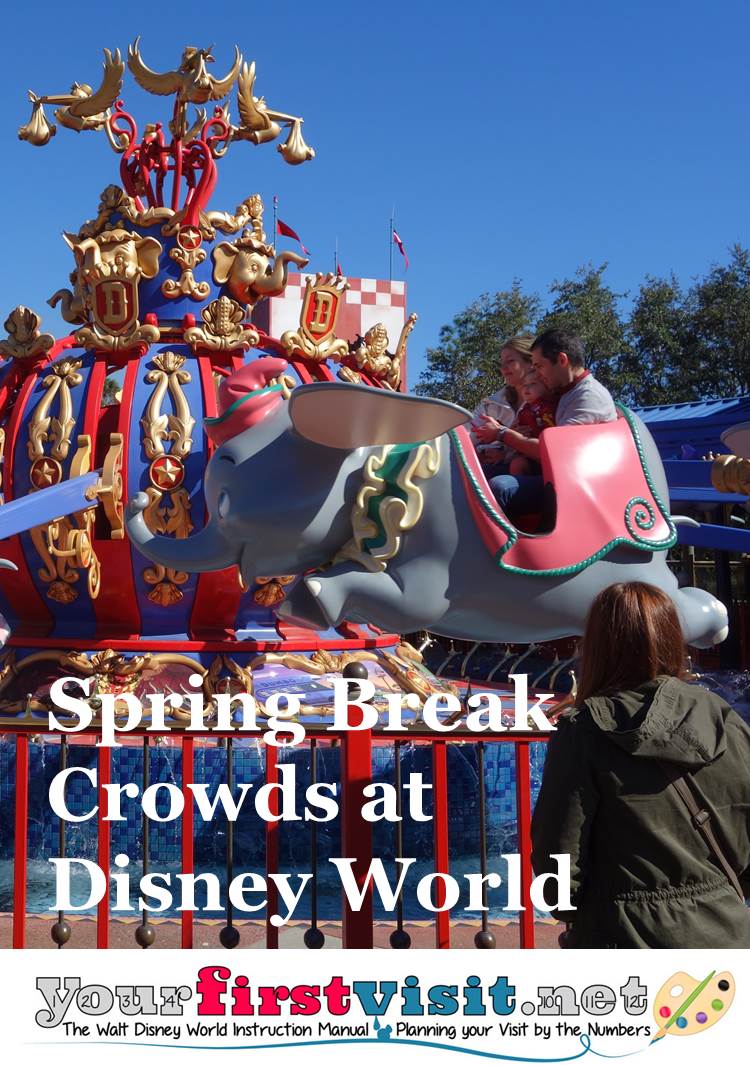 Walt Disney World Spring Break crowds are typically governed by two and a quarter factors:
Public school Spring Break calendars, which are still largely framed around Easter but vary more than you might think
The demand of snow-belters for a break from winter weather, which peaks in March, and
The quarter factor, the date of President's day.  Later President's Days (which can range from February 15 to February 21) tend to make the first part of March better
An early Easter combines the first two factors, making for more than the usual horrible crowds in March but a great April; a late Easter can spread the first two factors out, yielding some good early March and early April weeks.
Easter 2017,  on April 16, is late in its possible range. President's Day 2017–covered in more detail here–is also late, February 20. As a result, my draft 2017 crowd calendar had one good early April week in it.
Now that I have the full set of 2017 spring breaks from almost 280 school districts with more than 15.4 million kids in them, I can see that I was wrong, and in fact there will not be a good spring break week in 2017 from March 11 through the week beginning April 15–although some weeks are better than others.
2017 Spring Break crowds at Walt Disney World will be
Fine the weeks beginning February 25th and March 4th
Bad the weeks beginning March 11, March 18 and March 25
Moderately bad the week beginning April 1
Very bad the week beginning April 8
Moderately bad the week beginning April 15
Fine April 22 and later.
2017 PUBLIC SCHOOL SPRING BREAKS AND THEIR EFFECTS ON WALT DISNEY WORLD CROWDS
Although more and more school districts are moving away from an Easter-centered Spring Break, the plurality of kids still have the weeks before Easter or following Easter off.
As a result, the single biggest factor determining better and worse Spring Break weeks at Walt Disney World is the date of Easter–which can range from March 22 to April 25.
A later Easter has a couple of different effects: first, it spreads out the dates of breaks for school districts that don't frame their breaks around Easter, and second, if particularly late, will push districts that typically take the week after Easter off into the week before Easter instead, to keep from compressing their May academic calendars.  
An earlier Easter has the opposite effects.  Districts that traditionally try to take the week after Easter off will be able to do so, and districts that don't base their calendars on Easter will be largely compressed into a couple of March weeks.
The date of President's Day–which can range from February 15 to February 21–also has an effect. Because many districts both have a spring break and also take the week of President's Day off, the later President's Day is, the better early March will be–as parents avoid taking their kids out of school the weeks after a long President's Day break.
The effect of the various dates in 2017 is to spread most 2017 school spring breaks into six consecutive weeks beginning March 11 and continuing until the end of the week beginning April 15.
ACTUAL 2017 SPRING BREAKS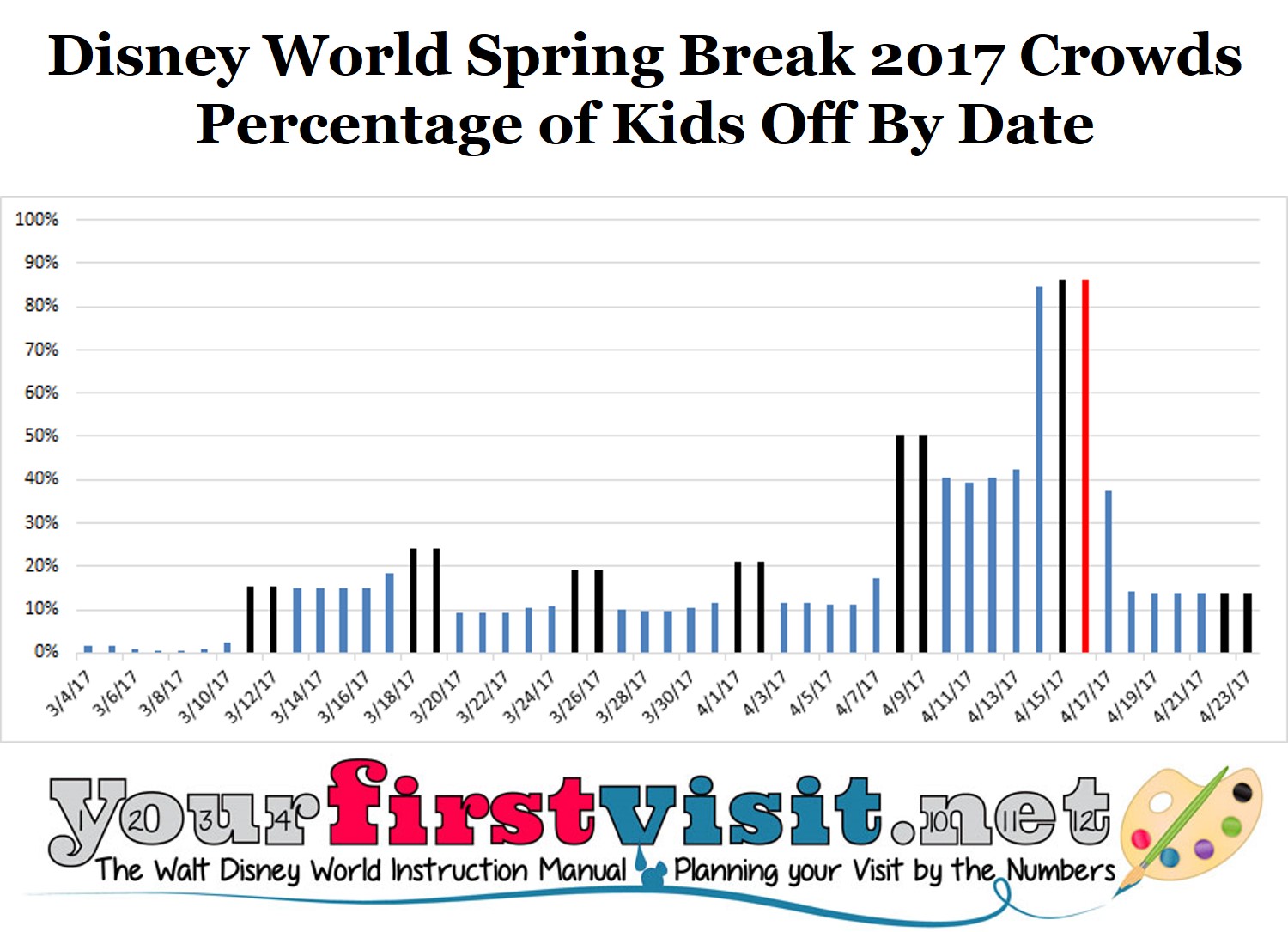 The chart above illuminates this.
It's based on data from a weighted sample including almost 280 of the largest relevant US public school districts.
(For how the database is built, see the second half of this. Weekends are in black, except Easter, in red. Click the image to enlarge it.)
From my updated 2017 Disney World crowd calendar:
The week beginning March 4, 2017 has very few kids on break, and I'm classing it as 3/low crowds
The week beginning March 11 both has a ton of kids on break (thanks, Texas!) and is also attractive to snowbirds. It gets a 9/high crowd rating.
The weeks beginning 3/18 and 3/25 have slightly lower numbers of kids on break, but are attractive to snowbirds. They get rating of 8/high-minus crowds.
I had though that the week beginning 4/1 would be OK, but the actual data suggests not.  Less attractive to snowbirds, it gets a crowd rating of 7/moderate+.
The week before Easter will be a zoo, as it usually is, and gets a crowd rating of 11/highest.
The week after Easter, even with its alignment with many New England spring breaks, will be a little better than I had thought, and gets a crowd rating of 7/moderate+.
The rest of April–after the 22nd–will be just fine.


Follow yourfirstvisit.net on Facebook or Google+ or Twitter or Pinterest!!
RELATED STUFF