A Friday Visit with Jim Korkis: The Madison Mermaid Statue at Disney's Hollywood Studios
By Dave Shute
Welcome back to Fridays with Jim Korkis! Jim, the dean of Disney historians and author of Jim's Gems in The easy Guide, writes about Walt Disney World history every Friday on yourfirstvisit.net.
THE MERMAID FOUNTAIN AT DISNEY'S HOLLYWOOD STUDIOS
By Jim Korkis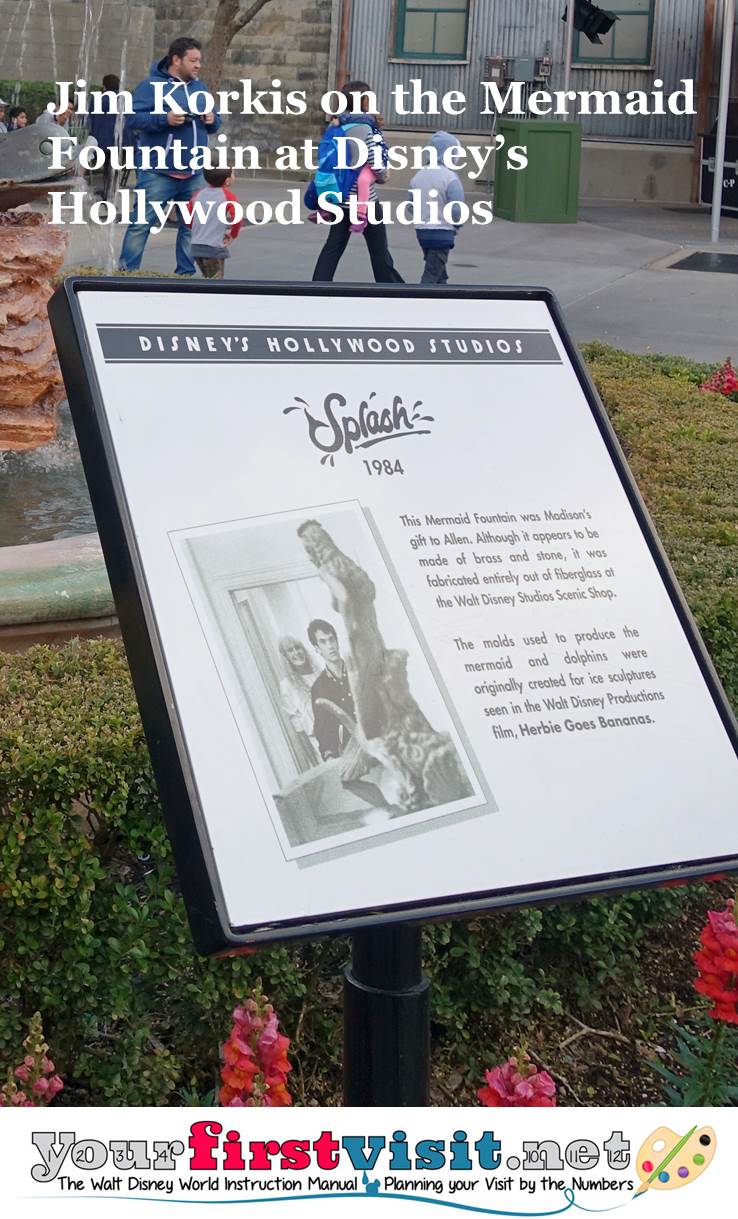 Between the Studio Catering Company quick serve restaurant and Toy Story Midway Mania at Disney's Hollywood Studios is a statue that has been there since the park first opened in 1989.
It depicts a classic demure mermaid sitting in a curved platform supported by four dolphins who are spouting water. The fountain is a prop from the film Splash.
Splash may not seem a significant enough film to be enshrined at Disney Hollywood Studios but it was the first film made by the new Touchstone division of Disney films that was created for films that might have content not appropriate for a general Disney audience.
The film was a huge financial success. Made on a budget of eight million dollars, it grossed over six million dollars on just its opening weekend and went on to be the tenth highest grossing film of the year.
Directed by Ron Howard, the film recounts the story of Allen Bauer (Tom Hanks, in the first film where he received top billing) and his encounter with a mermaid named Madison (Daryl Hannah), and how it changed his life.
The beach where Tom Hanks encounters the mermaid was filmed at Castaway Cay (then known as Gorda Cay). According to legend, Ariel in The Little Mermaid was originally going to be blonde but was made a redhead to distinguish her from the blonde Madison.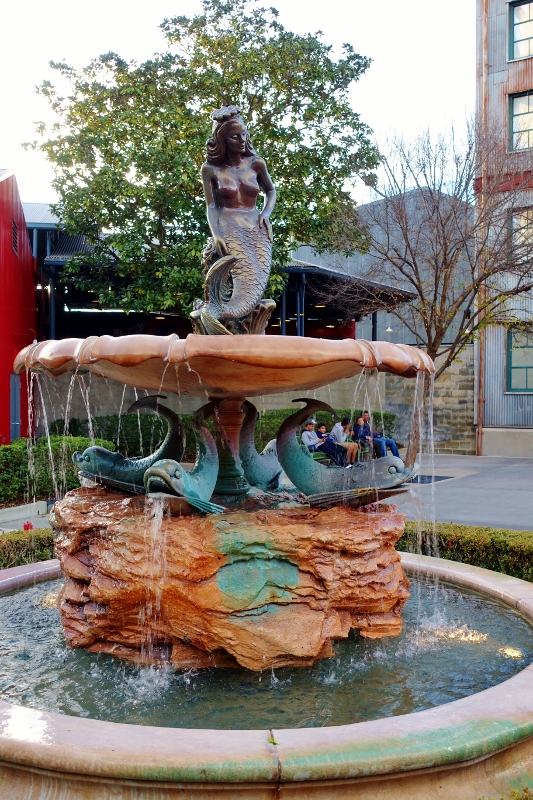 The plaque states:
"SPLASH 1984.
"This mermaid was Madison's gift to Allen. Although it appears to be made of brass and stone, it was fabricated entirely out of fiberglass at the Walt Disney Studios Scenic Shop.
"The molds used to produce the mermaid and dolphins were originally created for ice sculptures seen in the Walt Disney Productions' film Herbie Goes Bananas."
(Herbie Goes Bananas was released in 1980.)
Splash was a favorite film of then CEO Michael Eisner and he green-lit a sequel called Splash Too with an entirely new cast and filmed for roughly three million dollars. It was the very first film to be completely filmed at the new Disney MGM Studios and was released in 1988.
"Because of the urgency Michael Eisner has placed on Splash Too, I'll limit myself to co-producing it with Brian Glazer," Howard told Marilyn Beck of the Chicago Tribune newspaper on February 28, 1985. "It will not be a copy-cat sequel. They`ll come back to land, but there will still be plenty of underwater action."
Eisner hoped the sequel would spin off into a popular television series which is another reason for the statue to be featured so prominently at the theme park. Unfortunately, the sequel didn't have the same impact critically or financially as the original.
Besides putting the statue in the park, Eisner intended that in 1989 at the now-gone Pleasure Island there would be a sunken bar nightclub called Madison's Dive filled with sailors telling tall fish tales including about an elusive mermaid who would occasionally swim by one of the windows below sea level.
Some of the effects including the sinking ship in the bottle were later incorporated into the (now gone) Adventurer's Club. Madison's Dive would have been built on a pier that jutted out into Lake Buena Vista between the Adventurer's Club and the XZFR Rockin' Rollerdrome.
The Hollywood Studios Splash fountain was damaged in 2004 when Hurricane Charley broke off the mermaid but it was repaired and remains on display.
*  *  *  *  *
Thanks, Jim.
Come back next Friday for even more from Jim Korkis!
In the meantime, check out his books, including Secret Stories of Walt Disney World: Things You Never You Never Knew
, which reprints much material first written for this site, and The Vault of Walt: Volume 4, and his contributions to The easy Guide to Your First Walt Disney World Visit, all published by Theme Park Press.
Follow yourfirstvisit.net on Facebook or Google+ or Twitter or Pinterest!!
RELATED STUFF