A Friday Visit With Jim Korkis: Figment and Dreamfinder
By Dave Shute
Welcome back to Fridays with Jim Korkis! Jim, the dean of Disney historians and author of Jim's Gems in The easy Guide, writes about Walt Disney World history every Friday on yourfirstvisit.net.
THE ORIGINAL FIGMENT AND DREAMFINDER
By Jim Korkis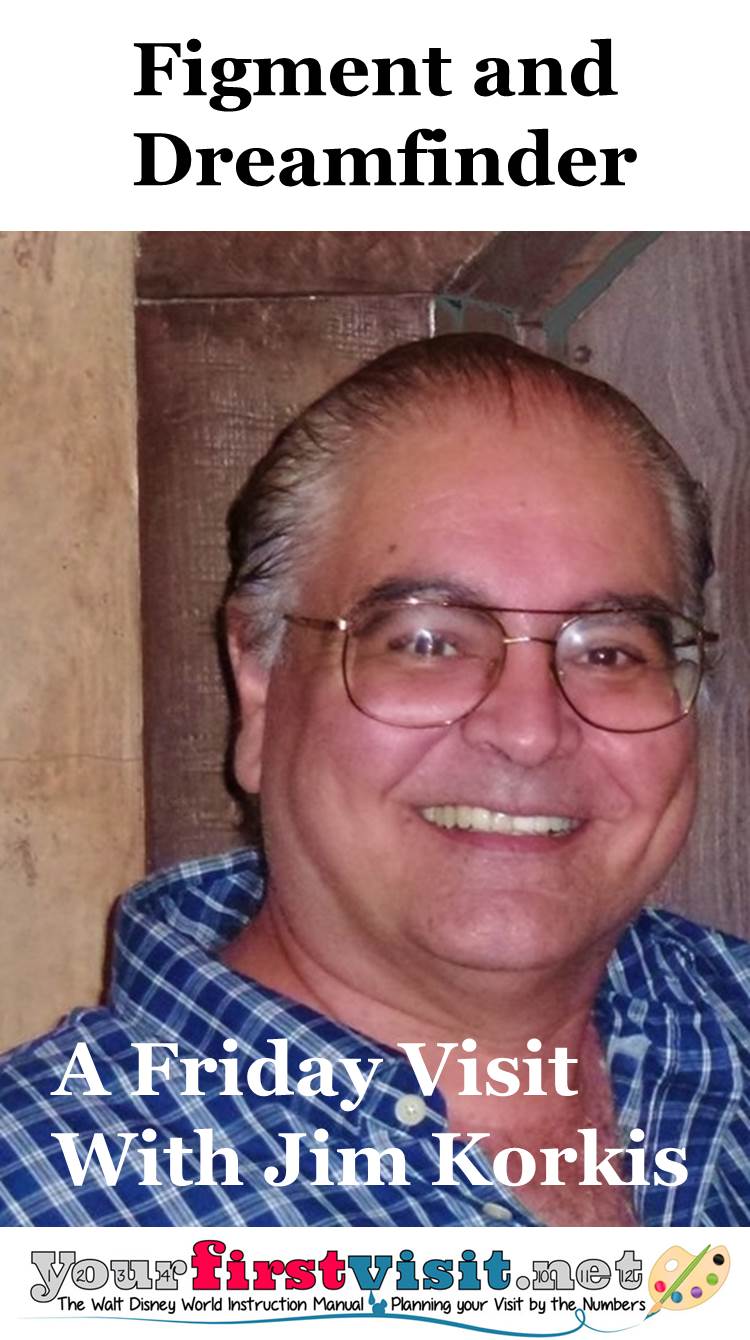 While Dreamfinder and Figment were there at Epcot at its opening in October 1982, the attraction they were famous for, Journey Into Imagination, did not officially open at the Imagination Pavilion until March 5, 1983.
For more than fifteen years, Dreamfinder delighted guests of all ages both in the attraction itself as an audio-animatronic figure, and also as a walk-around character carrying a mischievous Figment puppet who might snatch a hat from a guest and fling it in the air.
For years, Dreamfinder and Figment were considered the official original spokes-characters for Epcot. Yet after 1998, Dreamfinder disappeared and Figment almost vanished as well.
Who were Figment and Dreamfinder? The little purple dragon, Figment, was the physical representation of being "a figment of the Imagination."
Dreamfinder was his husky human companion and friend with a full red beard, long blue coat, black top hat and broad smile (supposedly modeled after the physical appearance of Imagineer Joe Rohde).
Figment and Dreamfinder were actually born in a concept for a planned-but-never-built section of Disneyland to be called Discovery Bay. In that area there was to be Professor Marvel's Gallery of Illusion, "a fascinating visit with the foremost collector of the exotic, weird and whimsical from all over the world" according to a press release from October 1976.
Entering through a sideshow wagon, guests would find themselves in a Carousel of Progress revolving theater where an audio-animatronic Professor Marvel would display all manner of oddities that he has collected including his collection of dragons.
A small statue of the magnificent white bearded and mustached Marvel was built with a black top hat, gold vest, red tie and monocle. Cradled in his right arm was a small green dragon that Marvel bred as a hobby.
However, not long after the press release, every available resource of the Disney Company was redirected to both the Epcot and the Tokyo Disneyland projects,and the Discovery Bay project was shelved.
As Imagineer Steve Kirk remembered, "I was in my office. (Imagineer) Tony Baxter was in with the Kodak folks as being potential sponsors for some kind of Epcot pavilion. He ran into my office in the middle of this meeting and said 'Can I borrow the Dream Keeper?'
"And he grabbed the statue and took it in to them to show. They said 'that's great, do we get the dragon, too?' The only issue was that, at the time, the dragon was painted green. Figment was green. And Kodak thought that represented a little too much of a Fuji Film (Kodak's chief competitor who used the color green prominently on its packaging) connection, so he turned purple as a result of that."
Tony Baxter recalled that "[Dreamfinder] was a Santa Claus-type who is wise and older and knows all the great things, a great thinker. But we needed a child-like character that had like a one second attention span and was a little crazy."
To provide the voice for Dreamfinder, WED hired actor Chuck McCann who based the voice of Dreamfinder on actor Frank Morgan as the mighty Wizard in MGM's "The Wizard of Oz." Actor Billy Barty provided the voice of Figment.
Actor Ron Schneider appeared as Dreamfinder with a Figment puppet on opening day where he was interviewed by Bryan Gumbel on the NBC Today show. (Schneider's story is here.) Later, Steve Taylor became Schneider's understudy and then took over the role for almost fifteen years when Schneider went on to other projects.
Taylor was significantly shorter than Schneider so it was just assumed that like Figment, the character could be any size he wanted. That's the true power of imagination.
*  *  *  *  *
Thanks, Jim. Figment and Dreamfinder more or less disappeared after a highly controversial refurb of the ride in 1998.
Come back next Friday for even more from Jim Korkis!
In the meantime, check out his books, including The Vault of Walt
, Who's Afraid of the Song of the South?, and The Book of Mouse
, and his contributions to The easy Guide to Your First Walt Disney World Visit, all published by Theme Park Press.
Follow yourfirstvisit.net on Facebook or Google+ or Twitter or Pinterest!!
RELATED STUFF