Seven Night Walt Disney World Summer Itinerary v2
By Dave Shute
SEVEN NIGHT WALT DISNEY WORLD SUMMER ITINERARY
Update: this itinerary will not work for June 2014, and I don't know yet if it will work for July or August 2014.
Instead of it, use this.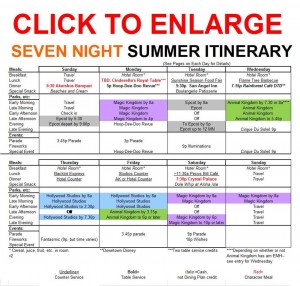 This Walt Disney World itinerary is based on the eight-night Summer Itinerary, but is one night shorter.
It is designed for the incredibly busy weeks from late May to mid-August, and for most other high-crowd periods (Christmas week, Easter Week, etc.)
The 8-night Summer itinerary itself is jam-packed; this 7 night version, which I don't recommend but provide due to popular demand, is even more strenuous.
Click the graphic to enlarge it; keep clicking on it when it is open to enlarge it more.
You can adapt it to arrival dates other than Sunday.
For itineraries for the rest of the year, see this. For when to go to Walt Disney World, see this.
See the links below for guidance on what to do each day, and for a To-Do List.
LINKS FOR THIS ITINERARY
WALT DISNEY WORLD ITINERARY LINKS
Home Donate Sitemap FAQ Travel Agents
RELATED STUFF