Refillable Mugs at Walt Disney World
REFILLABLE MUGS AT WALT DISNEY WORLD RESORT HOTELS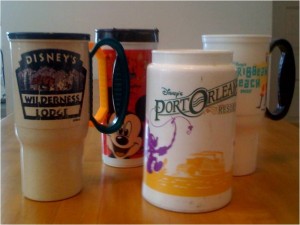 The To-Do Lists on this site have picking up refillable mugs, either as part of your Disney Dining Plan, or for cash, as one of their early steps.
A refillable mug entitles you to free refills of the drinks available at your resort's beverage island—and sometimes from its pools as well—for the duration of your stay at that resort.
Drinks typically available are soft drinks; other drinks usually found in soda fountains—lemonade, PowerAde, iced tea, etc; coffee, hot water and tea bags, and hot chocolate.  Other drinks may be available as well.
Drinks almost never available are milk and juices—you need to buy these anew each time you want some.
Even with milk and juices out, given the prices of buying the beverage island drinks over a trip of any length, the refillable mugs are a good deal for almost all families. They are included free in the dining plans (although this has changed from year to year) and if bought for cash, cost around $15 plus tax, so you'll break even after fewer than half a dozen refills.
MORE ON DISNEY WORLD REFILLABLE MUGS
While mugs generally are usable only at the resort you bought them at, during the stay you bought them, there are a few exceptions to the "resort you bought them at" rule:
You can use mugs bought at any All-Star Resort at any other All-Star resort
You can use mugs bought at either Port Orleans resort at the other resort.
You can use mugs bought at the Yacht Club or Beach Club at the other of these two.
You CANNOT use the mugs for free refills at any of the theme parks, water parks, or Downtown Disney. (The water parks have their own refillable mugs, which can only be used at the water parks.)
Some resorts let you also get free refills at their pools, and others don't.  If this is important to you, ask before you buy them.
You can share mugs among your family—you do not need to buy one for each member. Most families do buy one for each member–at least on their first visit.
Historically, two of the Disney Dining Plan offerings—the Quick Service Plan, and the Deluxe Dining Plan—give you refillable mugs for free.  The regular Dining Plan, which is what this site recommends, used to not give them for free, but starting in 2012, these mugs are included for free in the regular plan as well.
This site is for first time visitors—which allows me to avoid the "but they told me I could re-use my mugs on future visits" issue, and the "I miss the different mugs for different resorts" theme.
Those interested in these should see this 17 page! (as I write this) discussion of refillable mugs on disboards.com.
USES OF THE DISNEY WORLD REFILLABLE MUGS BACK AT HOME
I always bring my mugs back if there's room in our bags.
Beyond the obvious home uses, they also make great horse toys!
(That's my wife's Mr. Darcy playing with a refillable mug!)
MORE ON WALT DISNEY WORLD DINING
RELATED STUFF