6 Night Walt Disney World Itinerary, Sunday Arrival
By Dave Shute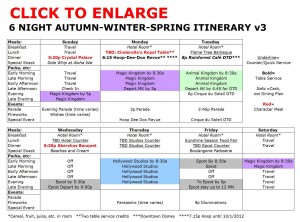 This six night Walt Disney World itinerary is a variant of the standard eight night  Autumn-Winter-Spring itinerary, but two days shorter, and with a Sunday arrival.
See this for a seven night variant, with a Saturday arrival, and this for a seven night itinerary with a  Sunday arrival.
Click the image to open it; when open, keep clicking to enlarge it more.
It's 2 days shorter from eliminating much of your time off, and the last day visit to the Gospel Brunch in Downtown Disney. (See How Long to Stay for more on why eight nights is better than six…)
It can be used as is for any week that the standard Autumn-Winter-Spring itinerary fully works.
See this page for weeks that itinerary can be fully used.  If the week is labeled Autumn-Winter-Spring, you can use this 6 night itinerary, unless you see the words "See this for changes."  If you see those words, use the comment form for any changes you'll need to make for your arrival date.
OTHER ARRIVAL DAYS
This itinerary can be adapted to any arrival date except for Saturday, or late afternoon/evening arrivals on Friday, as you need to be at Epcot Friday night, and late Friday arrival gets in the way of that…and a Saturday arrival means a Friday departure.
If your days include only Saturday evening, and not Sunday evening, then use the Sunday evening part of this itinerary for Saturday night–that way you will see the evening parade and fireworks at the Magic Kingdom.  If your trip includes both, then go to the Magic Kingdom Sunday night for the parade and fireworks.
If your arrival date is Tuesday through Friday, then this itinerary is certain to work only if this site shows that both the week of your arrival and the week of your departure work for the Autumn-Winter-Spring itinerary.
LINKS FOR THIS ITINERARY
Summary
To-Do List
First Sunday
Monday
Tuesday
Wednesday
Thursday
Friday
Saturday
ITINERARY LINKS
RELATED STUFF