Category —
The Great Disney World Controversies
(This is the first entry in a new series on Disney World Controversies.)
AFTERNOON PARADES OR AFTERNOON NAPS AT WALT DISNEY WORLD?
Welcome to the first stop aboard Magical Blogorail Teal. Enjoy the ride as we delve into the great Disney controversies, large and small.
I'm working on revising my itineraries, for a couple of reasons: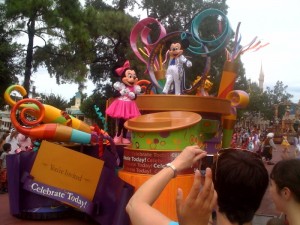 While doing so, I'm going back to and testing first principles.  The itineraries are designed to show "all the best" of Walt Disney World in one eight night trip.
So what's not the best?  What can be left out?  Can I leave out the afternoon parades? [Read more →]
March 27, 2012 2 Comments