What to Budget for Walt Disney World
By Dave Shute
This page includes both general guidance on estimating your Walt Disney World budget, and specific guidance on what to budget for the post-Thanksgiving weeks that I recommend.
WHAT TO BUDGET FOR WALT DISNEY WORLD
"What should we budget for Disney World?" is the hardest simple Disney World question to answer.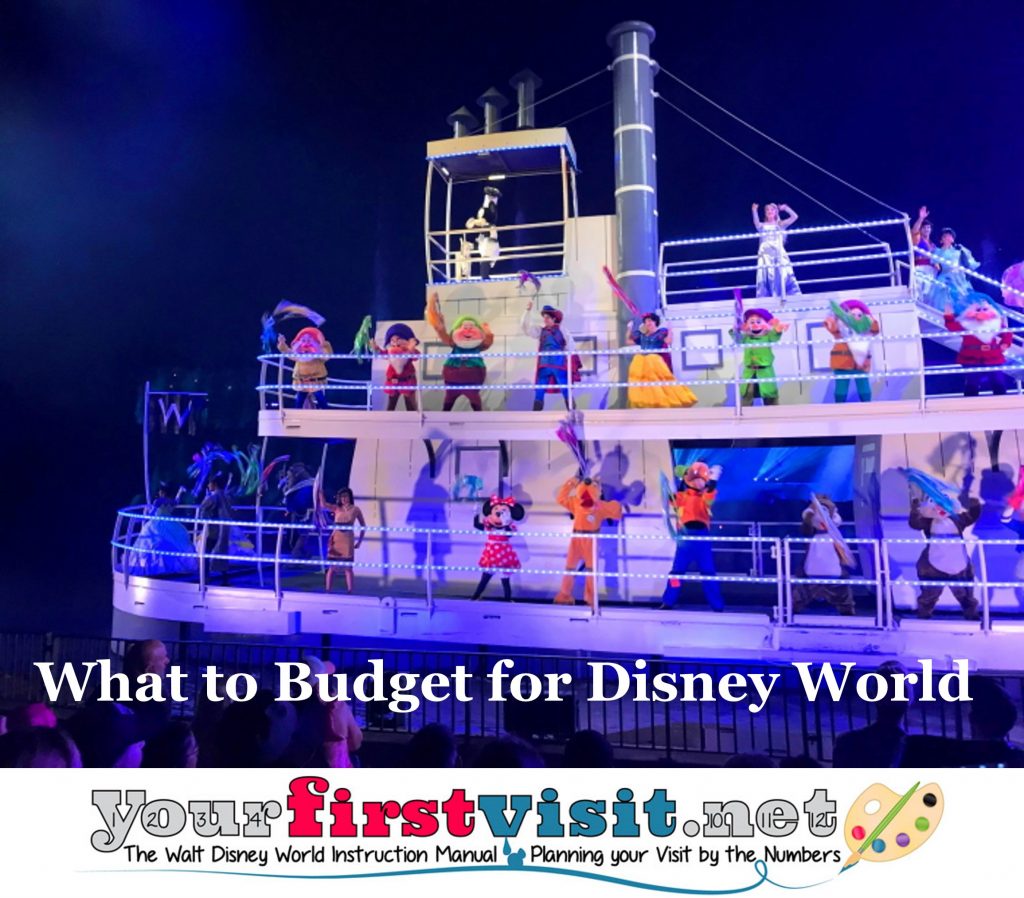 This is because smaller families, families whose kids are younger, families staying at a less expensive hotel, families going during a less expensive week, and families on shorter trips will pay less. Larger families, families where everyone is over nine, families staying at a more expensive hotel, families going during a more expensive week, and families on longer trips will pay more.
A parent and one younger child, with three days of tickets and three nights in one of the three least expensive Disney-owned hotels, the value resorts All-Star Music, Movies, and Sports, during one of the less expensive price seasons, could spend as little as $1,850 in Orlando
Add another parent and another younger child and this same trip jumps to $3,125
Stretch the same less-expensive season trip out to the 8 hotel nights and 9 ticket days I recommend for "only visits" and the in-Orlando price nears $7,300
Stay this long in one of the more expensive deluxe resorts instead, and the price is more than $10,000
Stay in the hotels I recommend and visit during my top-rated week and the price increases to between $9,500 (at Art of Animation) and $14,000 (at the Polynesian)
(All the figures exclude transportation costs and souvenirs.)
ESTIMATING BUDGETS
Consider the following variables:
Dates of the visit. Walt Disney World price seasons for hotel rooms vary tremendously over the year. Ticket prices also vary by date, as do the costs of ticket add-ons such as Genie+.
Group size and age structure at planned check-in date. Kids less than three years old don't require theme park admission and aren't charged at buffets. Kids from three to nine are charged a little less than older folk for theme park tickets, and less for kids' meals and kids' buffets. Kids ten and older as of the check-in date are charged the same as adults for theme park tickets and table service restaurants. With the exception of the Disney Vacation Club rooms and the Fort Wilderness campground, Disney includes two guests aged 18 or older in the room at the base price. Additional guests in the room over the age of 18 will be charged extra.
Number of days in the parks and nights in your hotel. The per-day cost of park tickets goes down over longer trips, but longer trips still cost more than shorter trips. More hotel nights means more hotel costs.
Dining choices.  Eating only quick service meals will cost an adult an average of $55/day. Add snacks, an alcoholic drink, and a table service meal, and you'll easily average $100/day.
Targeted hotel. Walt Disney World hotel rooms are available for prices from just over $130 per night to over $1,300 per night, depending on hotel type and time of year.
Transportation costs. These vary greatly depending on mode of travel.
You can get more specific estimates, and also play with hotels and dates, by pricing trips out on Disney's website.
USING DISNEY WORLD'S WEBSITE TO ESTIMATE MOST OF YOUR COSTS
Once you have ideas about where to stay, when to go, and for how long you want to visit, input your information. Start with hotel and ticket costs, as these vary the most. Visit your My Disney Experience account (don't have one yet?—see this) and sign in.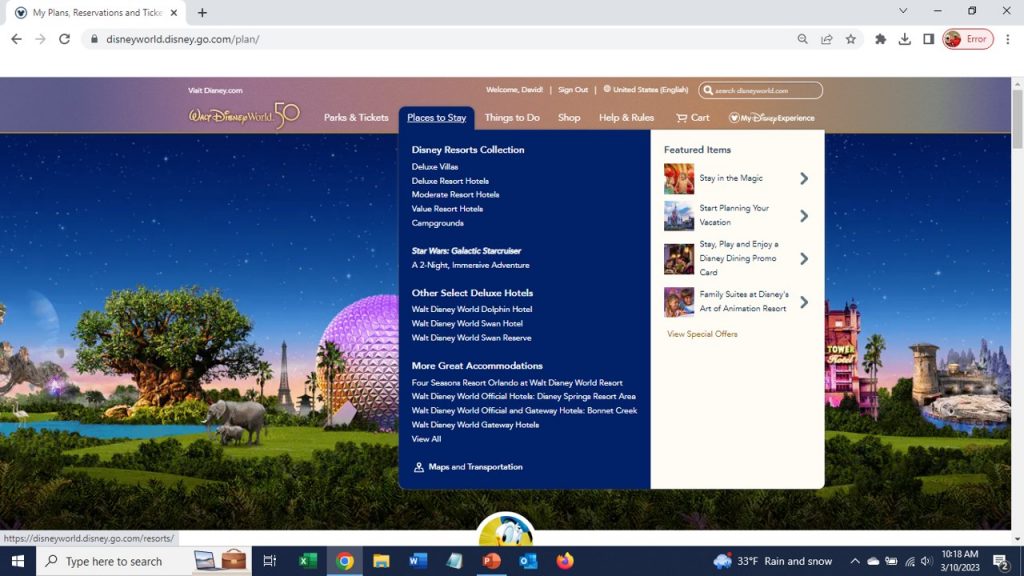 Click "Places to Stay" (top center)…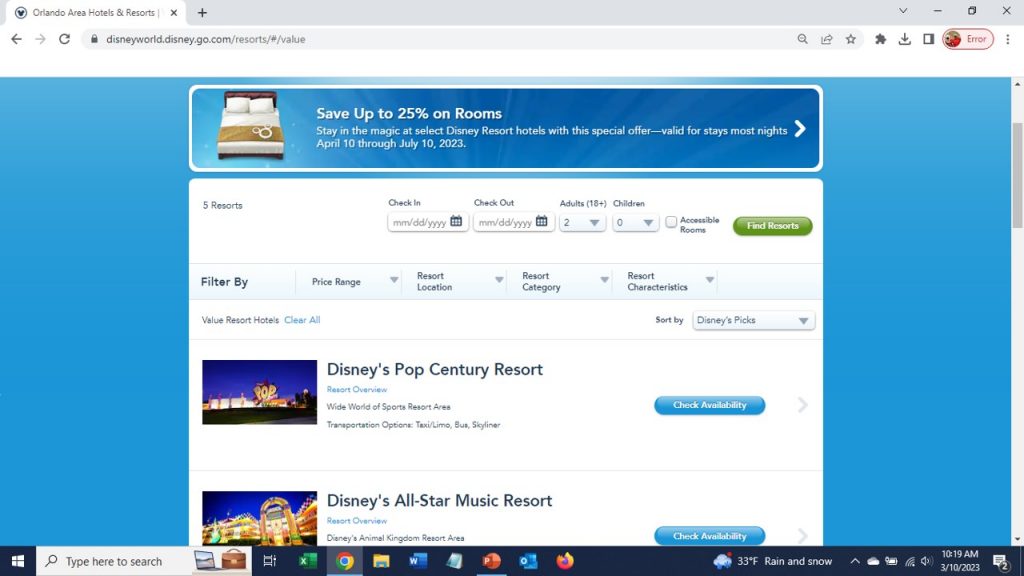 …and when the next screen opens, input your check-in date, check-out date, and party size, and pick your hotel.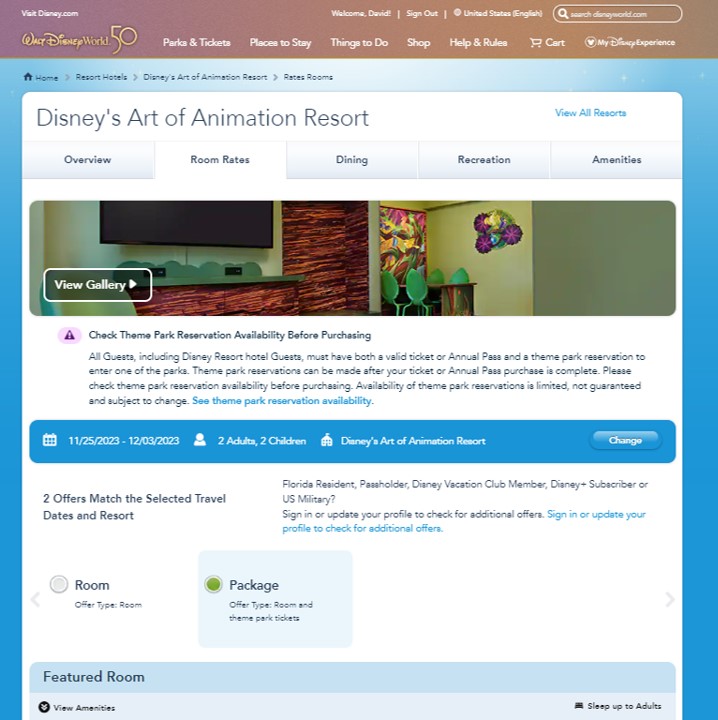 On the next screen click Package.
On the next page select the number of days for your tickets at the top, and at the bottom pick "base ticket." Click through to get your final offer total.
Then skip get your total offer.
This will give you the base costs for lodging and tickets. To this you need to add:
Core dining costs–use around $55/day for those who will eat off the regular counter service menu, and ~$30/day/person for those who can thrive with the kids menu (see the bottom of this page for an example lunch/dinner menu, with kids at the bottom.
Dining upgrades–additional costs beyond the above for any snacks, alcoholic drinks, and special meals you will be booking.
Ticket upgrades.  Paying for Individual Lightning Lanes and Genie+ will save time but add costs–budget $30-$50 per person per day (the lower number for long trips, the higher one for short trips)
Souvenirs, snack and extras
Transportation
BUDGETS FOR THE RECOMMENDED WEEKS
For the #1 week this site recommends, assuming you are a family of 4 with one child younger than 10 and one older, on a first and perhaps only visit, budget if you can:
Add to this budget the costs of getting your family to and from Orlando, to and from the airport if you are flying, and some funds for contingencies and souvenirs.
This budget includes Walt Disney World Resort hotel accommodations, food, park tickets, and a few special meals and special events (all for a family of four with one younger than ten, after-tax):
Nine days of park tickets, at about $3,200

Additional attraction-related costs for Individual Lightning Lanes and Genie+. This can cost another $900-1,000 over nine days in the parks

Dining at around $2,300. This will cover nine days of dining, mostly at the counter-service level but also with four to six more expensive table service meals

Approximately $700 for Mickey's Very Merry Christmas Party

Lodging costs: $6,800 for 8 nights at the Polynesian, or $2,300 Art of Animation

Follow yourfirstvisit.net on Facebook or Twitter or Pinterest!!
RELATED STUFF