Fridays with Jim Korkis: Walt's Apprentice by Dick Nunis
By Dave Shute
Welcome back to Fridays with Jim Korkis! Jim, the dean of Disney historians, writes about Walt Disney World history every Friday on yourfirstvisit.net.
YOUR PERSONAL DISNEY LIBRARY (58)
By Jim Korkis
No one was more excited than I was when I heard that Dick Nunis had written a book, and no one was more fearful than I was when I heard it would be published by Disney Editions.
The fear was that Nunis' many colorful stories would be neutered or missing, and that is unfortunately the case with this book. For instance, his recounting of the Yippie Invasion of Disneyland in 1970 in Walt's Apprentice is like a brief three page Cliff Notes' version of the event and downplays Nunis' aggressive participation where he tackled one of the activists and ripped off his wig.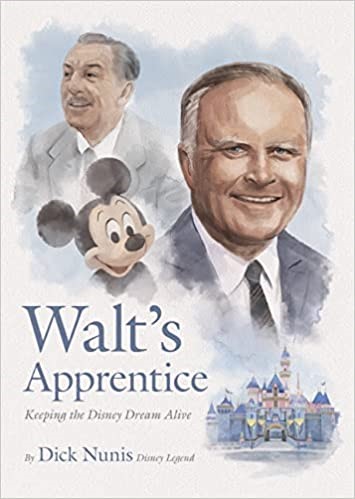 Even an innocent tale like the famous "Green Side Up" tale of landscaping the Contemporary Resort the night before Walt Disney World opened lacks most of the colorful details of that evening and tries to pass off the famous phrase as merely a careless quip to a cast member rather than a commanding marching order as it got darker and darker that night and became an iconic chant.
Nunis is deservedly a Disney Legend and without him many agree that Walt Disney World would never have opened on time. He is strongly opinionated and is surrounded by outrageous but true stories. He is a controversial and polarizing figure with many people willing to follow him into Hell and others feeling he was the devil himself.
However, everyone respected him and never questioned his commitment to Disney and especially Walt and his brother Roy. He was always considered tough but fair and some stories reveal instances of unexpected kindnesses and patience.
When he felt he was unfairly ousted from Disney, he refused to talk about his decades with the company even to the point of having people physically removed from his office who came to interview him. In the book, he writes that Eisner did not shed a tear when Nunis retired, just one of many subtle undertones that reveal Nunis' true feelings that are easily missed.
Nunis was there the first day that Disneyland opened in 1955 and served in a variety of roles for forty-four years. Many of the things done at Disneyland and Walt Disney World were directly the result of Nunis even when Walt and Roy were alive.
I would describe Walt's Apprentice as a "snapshot" memoir spotlighting a handful of moments in his life. Nunis suggests he depended upon others to help him remember.
Each chapter is only about three pages long because Nunis intended them to be an example of something he learned. At the end of each chapter is a short sentence summarizing what he learned and hope the reader will as well.
Certainly, this is not out of character for Nunis, who spent much of his time at Disney as a living model of behavior and had no hesitation in mentoring others. Along with Van France, he developed the first training programs for Disneyland.
The 320 page book has a center insert of thirty-two pages of photos (although some are not fully identified). While this is not the book I hoped to see from Nunis, it was an immediate best seller and there is no question that it should be included in the collection of any true Disney fan.
In addition, there is some surprising new information that appears nowhere else like Nunis' discussion about his efforts to build a Disney theme park in Australia and how at the last minute, Eisner dismissed the idea and decided on Hong Kong instead. It was one of many disagreements with Eisner that led to Nunis' retirement.
*  *  *  *  *
Thanks, Jim! And come back next Friday for more from Jim Korkis!
In the meantime, check out his books, including his latest, Off to Never Land: 70 Years of Disney's Peter Pan and Final Secret Stories of Walt Disney World!
Follow yourfirstvisit.net on Facebook or Twitter or Pinterest!!
RELATED STUFF