Fridays with Jim Korkis: From Carnaval de Lumière to Harmonious
By Dave Shute
Welcome back to Fridays with Jim Korkis! Jim, the dean of Disney historians, writes about Walt Disney World history every Friday on yourfirstvisit.net.
CARNAVAL DE LUMIERE TO HARMONIOUS IN EPCOT
By Jim Korkis
Harmonious debuted at Epcot on October 1, 2021 as a nighttime spectacular on the World Showcase Lagoon to celebrate the cultures and stories of the world that have inspired various Disney films and music.
The five floating platforms newly added to World Showcase Lagoon to show it are positioned like a compass. The show's central water curtain is five stories high. The show employs hundreds of programmable moving fountains and lights, plus lasers and pyrotechnic effects.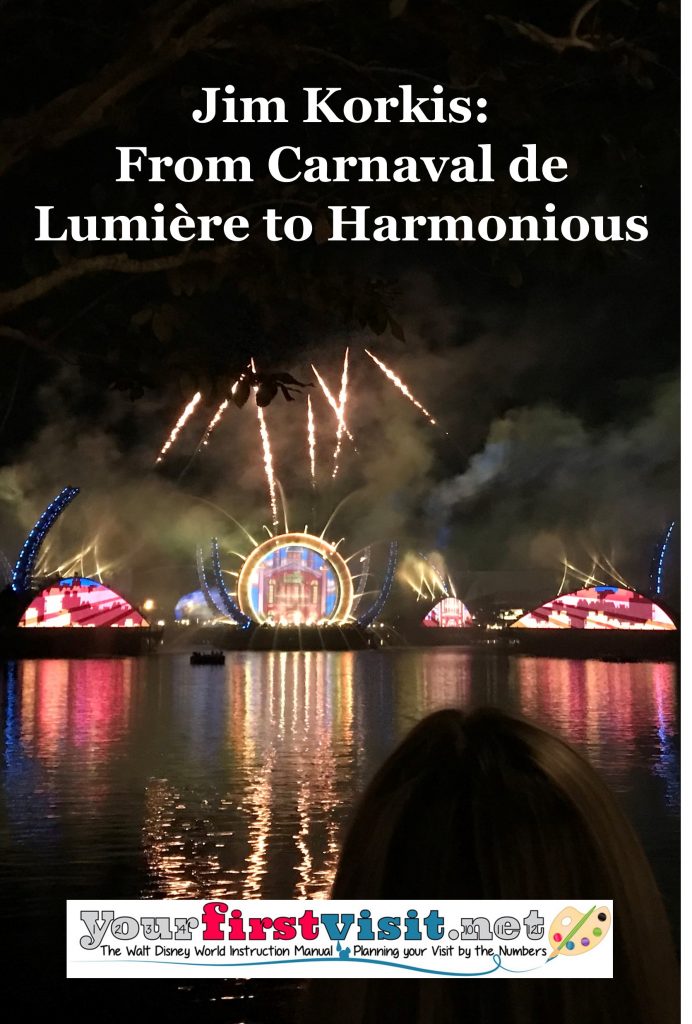 Harmonious tells a story of global connection, with a world tour of familiar Disney songs performed in more than a dozen languages by a cast of nearly 240 vocalists and musicians. Global connection is a major theme in the re-imagining of Epcot.
Harmonious replaced Illuminations: Reflections of Earth that was created and directed by Don Dorsey. That show premiered on October 1, 1999 and ran for approximately two decades until 2019. An interim show, Epcot Forever, was shown before the debut of Harmonious.
Le Carnaval de Lumière's International Festival of Festival (which was the official nomenclature of the show that was often just called Carnaval de Lumiere, or "carnival of light") was the very first nighttime spectacular at Epcot and premiered October 23, 1982 as part of the dedication ceremonies for the new theme park.
Carnaval de Lumiere was created and directed by Don Dorsey, who had been responsible for the Electrical Water Pageant on the Seven Seas Lagoon. It was referred to by the Walt Disney Company as "a celebration of celebrations".
According to the dedication program: "Through kaleidoscopic tapestries of light and sound, Le Carnaval de Lumiere takes you across the entire world and through twenty centuries to experience the rich diversity – and the commonality – of human celebration."
It was a presentation using rear projection screens on barges floating on the World Showcase Lagoon. Between the projection barges were fireworks barges controlled by Apple computers. The show could be viewed only from Showplace Plaza between Mexico and Canada at the front of the entrance to World Showcase.
Carnaval de Lumiere lasted only about eight months before being replaced by A New World Fantasy that debuted June 1983 and closed in 1984 to be replaced by Laserphonic Fantasy that premiered June 9, 1984. That show closed January 24, 1988 to be replaced by the original Illuminations that opened January 30, 1988.
A New World Fantasy was set to classical music played on synthesizer and was also supervised by Don Dorsey. The nighttime show used the same Carnaval de Lumiere floating barges that had rear projection screens on them. The show also added "Pichel lights" that moved automatically.
Laserphonic Fantasy used the same soundtrack as A New World Fantasy but incorporated lasers for the first time. It featured lasers emitted from barges and from around the lagoon, and for the first time guests could view the spectacular from anywhere around the World Showcase Lagoon. It was the first time for laser projections on water screens.
The projection barges were abandoned and the fountain and fireworks barges were arranged around a central barge containing lighting effects, fog effects, and lasers.
Laser projection booths were installed at Canada, Mexico, and American Adventure. The automation of the Pichel lights was completed and added to the show. Later, small fireworks barges and seawall fireworks were added to expand the show.
In none of these three shows were the individual country pavilions surrounding the lagoon spotlighted. That did not happen until another Dorsey show, the original Illuminations in 1988.
*  *  *  *  *
Thanks, Jim!
Harmonious has been wildly controversial, partly because of annoyance that it replaced the much loved (though not by me) Illuminations, partly because it continued the move (disheartening to many, though not to me) to introducing more film Disney content into Epcot, and partly because the enormous show barges new with it made World Showcase Lagoon look like a set from Battleship (2012).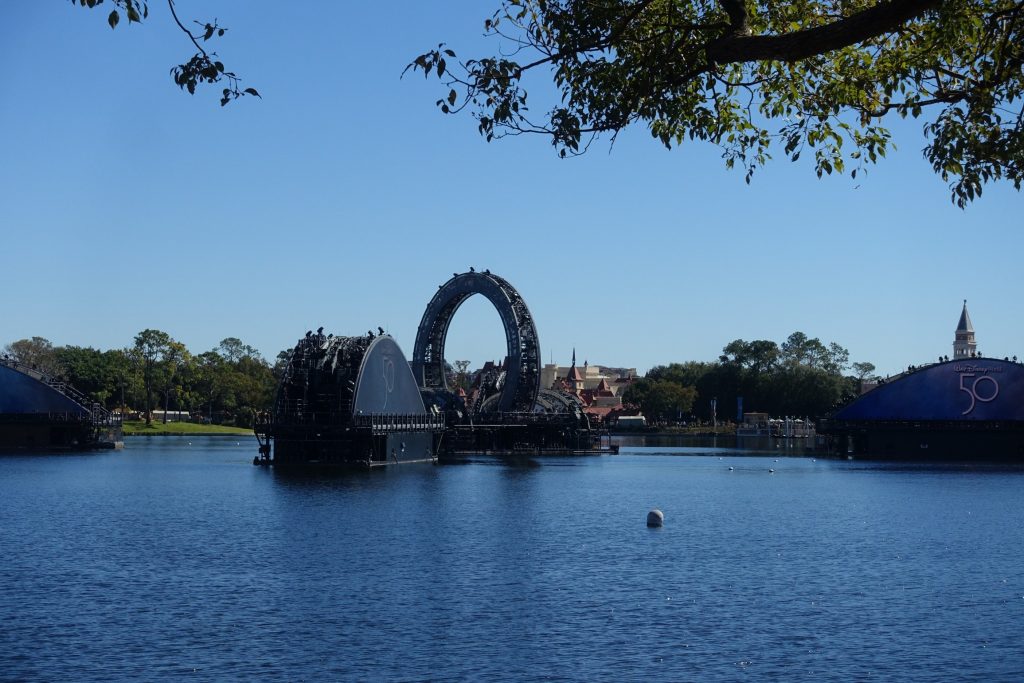 In September 2012, it was announced that Harmonious would be replaced by another nighttime spectacular in 2023.
Come back next Friday for more from Jim Korkis!
In the meantime, check out his books, including his latest, Off to Never Land: 70 Years of Disney's Peter Pan and Final Secret Stories of Walt Disney World!
Follow yourfirstvisit.net on Facebook or Twitter or Pinterest!!
RELATED STUFF