Fridays with Jim Korkis: 365 Walt Disney World Facts
By Dave Shute
Welcome back to Fridays with Jim Korkis! Jim, the dean of Disney historians, writes about Walt Disney World history every Friday on yourfirstvisit.net.
YOUR PERSONAL DISNEY LIBRARY (57)
By Jim Korkis
When I first noted the title 365 Walt Disney World Facts, I thought the concept was a clever idea, like those religious devotionals that have an inspiring chapter lesson for each day of the year. I should have been more suspicious.
How do you squeeze 365 facts into 136 pages especially if each fact is only one sentence long? The answer is to pad blank space between each fact. Without that extra wasted space, the book might run around thirty pages or less.
Chadwick Miller is a native of Georgia and describes himself as an amateur historian and theme park addict who is also an avid Star Wars collector, having presented on collecting at multiple conferences and conventions. He loves to travel and experience as many theme parks as possible.
Not being a student of Walt Disney World history, Miller is guilty of many misunderstandings that he presents in 365 Walt Disney World Facts as facts.
"The opening day cast members for Walt Disney World Resort were not trained on property or even at Disneyland. At the time Disney owned the Celebrity Sports Center in Denver, Colorado that they used for training new cast members."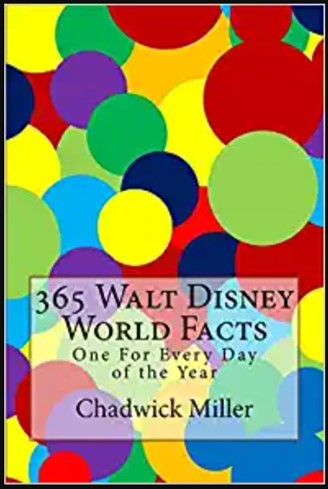 That statement will come as a shock to all those 1971 cast members who did indeed go through casting interviews on WDW property and did training at Florida's Disney University. SOME of the management of WDW did get training in certain business disciplines while working at the Celebrity Sports Center.
"Expedition Everest is the first Disney attraction to send guests backwards through an attraction."
Many of us remember the Maelstrom at the Norway Pavilion at Epcot that was doing the same thing for more than a decade before Expedition Everest opened.
"The Eiffel Tower in the France Pavilion is the only structure that is considered a 'carrot' in the World Showcase. It is essentially the only thing guests cannot actually reach."
Okay, where do I start with this misinformation? First the Disney term is not "carrot" (a treat always out of the reach of a poor donkey to get it to drag a burden to a specific destination) but a "weenie" (a term Walt created based on him playfully giving a hot dog reward to his beloved pet dog). Disney is sometimes embarrassed by the inelegant term and in its professional development classes refers to it as a "visual icon".
There are many "weenies" in World Showcase. The American Adventure pavilion is considered a major one, that pulls guests to the far end of the area. As we all know, there are many, many things in World Showcase that guests cannot reach.
What makes this information especially fraught is that since there are only 365 or so sentences in the book, so each one carries more "weight". The impression is that a casual Disney fan scanned the internet for some quick copy and did not always understand or mis-interpreted what he was reading.
Not all the information is incorrect, but enough is that everything becomes suspect. What I worry about is that readers will pick up this book and assume it must be accurate because, after all, it's in a book.
So while this is a great idea, the execution is exceedingly poor and this book should be avoided unless you are a completist who wants to have every WDW book.
*  *  *  *  *
Thanks, Jim! And come back next Friday for more from Jim Korkis!
In the meantime, check out his books, including his latest, Off to Never Land: 70 Years of Disney's Peter Pan and Final Secret Stories of Walt Disney World!
Follow yourfirstvisit.net on Facebook or Twitter or Pinterest!!
RELATED STUFF