Fridays with Jim Korkis: Not Just a Walk in the Park
By Dave Shute
Welcome back to Fridays with Jim Korkis! Jim, the dean of Disney historians, writes about Walt Disney World history every Friday on yourfirstvisit.net.
YOUR PERSONAL DISNEY LIBRARY (53)
By Jim Korkis
I am a huge advocate for trying to get some of the Disney "old timers" who were there in the earliest days of Disneyland and Walt Disney World to share their memories of those times into print.
We have already lost so many who had unique perspectives and experiences, and their stories are now lost forever. So like many Disney fans and historians, I was excited to see that Not Just a Walk in the Park by Jim Cora was to be published, and to underline my feelings of urgency, he passed away March 2021, just months before this book was released.
Jim Cora was made a Disney Legend in 2005 and has his name on a window on Main Street at a couple of Disney theme parks. He started as a part time attractions host at Disneyland in 1957, but at the personal urging of Walt Disney he moved into management training where he was mentored by Van France. By 1971, he was part of the opening team of the Magic Kingdom and by 1979 was managing director for the Tokyo Disneyland project.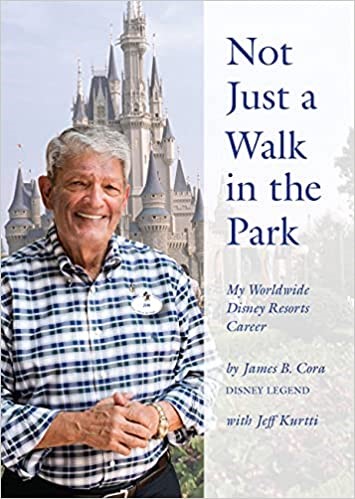 Not Just a Walk in the Park is a conversational, anecdotal memoir of Cora's remarkable four decade career with the Walt Disney Company, especially its expansion internationally. He was beloved and respected by all of those he worked with at Disney.
For those focused only on Walt Disney World, only one of the eleven chapters is devoted to that park in this 192 page book, and that chapter doesn't offer much new information.
However the chapter, like the others, does include never-before-known bits of information tossed in casually, like the fact that he was in charge of Fantasyland on opening day, but had forgotten to place an order for ticket boxes at the attractions, so that day cast members put the torn tickets into their pockets or nearby trash cans until the situation could be rectified.
I did, however, learn much more about Disneyland Paris and Tokyo Disneyland than I had known previously, and Cora was also a consultant to Shanghai Disneyland even after he retired.
The "with Jeff Kurtti" credit is significant because I have been in the situation of trying to help a few Disney Legends write their stories and it is challenging with faulty memories, especially of names and dates, and just not the skill to communicate their stories effectively.
Kurtti is one of the most respected of Disney historians and a very good writer in his own right, and the fact that the text is so accurate and flows so smoothly are probably the result of his handiwork.
Each chapter is broken up into "bite-sized" sections that make the text less intimidating and easier to find some specific information—helpful, since there is no index.
A nice touch is that the middle of the book has fifteen pages filled with multiple personal photos on each page (mostly color) that I certainly had never seen before in any previous book or magazine.
With Dick Nunis' book from Disney Editions coming out this year, I was intrigued by Cora's comment that while he agreed with what Nunis was trying to accomplish when he ran the parks, he sometimes disagreed with how Nunis was going about accomplishing it. I think that is an insightful and accurate impression of a very controversial leader who Cora was friends with for a time.
Not Just a Walk in the Park is for those who love Disney parks history and would like to hear from someone who knew and worked with both Walt and Roy Disney and is credited for paving the way for the success of the foreign Disney theme parks.
*  *  *  *  *
Thanks, Jim! And come back next Friday for more from Jim Korkis!
In the meantime, check out his books, including his latest, Disneyland Historical Highlights!

RELATED STUFF