Fridays with Jim Korkis: The Reedy Creek Improvement District
By Dave Shute
Welcome back to Fridays with Jim Korkis! Jim, the dean of Disney historians, writes about Walt Disney World history every Friday on yourfirstvisit.net.
REEDY CREEK IMPROVEMENT DISTRICT
By Jim Korkis
At the end of April 2022, the Florida Legislature voted to dissolve the Reedy Creek Improvement District ("RCID") by June 2023. Details are still unclear about the specifics of how that will happen, if it does, and the ramifications on the counties of Orange and Osceola, among other things.
In 1967, the creation of RCID allowed the Walt Disney Company to utilize some innovative techniques in building and to exceed the safety standards of both Orange and Osceola counties. All of this was able to be accomplished without taking any money from the taxpayers in those two counties.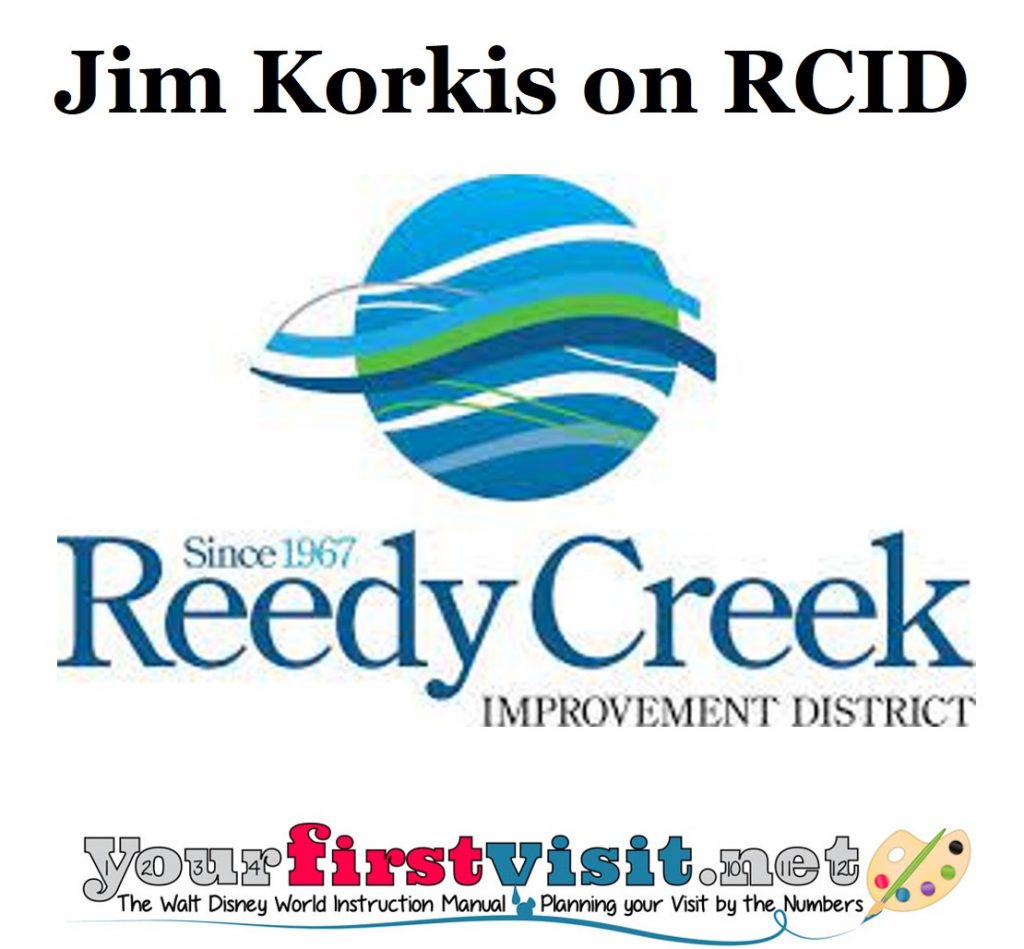 Some have argued over the years that, when the Walt Disney Company abandoned the idea of building Walt Disney's experimental city, the original reason for allowing the company such vast governing power through an improvement district was no longer necessary.
Improvement districts are not unusual, but are more common in rural areas needing things like hospitals or fire protection often unavailable in unincorporated sections. There are improvement districts in every state in the United States and over a thousand in Florida.
Basically, the government has certain responsibilities and duties to people from providing fire protection, garbage collecting, water and sewer, street lighting to other services for which people pay taxes.
However, sometimes areas need things that are not covered under those general responsiblities, cannot be easily provided, or need to be handled differently. A district can do that.
A specific boundary is established and a district is formed with the approval of a simple majority of the property owners. Once created, the district operates as a political subdivision with a Board of Directors made up of the property owners that governs the functions of that district.
These improvement districts can have wide ranging authority from imposing taxes, adopting ordinances, contract for professional services, constructing and operating improvements, handling pest control, and more. Overlaps in jurisdiction can and do occur, so coordination is necessary.
With RCID, Disney extensively communicates with local, regional, state and federal regulatory agencies on matters that cross jurisdictional lines.
There were two significant reasons for establishing the Reedy Creek Improvement District.
First, it was to ensure that Florida taxpayers would not be burdened with the cost of providing and maintaining essential public services and infrastructure required to build and operate Walt Disney World.
Second, since the original plan was to build a "community of tomorrow" on land encompassing two different counties (Orange and Osceola) that had different building standards and regulations, it was necessary to have a unified governing body that could provide the legislative and regulatory flexibility necessary to allow over the entire area innovative construction techniques from buildings to roads and water control as well as environmental protection of the area.
As early as 1969, RCID required sprinkler systems within all permanent and most temporary buildings, which was a first in Florida. It also required extensive networks of smoke and heat detectors.
Thanks to RCID, the Vista United Telecommunications system in 1978 became the first commercial fiber optic system in the United States, and then became a hundred percent digital switching network in 1983. It was the first telephone company in the state of Florida to implement a 911 emergency system.
RCID created an Environmental Services Department in 1971 and tasked them not to just maintain, but whenever possible, improve the woods, wetlands and swamps that are native to the property.
Without RCID, projects like the expansion of Disney Springs and the reconfiguration of Buena Vista Drive and World Drive would not only have required approval from Orange County officials, but they also would have been subject to the county's budget approval process.
RCID provides Disney with the means to approve and fund such improvements expeditiously, avoiding much of the bureaucratic red tape.
The only good news is that there is still a year to try to figure things out, but whatever the outcome, it may be a whole new world.
*  *  *  *  *
Thanks, Jim! And come back next Friday for more from Jim Korkis!
In the meantime, check out his books, including his new books Vault of Walt: Volume 10: Final Edition,   Kungaloosh! The Mythic Jungles of Walt Disney World and Hidden Treasures of Walt Disney World Resorts: Histories, Mysteries, and Theming, much of which was first published on this site.

Follow yourfirstvisit.net on Facebook or Twitter or Pinterest!!
RELATED STUFF