Fridays with Jim Korkis: A Portrait of Walt Disney World
By Dave Shute
Welcome back to Fridays with Jim Korkis! Jim, the dean of Disney historians, writes about Walt Disney World history every Friday on yourfirstvisit.net.
YOUR PERSONAL DISNEY LIBRARY (52)
By Jim Korkis
My only complaint with A Portrait of Walt Disney World, a beautiful hardcover book celebrating fifty years of Walt Disney World is the same as many other Disney fans: even though the book was published in September 2021, it was challenging to get a copy until the beginning of this year, thanks to supply chain issues and problems with it being printed in China.
However, even with that caveat, A Portrait of Walt Disney World is definitely worth all the angst even though some orders from Amazon have arrived with bumped corners and sometimes a tear in the cover.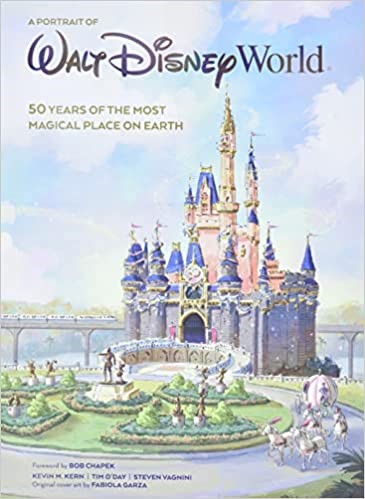 This 320 page book is, according to the publicity copy, "a robust portrait of the Walt Disney World Resort through vibrant voices and rare Disney theme park concept art, photographs and ephemera." It certainly lives up to that description.
Unlike some "coffee table" books, this one has outstanding content to match the amazing visuals, even the smallest of which are sharp and colorful. Where else can you see background art from the 1953 Donald Duck cartoon short Don's Fountain of Youth where the feisty fowl and his nephews visit Florida?
That's just the beginning when it comes to treasures like multiple color photos of both Walt and Roy Disney on Walt Disney World property, early maps, design concepts (like for the Walt Disney World logo), a portrait by Charles Boyer of Dick Nunis as General Patton, and much, much more rather than the familiar images presented in previous Disney Edition books about Walt Disney World.
In addition, the text is sprinkled with quotes and memories from numerous people, including Roy Patrick Disney (Roy O. Disney's grandchild), Debbie Dane Browne (Walt Disney World's first Ambassador https://yourfirstvisit.net/2022/05/06/fridays-with-jim-korkis-walt-disney-world-ambassadors/ ), and many different Imagineers and others.
I would suspect the wonderful insight into the philosophy of Walt Disney World along with the accurate text is the result of the integrity and knowledge of the authors: Kevin Kern, who was manager of research for the Disney Archives; Tim O'Day, whose writing on Disney history as well as his many contributions to the Disney parks (like arranging for pardoned White House Thanksgiving turkeys getting a reprieve at the Disney parks) and Steven Vagnini, who is currently working for WDI but has had a noteworthy career at the Disney Archives, D23 and other departments.
It must have been quite a challenge to try to shoehorn a half decade of overwhelming accomplishments into the space allotted, but these authors seem up to the task. While some tangential information is obviously missing and they had to adhere to the approved Disney narrative, they were able to cover just about everything very solidly.
After the early history of the creation of Walt Disney World, the book then become neither chronological nor necessarily geographical (Magic Kingdom's Tomorrowland is not discussed until after Disney's Hollywood Studios) but the text continues to read so smoothly that it is not disturbing.
As you might suspect, I have a library filled with books just about Walt Disney World, but I consider A Portrait of Walt Disney World a true treasure and one that I will be using for reference in the future. The book is now easier to locate and purchase so you should consider adding it to your personal library if you have any interest in Walt Disney World and its history.
*  *  *  *  *
Thanks, Jim! And come back next Friday for more from Jim Korkis!
In the meantime, check out his books, including his new books Vault of Walt: Volume 10: Final Edition,   Kungaloosh! The Mythic Jungles of Walt Disney World and Hidden Treasures of Walt Disney World Resorts: Histories, Mysteries, and Theming, much of which was first published on this site.

Follow yourfirstvisit.net on Facebook or Twitter or Pinterest!!
RELATED STUFF