Fridays with Jim Korkis: The Art of Stars Wars: Galaxy's Edge
By Dave Shute
Welcome back to Fridays with Jim Korkis! Jim, the dean of Disney historians, writes about Walt Disney World history every Friday on yourfirstvisit.net.
YOUR PERSONAL DISNEY LIBRARY (51)
By Jim Korkis
Those already familiar with the "Art of" books published by Abrams know what to expect from The Art of Stars Wars: Galaxy's Edge: a beautiful hardcover filled with full-color concept art, informative text, interviews with people who worked on the project, and more. You can continue reading, but you already know that I highly recommend this stunning book with one minor quibble that I will mention at the end.
I imagine the reason this book was produced was not just because of Disney fans, but also the legion of rabid Star Wars fans that want to know every bit of material about the Star Wars universe.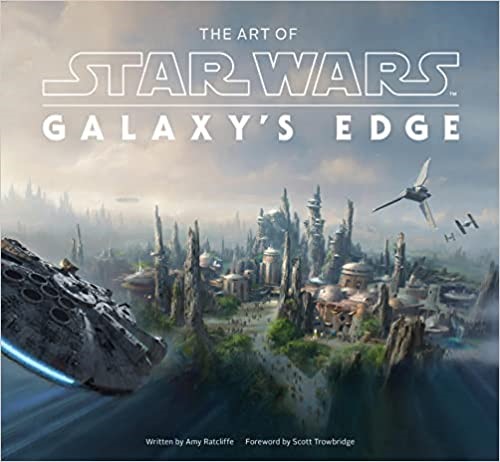 It would be wonderful to have an Art of Pandora: The World of Avatar book, for instance, written by someone familiar with the work of James Cameron as well as Imagineering. I am sure readers of this site can imagine other similar books about sections of Walt Disney World that deserve this treatment, so I am grateful that at least this book exists.
The Art of Stars Wars: Galaxy's Edge has thirteen chapters, and I was especially excited that the final chapter goes into great detail, rather than just a cursory mention, of the new Halcyon resort hotel, sharing information that appears nowhere else in print, including that the design for the top of the hotel was meant to reference the smokestacks on a cruise ship.
Each chapter describes in elaborate detail the planning, ideas, and creation of a part of the Galaxy's Edge world. There is background information, behind-the-scenes explanations of how it all came together, and of course, dozens and dozens of images of concept art and early designs.
More importantly, the sketches, paintings and other artwork are printed at a size where it is easy to explore the details so often missed and actually, for the most part, read the little notes. Basically, much of this material has never been seen anywhere else and probably won't.
Author Amy Ratcliffe is the managing editor of Nerdist, also the author of Star Wars: Women of the Galaxy  and The Jedi Mind, and was a contributor to From a Certain Point of View: The Empire Strikes Back. She is also a host at Star Wars Celebration as well as a regular contributor to StarWars.com and Star Wars Insider.
I liked the fact that her experience gives her a Star Wars perspective that a Disney author might have missed, and helps to make connections in the text.
Scott Trowbridge, who supplies a lengthy and informative foreword and assisted the author with this book, is the Imagineering creative executive responsible for bringing Star Wars to life globally at Disney's theme parks, resorts, cruise lines, and entertainment experiences.
My one minor quibble? There are no photos of the actual land to compare and contrast with the artwork, nor any behind-the-scenes construction photos of things being built.
Also missing in The Art of Stars Wars: Galaxy's Edge is any mention of the music used in the land, especially the new theme by composer John Williams. Of course, those topics have been covered here at this site but it would have been nice to see them included in this book so it would be more comprehensive.
However, I can quibble about what I would have liked to see included or celebrate what was included and be grateful. I choose gratitude.
*  *  *  *  *
Thanks, Jim! And come back next Friday for more from Jim Korkis!
In the meantime, check out his books, including his new books Vault of Walt: Volume 10: Final Edition,   Kungaloosh! The Mythic Jungles of Walt Disney World and Hidden Treasures of Walt Disney World Resorts: Histories, Mysteries, and Theming, much of which was first published on this site.

Follow yourfirstvisit.net on Facebook or Twitter or Pinterest!!
RELATED STUFF