Fridays with Jim Korkis: Dumbo's Circusland
By Dave Shute
Welcome back to Fridays with Jim Korkis! Jim, the dean of Disney historians, writes about Walt Disney World history every Friday on yourfirstvisit.net.
DUMBO'S CIRCUSLAND AT MAGIC KINGDOM
By Jim Korkis
When Storybook Circus opened at Walt Disney World in March 2012, the premise was that a traveling circus has just come to town like in the animated feature film Dumbo (1940), with all the bright colors and lively music. In the pavement, the circus animals have left behind their footprints, and the elephants even dropped a few peanut shells.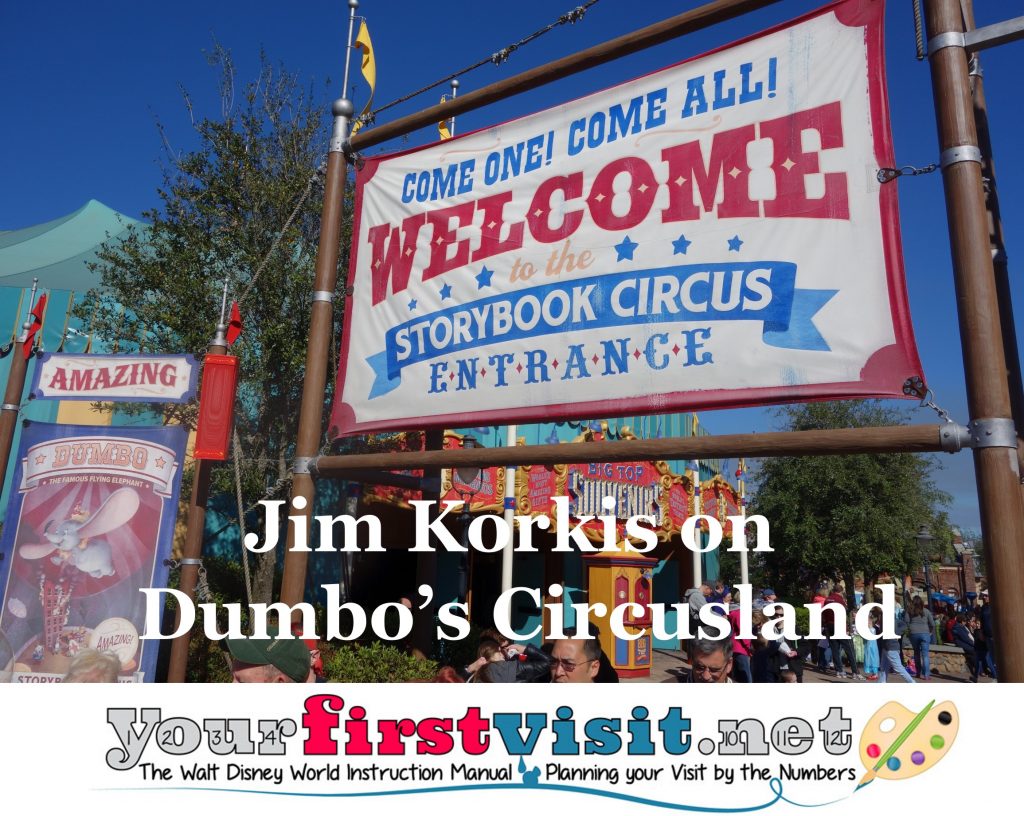 It just seemed natural to showcase Dumbo in a circus setting with a few attractions. However, the concept actually came from a proposed expansion of Disneyland's Fantasyland in 1974 that would have opened in 1976.
Designed by Imagineer Tom Scherman, the new area would have been located approximately on five acres where Mickey's Toontown was eventually situated. All the show buildings would be covered with striped circus tent awnings and the entire area would be filled with attraction posters and bunting to give the impression that a travelling circus had just arrived.
A clown themed restaurant would be the main eating location and feature carnival styled food offerings. A small merry-go-round for younger guests called Circus Parade would feature carved giraffes, lions and other circus animals to ride instead of horses.
The Dumbo spinner attraction would have been moved out of Fantasyland and relocated and set on an elevated platform to be the prominent centerpiece of the new land. The Casey Jr. Circus Train would also have been diverted to this new location.
Three new attractions would have been built including a Pinocchio dark ride attraction very similar to Pinocchio's Daring Journey that was added to Disneyland's Fantasyland in 1983. It would have had some differences as well including an additional scene in the queue waiting area called Stromboli's Little Puppet Theater.
Disney Legend Ward Kimball was directly involved in the creation of the Mickey's Mad House attraction that was meant to immerse guests into classic black-and-white Mickey Mouse cartoons. Outside the circular show building decorated with images of classic Mickey Mouse was a small water fountain with a tiny clown fireman somewhat resembling Kimball spluttering water from a fire hose.
Inside, the attraction would utilize the traditional amusement park Wild Mouse Coaster that would careen back and forth. It would be similar to the Primeval Whirl attraction at Disney's Animal Kingdom but entirely enclosed in the dark so that guests would not be able to see clearly when it would veer back and forth or suddenly drop.
The premise was that guests were inside one of Mickey Mouse's classic cartoons and the attraction would use film projections, simple audio-animatronics figures, real sets and plywood cut outs. Excerpts from five or six of Mickey's cartoons would be utilized and brisk ragtime music would be played in the background to try to create a wild, "mad" atmosphere.
The third new attraction would be an elaborate "E Ticket" audio-animatronics show called Circus Disney that was somewhat reminiscent of the recently opened Mickey Mouse Revue in Walt Disney World but would carry guests on some type of track.
The attraction would feature not only characters from Dumbo, but other animal and fantasy characters that did not quite fit into other areas of the park. One section was devoted to the Wild Animal Menagerie which would feature Dumbo, Horace Horsecollar, and Elliot the dragon among others.
Guests would have been whisked through the Wild Animal Menagerie and then fly down the circus midway with Dumbo himself. In the finale, daredevil acts in a three-ring setting under the Big Top would feature the Flying Goofys and the Disney Bears Pyramid. There would even be a clown alley with Disney characters.
When the Walt Disney Company finances and other resources were shifted to building Epcot Center and Tokyo Disneyland, Dumbo's Circusland quietly disappeared.
*  *  *  *  *
Thanks, Jim! And come back next Friday for more from Jim Korkis!
In the meantime, check out his books, including his new books Vault of Walt: Volume 10: Final Edition,   Kungaloosh! The Mythic Jungles of Walt Disney World and Hidden Treasures of Walt Disney World Resorts: Histories, Mysteries, and Theming, much of which was first published on this site.

Follow yourfirstvisit.net on Facebook or Twitter or Pinterest!!
RELATED STUFF