Fridays with Jim Korkis: The Walt Disney World That Never Was
By Dave Shute
Welcome back to Fridays with Jim Korkis! Jim, the dean of Disney historians, writes about Walt Disney World history every Friday on yourfirstvisit.net.
YOUR PERSONAL DISNEY LIBRARY (46)
By Jim Korkis
I have always had a particular fascination for projects that the Walt Disney Company has announced but never made. I've written dozens of articles about such things, as well as the book Disney Never Lands.
So I am well aware of the challenges about writing about proposed Disney theme park attractions. Often, only a piece of concept art exists, one that was designed to be highly atmospheric and dramatic to spark anticipation, but with very few specifics. Sometimes a publicity release may include merely vague hyperbole before a design is finalized.
Of course, the failure of most of these plans to be actually realized usually is the result of costs, lack of necessary technology or a change in a business agenda.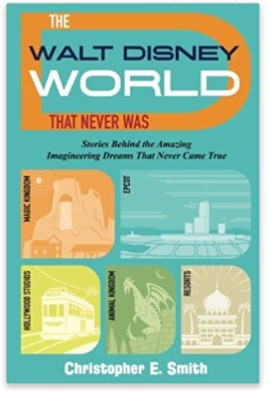 Smith proclaims the purpose of The Walt Disney World That Never Was is to provide "a collection of stories about the most significant, compelling and downright fun ideas that you won't find in Walt Disney World today. In these stories, I will share the history and details of these wonderful ideas, why they were never developed, and where their remnants can be found in the Disney parks today."
For the most part, he does achieve that goal. He devotes individual chapters to the "usual suspects" including Thunder Mesa, Roger Rabbit's Hollywood, Muppet Studios, Beastly Kingdom, the original Epcot, and some never built WDW resort hotels.
In addition, he also covers some of the lesser known "lost" projects, like Dick Tracy's Crimestoppers attraction, Mickey's Movieland, David Copperfield's Magic Underground, and the Alien attraction.
Unfortunately, he misses some obvious information including that Roger Rabbit's Hollywood was the name of the area planned for Disneyland while the similar area for WDW was always labeled Roger Rabbit's Toontown.
He also seems unaware that the reason for CEO Michael Eisner proposing an attraction based on 20th Century Fox's Alien movie was because he had already licensed the movie for the Great Movie Ride, or that Imagineer Ward Kimball was deeply involved in creating Mickey's Movieland.
However, nobody can know everything, and in 168 pages, Smith does provide an accurate if sometimes too brief overview of what WDW almost got. Sometimes I felt he was padding with extraneous background material because of lack of more information on the specific attraction.
I was especially pleased that he would occasionally quote from Annual Reports and news articles in the Orlando Sentinel, sometimes the only public record for the existence of many of these things. I also felt that the interior of the book was nicely laid out, so that it was easy to locate what I wanted since the book does not have an index.
Christopher E. Smith has written three other well-received books about Walt Disney World: two volumes of The Backstories and Magical Secrets of Walt Disney World and A Magical Half-Century: Stories Celebrating Walt Disney World's First 50 Years. He has never worked for the Walt Disney Company but is a corporate attorney who with his family has been a frequent visitor to WDW for over three decades.
Smith is not a "numbers guy" so there is no emphasis on dates, measurements, costs, statistics or other such similar data. Basically, his approach to his books is that of a longtime Walt Disney World fan.
If you are also a longtime Walt Disney World fan, then I would recommend adding The Walt Disney World That Never Was to your collection and it is definitely my favorite of the Smith books.
*  *  *  *  *
Thanks, Jim! and come back next Friday for more from Jim Korkis!
In the meantime, check out his books, including his new books Vault of Walt: Volume 10: Final Edition,   Kungaloosh! The Mythic Jungles of Walt Disney World and Hidden Treasures of Walt Disney World Resorts: Histories, Mysteries, and Theming, much of which was first published on this site.

Follow yourfirstvisit.net on Facebook or Twitter or Pinterest!!
RELATED STUFF