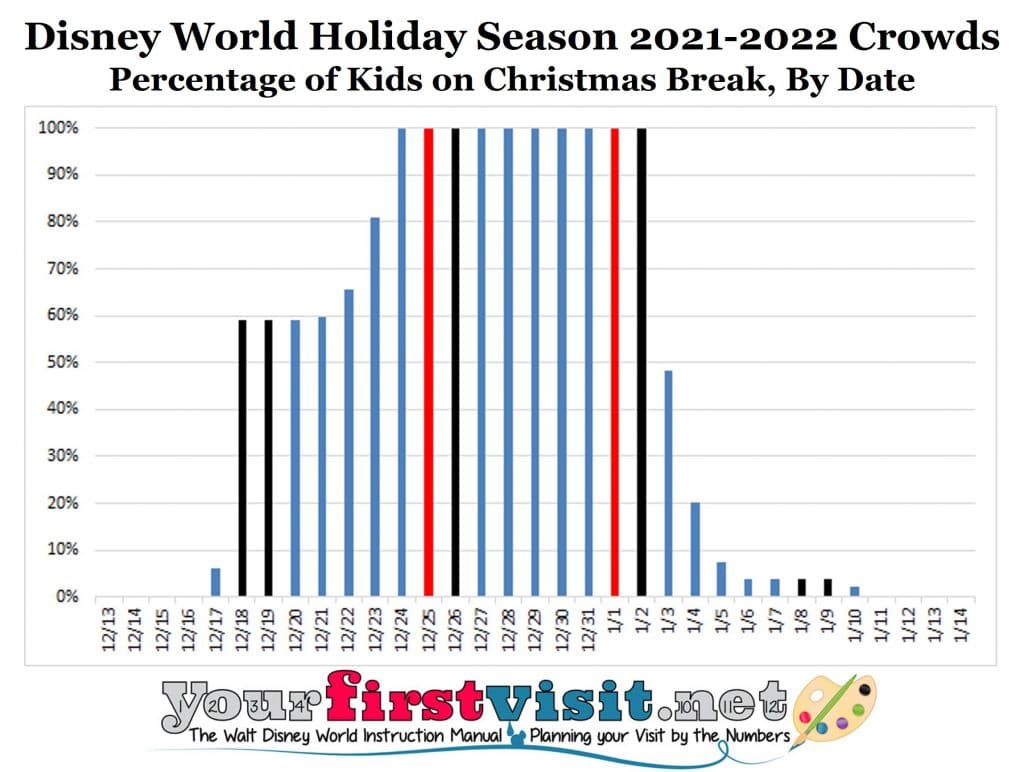 DISNEY WORLD CROWDS FROM LATER DECEMBER 2021 TO EARLY JANUARY 2022
Although we don't yet know how Disney World's new park reservation system will effect holiday crowds in late 2021/early 2022, Disney World typically sees its highest crowds and prices of the year in the later third of December and the beginning of January, in the weeks around Christmas and New Year's Eve.
This is for a pretty basic reason: kids are out of school then. However, not every school district has the same break schedule.
In 2021, as always, there's more kids out the week between Christmas and New Year's than before or after.
However, because of the Saturday Christmas, in 2021 there's hardly any kids out the week before Christmas week.
Crowds will be massive at Disney World by December 18, 2021, and will be at their worst between 12/24/2021 and 1/2/2022. Things then return quickly to low levels, and holiday crowds should be gone by January 4, 2022.
SCHOOL BREAKS AND DISNEY WORLD CROWDS
Most years, there two typical sorts of breaks:
Long breakers–districts that take at least 2 full weeks (and three weekends) off
Short breakers–districts that take off as close to only December 25 to January 1 as they can
As a result, the period Christmas-New Years is always mobbed at Disney World, as everyone is out of school then, but the periods before and after vary from year to year depending on what day of the week Christmas falls. Sometimes early January sees heavy crowds until the 6th or 7th, and other years those crowds are mostly all shifted to December.
In 2021, the Saturday Christmas makes the choice for long-break districts pretty straightforward.  Almost all of them are off from Friday December 24, 2021 through Sunday January 2, 2022.  Not a single school in my database starts its break before December 17, but by December 18th 60% of kids are out of school. Many schools have teacher workdays and/or holiday extensions on Monday January 3, 2022 and some even Tuesday January 4.  A tiny number of kids have breaks extending through Sunday January 10.
Schools with shorter breaks typically are off Friday December 24, 2021 through Sunday January 2nd or Monday the 3rd.
ACTUAL 2021-2022 CHRISTMAS SEASON SCHOOL BREAKS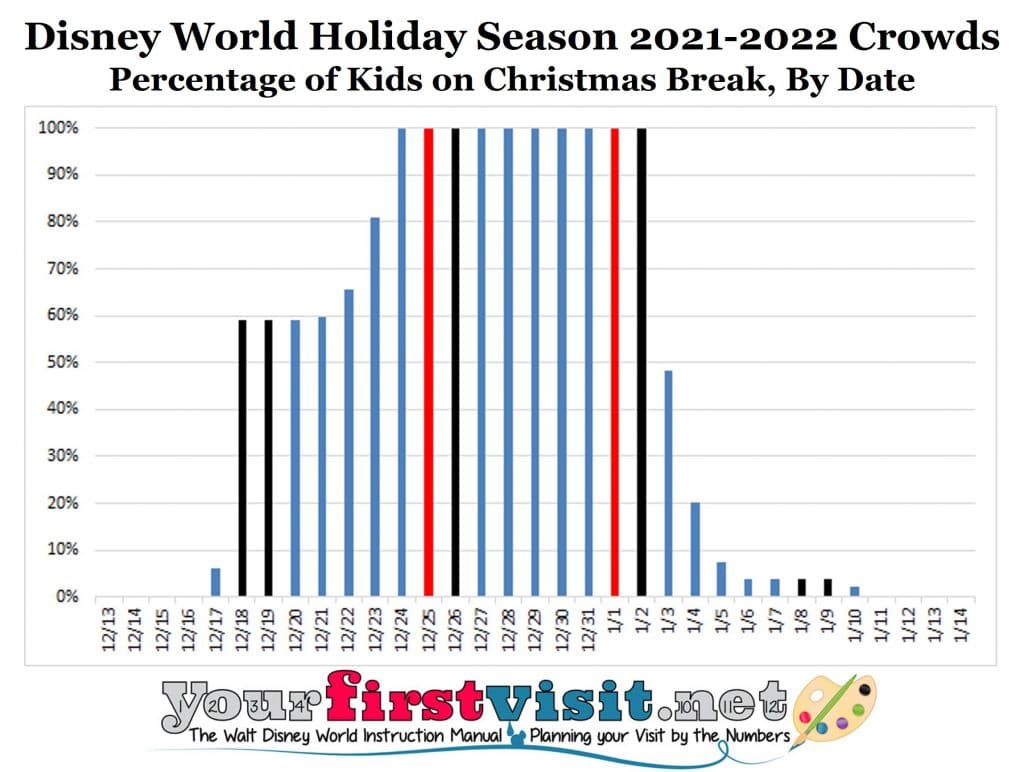 The chart above illuminates how 2021/2o22 holiday breaks work.
It's based on data from a weighted sample including more than 275 of the largest relevant US public school districts with more than a quarter–15.4 million–of total US school kids included.
The holidays are red, the weekends red or black, and weekdays blue.
You can see that breaks begin Thursday the 17th. Many more kids go on break beginning the 18th, more Wednesday the 22nd, and by the 24th everyone is on break.
Pretty much everybody stays out of school through January 2, 2022, and while many go back to school January 3, almost 50% of US schoolkids remain on break January 3, 2022. Many are still on break January 4, some January 5, and a small number are on break through January 10.
My friends at Destinations in Florida, the long-time travel agent partner of this site, can help you book your Walt Disney World vacation–during your 2021 Christmas break, or another time!  Contact them using the form below.

Follow yourfirstvisit.net on Facebook or Twitter or Pinterest!!