A Friday Visit with Jim Korkis: Buying Disney's World
By Dave Shute
Welcome back to Fridays with Jim Korkis! Jim, the dean of Disney historians, writes about Walt Disney World history every Friday on yourfirstvisit.net.
YOUR PERSONAL DISNEY LIBRARY (43)
By Jim Korkis
With Walt Disney World celebrating its milestone 50th anniversary in October, I expect that there will be many books released recounting the creation of the Most Magical Place of Earth.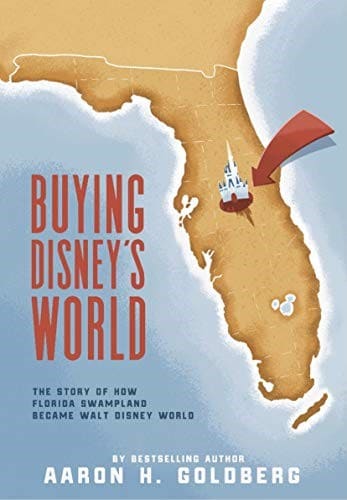 One of the first ones in this category is Buying Disney's World, a breezy, cursory look at the birth of Walt Disney World. At roughly 150 pages of text (ten of those pages devoted to a transcription of the narration of the famous Epcot film, and others with full page illustrations that are sometimes interesting and sometimes unnecessary and difficult to read), it omits many people, stories, details, subtleties and facts.
For instance, there is no mention of landscaper Bill Evans who shaped the horticultural atmosphere of the property, or of Bob Gurr who was responsible for many innovative vehicles including a new version of the monorail for WDW, or of Imagineer John Hench, who was responsible for so many design elements, especially a color palette that was different than Disneyland.
In fact, the number of names of people important to the creation of Walt Disney World who are omitted might have easily filled an additional 150 pages.
I was also concerned by the sources the author cited for the book. He seems to rely heavily on Robert Foster's unpublished manuscript The Founding of a Kingdom but did not consult obvious sources like Since the World Began by Jeff Kurtti or Walt Disney and the Promise of Progress City by Sam Gennawey, both known for their accuracy and valuable perspective.
In fact, off the top of my head, I could probably mention at least another half dozen other books and dozens of easily available documents about the making of Walt Disney World that I could recommend and trust that the author did not clearly use when doing his research on the topic.
Certainly, the Foster manuscript noted above is important, because Foster was the lawyer responsible for the purchasing of all the future Walt Disney World land in Florida, and he had personal contact with many of the key players involved in the Florida project. However, Foster's was only one perspective of what was going on, and the author has not obviously done any cross-checking to verify the Forster information.
Author Aaron Goldberg has written three other books about Disney topics, and he certainly has his appreciative fan following. The information he provides for the most part is accurate, although it doesn't always tell the whole story, and personally I was saddened that he didn't give Roy O. Disney more credit and attention for his sacrifice and leadership in trying to make his younger brother's dream a reality.
In his haste to finish the book, the author devotes less than three pages to the opening of WDW, the three day dedication ceremony, and the immediate reaction to the new resort. I would assume that many readers would have found those events even more fascinating than some of the previous material.
This brief overview will satisfy some readers, but I look forward to a book with a more diligent recounting of the story of Walt Disney World and better use of existing source material to provide a new perspective.
*  *  *  *  *
Thanks, Jim! and come back next Friday for more from Jim Korkis!
In the meantime, check out his books, including his new books Kungaloosh! The Mythic Jungles of Walt Disney World and Hidden Treasures of Walt Disney World Resorts: Histories, Mysteries, and Theming, much of which was first published on this site.

Follow yourfirstvisit.net on Facebook or Twitter or Pinterest!!
RELATED STUFF