Fridays with Jim Korkis: Disney's Pop Century Resort
By Dave Shute
Welcome back to Fridays with Jim Korkis! Jim, the dean of Disney historians, writes about Walt Disney World history every Friday on yourfirstvisit.net.
DISNEY'S POP CENTURY RESORT
By Jim Korkis
The Walt Disney Company asked architects Bernardo Fort Brescia and Laurinda Hope Spear of the Miami based architectural firm Arquitectonica to design a classic American kitschy motel resort for Disneyland Paris. They were working on a concept of a 1950s coast-to-coast roadside trip from the alligators and palm trees of Florida to teepees and giant cowboy boots in the western United States.
That project never evolved but as Fort-Brescia recalled, it led to the design of the All Star resorts: "It was there that we started evolving the notion, asking the question of why a theme would have to refer to an actual place. We began to explore the idea of themed architecture without place references but idea references instead.
"What if we remove ourselves from architectural themes and go more into the theme as an idea, not as a place or a time? Look at popular entertainment, at sports, music and movies.
"What if we make those the themes and turn them into popular architecture? After all, it's a very American phenomenon. So we presented it as Pop Art and it worked."
To create a value resort, the motel units with outdoor hallways were all identical, cast from the exact same mold, so the thing that makes Pop Century a Disney resort is the additional details of the railings, parapets, stairwells and vertical supports for the balconies decorated with gigantic, iconic images like surfboards, Coca-Cola cans and more.
"It comes from the same American culture as roadside architecture," said Fort-Brescia. "You drive down the roads and there's a big jack rabbit, a big hat or a big cup of coffee."
For Pop Century, Arquitectonica expanded on the All Star resort design with what they referred to as "supergraphics" meaning huge words and phrases from the appropriate decade above the parapets to blend with the other icons.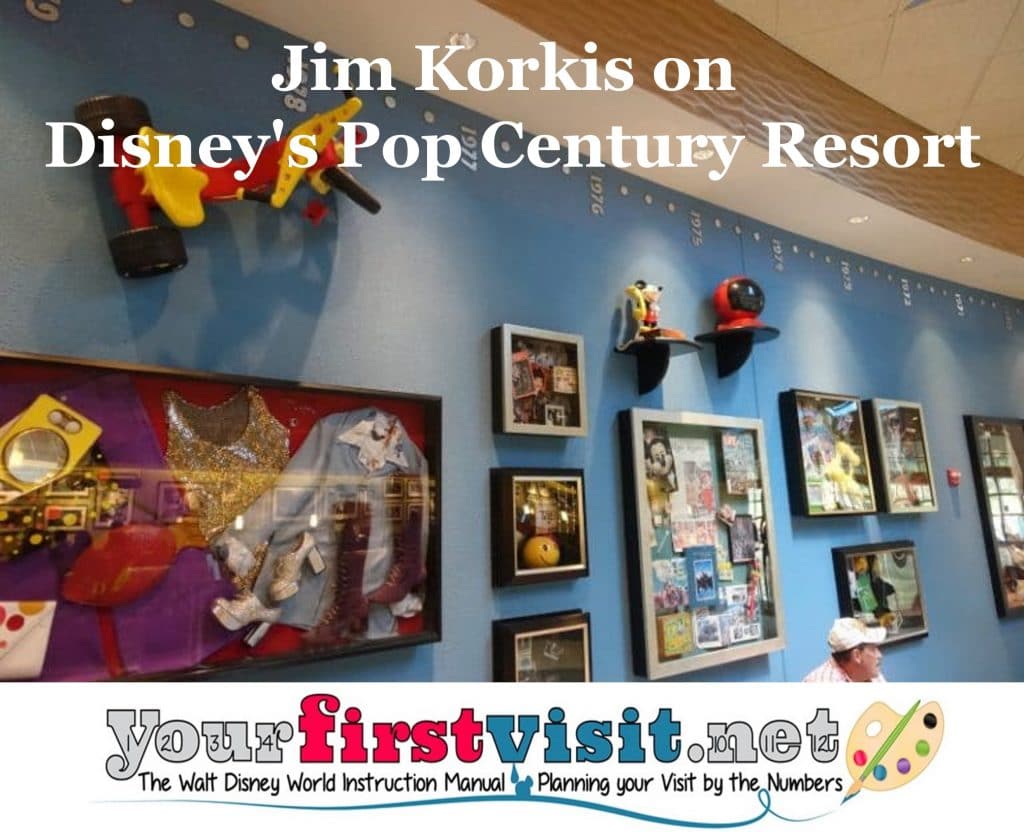 However, for me, my favorite part of Pop Century is in the lobby.
A shadow box is an enclosed square or rectangular display case with a glass cover containing a variety of different objects usually centered on a specific theme. These decorative cases with memorabilia began as a military tradition for someone retiring and filled with badges, pin, flags and more from their service.
The lobby at Pop Century: Classic Years has a wall across from the front desk known as Memory Lane filled with shadow boxes showcasing roughly 750 items commemorating the different decades of the resort.
Jayne Alcorn, Show Production Designer for Walt Disney Imagineering, worked with her team for six months to bid in online auctions and comb flea markets, antique shops, yard sales and vintage clothing stores as far north as Massachusetts and as far west as California to obtain items that would help set the resort's nostalgic tone.
Alcorn said when the resort opened, "We searched for what America was playing with, what it was wearing and eating, what the popular TV shows and movies were, what inventions came out and what families did for vacation. We think Guests will just come in and reminisce on their own. Who could not be moved by all these memories?"
Then Walt Disney World President Al Weiss added, "Because of the popularity of our other value-category resorts – Disney's All-Star Resorts – and the exciting atmosphere created by things like the pop culture icons, shadow boxes and incredible theming, we believe this will be a great addition to our resort inventory."
A 1970s shadow box is dedicated to Walt Disney World with a copies of LOOK and LIFE magazine devoted to the opening of WDW, a page from the Orlando Sentinel of the opening of WDW, the official guidebook, a Mickey Mouse back scratch souvenir, a lunch box, ticket book and more. Nearby is a framed photo from the 1976 Magic Kingdom Bicentennial Parade.
*  *  *  *  *
Thanks, Jim! And for more on Disney's Pop Century Resort, see this.
And come back next Friday for more from Jim Korkis!
In the meantime, check out his books, including his new books Kungaloosh! The Mythic Jungles of Walt Disney World and Hidden Treasures of Walt Disney World Resorts: Histories, Mysteries, and Theming, much of which was first published on this site.

Follow yourfirstvisit.net on Facebook or Twitter or Pinterest!!
RELATED STUFF