Fridays with Jim Korkis: The Walt Disney World Resort Hotel Pools
By Dave Shute
Welcome back to Fridays with Jim Korkis! Jim, the dean of Disney historians, writes about Walt Disney World history every Friday on yourfirstvisit.net.
THE WALT DISNEY WORLD RESORT HOTEL POOLS
By Jim Korkis
Every Walt Disney World resort hotel features at least one large feature pool usually designed for the entire family. Most also have a playground nearby and also a kid's pool or a kid's water play area. Food and drink are usually available nearby, and pool games and other activities are common.
Many of the resorts also offer an additional "quiet" or "leisure" pool or pools that are usually frequented by adults and older children who just want to relax.
Every guest has their own particular favorite pool from the many different varieties available. All the Moderate and Deluxe resorts have water slides, but the Value resorts do not.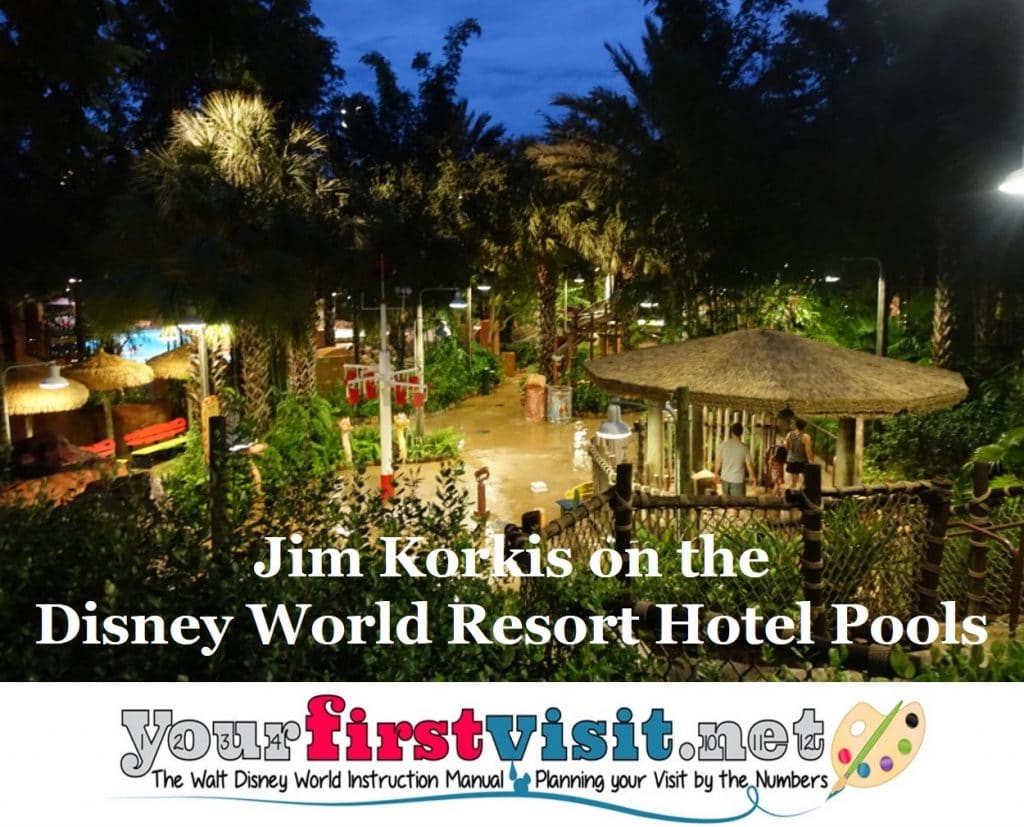 Pool hopping (or the act of visiting pools at hotels you aren't staying in) is, for the most part, not allowed at Walt Disney World. Guests staying at a Disney resort hotel are only able to visit the pools at their hotel with some exceptions for Disney Vacation Club members and for paired resorts such as Port Orleans French Quarter and Port Orleans Riverside.
WDI senior development manager for resorts Tim Warzecha said, "Even our pool areas have their own separate identity and storyline that reinforces the overall story of the hotel. Imagineers are storytellers and the most critical part of our job is coming up with the story and reinforcing it throughout all the details."
For instance, the Samawati Springs pool at Kidani Village at Disney's Animal Kingdom Lodge went through WDI planning to create an elaborate tale for the area before it was built that influenced what colors and design elements would be incorporated.
Warzecha explained the back story, "Here we have a watering hole and an animal observation camp from before the hotel was built and it's now abandoned. Because it's been abandoned, the water tower is falling apart and sprouting leaks which acts as part of our interactive water feature area.
"We also have a windsock area. In order to keep the animals away from the food, we started to hang buckets off of the windsock area. Because it's elevated, as it rains, the buckets spill out to get our Guests wet."
The Wilderness Lodge pool was supposedly created when Georgie MacGregor, an unlucky prospector, brought dynamite to aid in his mining of the area, but ended up blowing up his cabin. The huge crater that remained became the pool when it was filled by the water of the Silver Springs.
Imagineers work with various departments and outside contractors to add a variety of elements including colors, textures and lighting solutions. Careful consideration is placed on providing access for all Guests that resulted in things like dual handrails for pool stairs and aquatic wheelchairs to assist with Guest mobility needs.
Walt Disney World manager of Worldwide Safety and Accessibility Bob Minnick said that guests especially appreciate those pools that have a sloped entry which allows them to walk straight into the pool.
Sometimes known as "zero entry," it means that entering the pool is like at a beach that gently and gradually slopes into the water, becoming deeper with each step.  This provides easier access for children, the elderly, and those with mobility issues.
The pools are cleaned daily as needed. Guests are very interested in what the pools look like since they are not just the icing on the cake for the vacation experience, but considered an important reviving getaway after time in the parks.
The largest single pool at a Walt Disney World resort hotel is the Big Blue Pool at the Art of Animation resort. It holds over 300,000 gallons of water. Uniquely among the pools on property, it features underwater speakers that play music as well as dialogue of some of the characters from the Pixar animated feature film Finding Nemo.
*  *  *  *  *
Thanks, Jim! And come back next Friday for more from Jim Korkis!
In the meantime, check out his books, including his new books Vault of Walt Volume 9: Halloween Edition, and Hidden Treasures of the Disney Cruise Line.

Follow yourfirstvisit.net on Facebook or Twitter or Pinterest!!
RELATED STUFF