A Friday Visit with Jim Korkis DisneyBound by Leslie Kay
By Dave Shute
Welcome back to Fridays with Jim Korkis! Jim, the dean of Disney historians, writes about Walt Disney World history every Friday on yourfirstvisit.net.
YOUR PERSONAL DISNEY LIBRARY (37)
By Jim Korkis
I have been part of Disney fandom for decades and sometimes it is challenging to keep up with everything new that pops up and gathers a following.
When I was growing up, the big hobby was collecting Disney buttons, usually ones that were offered for free at Disneyland connected to special events or anniversaries. Fans traded or bought buttons through newsletters, conventions, on park visits and more. Today, I doubt whether anyone actively collects buttons although I still do when I can.
Let's not forget Disney Beany Babies that sparked violence at Disney Stores and in the surrounding parking lots and was going to be a fan's 401K plan. Or what about limited edition seri-cels that were going to be priceless in the future? In a way, they did become priceless since nobody seems to be able to get a decent price for them today, let alone recovering what it originally cost.
Those Disney fans investing heavily in pins, Vinylmation and Tsum Tsums today should remember that there is no intrinsic monetary value in any of them so the best advice is to collect what you enjoy and can reasonably afford.
I am also old enough to recall when Disney cosplay was born and fans dressed up in elaborate re-creations of Disney characters both human and animal for conventions. As a fan, vendor and guest at many a San Diego Comic Convention over the years, I saw that fascination grow in enthusiasm and improve in craftsmanship.
However, I was surprised when roughly nine years ago, a Disney fan named Leslie Kay asked herself the seemingly harmless question, "What would Rapunzel wear if she were a girl just like me going to the mall?"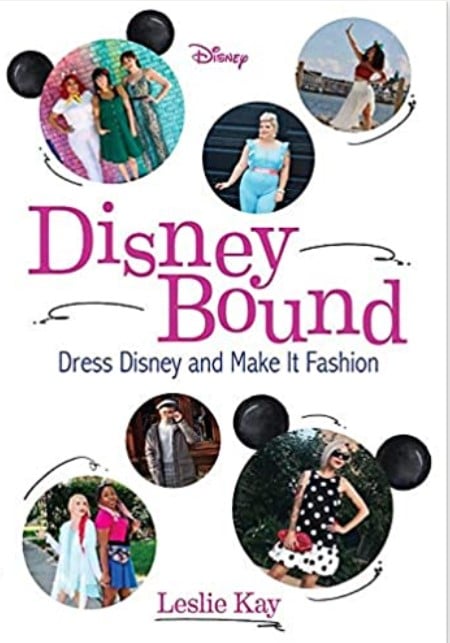 The result was the beginning of Disney Bound, basically an outfit that was not a full costume but was inspired by a particular Disney character and could be created from items in a person's closet or easily purchased at a clothing department. Kay's blog was an inspiration and focal point for many fans, and in her book DisneyBound she helps explain what Disney Bound is and how a reader can become part of this group of Disney fans.
This is the first time in my life that I have ever described a book as "perky", an obvious reflection of the spirit of the author. Interestingly, the book is an official release from Disney Editions and that gives it a seal of approval along with a foreword by Disney authority Jeff Kurtti, who confesses he was as clueless as I was when I first heard about Disney Bound.
Filled with colorful pictures of regular people and their creations, someone complained DisneyBound is just a scrapbook of her many friends, but I don't see that as a flaw because it reinforces the fact that anybody can participate. All it takes is a little imagination and some cleverness, and nothing is more Disney than that. In addition, you can see the great joy on the faces of everyone included.
Besides the helpful "how-to" instructions, including the tip that small accessories can help complete the entire "look", there are chapters devoted to individual characters like Minnie Mouse, Mr. Smee, Mulan and so many more, including a Dole Whip.
As I went through the pages, I was continually impressed with the thought and effort that went behind each outfit. I was also impressed that Disney Bound is also Disney "bonding" as a community that has developed around the concept and rather than being competitive, joy is shared by everyone.
DisneyBound serves as a fascinating documentation of this newer Disney phenomenon and as a wonderful introduction for those people who may be interested in exploring it, or are just a little curious.
*  *  *  *  *
Thanks, Jim! and come back next Friday for more from Jim Korkis!
In the meantime, check out his books, including his two new books,  Vault of Walt Volume 9: Halloween Edition, and Hidden Treasures of the Disney Cruise Line.

Follow yourfirstvisit.net on Facebook or Twitter or Pinterest!!
RELATED STUFF