A Friday Visit with Jim Korkis: Walt Disney World Hacks
By Dave Shute
Welcome back to Fridays with Jim Korkis! Jim, the dean of Disney historians, writes about Walt Disney World history every Friday on yourfirstvisit.net.
YOUR PERSONAL DISNEY LIBRARY (30)
By Jim Korkis
As Walt Disney World re-opens, the experience will be significantly different than it once was. Those of us who have visited WDW multiple times over the decades have learned certain "tricks" of what to do and what not to do that make the time spent there easier and more enjoyable.
Those "tricks" or "hacks" may no longer work immediately, although some things will remain the same and some things will slowly return to the familiar routine over time. When that happens, this book will still remain helpful even though some of the things may not relate to your particular situation.
It has been quite some time since I have accompanied young children into a park so those "hacks" were meaningless to me other than an opportunity to perhaps share them with friends who have children.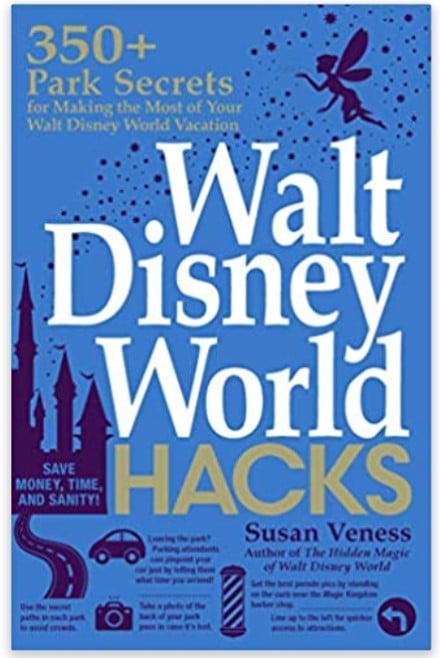 One of the things I especially enjoy about this book is that the "hacks" are not illegal, do not put other guests at a disadvantage, and demonstrate a good deal of common sense. One of the other things I like is that the book is well-organized so that the information is not lost in a clump of text, so it is easy to locate that one thing you may want to find and there is a good index in the back of the book.
While the subtitle of the book claims over 350 "park secrets", there are actually 429 items each divided into short paragraphs and it may be stretching things a bit to consider most of those things "secrets". An advantage is that some of the items are identified specifically for new visitors to the vacation destination and some are identified for the seasoned pro who is the Disney expert for their friends and family.
Despite my supposed expertise, there were things I had not known or never thought about like one way to avoid having your melting Mickey Premium Ice Cream Bar drip down onto your hand or how to get an autograph from Lady and the Tramp. Sometimes I would read an item and just nod my head as it was something I already use which means that it is something that works consistently.
I was especially impressed with the many references throughout the book to the various ways of thanking cast members including the often forgotten custodial staff. As my dad always told me, "Be kind to everyone because you have no idea what they might be going through" and we often forget some of those visible cast members who are so important in making the magic memorable.
The book is the work of Susan Veness, who is described as "an international travel writer, researcher, online content provider, and itinerary planner specializing in Florida, Disney, Orlando's theme parks, and cruising.
"She is the author of four books in The Hidden Magic of Walt Disney World series, and coauthor of The Brit Guide to Orlando. She has been visiting Walt Disney World since it opened in 1971 and with a home just minutes from the Mouse she continues to tour the parks on a regular basis."
For regular readers of Dave's website, many of the items in the book will already be known and probably already used. However, there are enough other "hacks" that may be unknown that make the book a possible purchase. In some cases, it may be a nice reminder of things that have been forgotten to use. If you buy it with adjusted expectations, I think you will enjoy it.
*  *  *  *  *
Thanks, Jim! And come back next Friday for more from Jim Korkis!
In the meantime, check out his books, including his latest, Disney Never Lands, and about planned but unbuilt concepts, and Secret Stories of Walt Disney World: Things You Never You Never Knew
, which reprints much material first written for this site, all published by Theme Park Press.


Follow yourfirstvisit.net on Facebook or Twitter or Pinterest!!
RELATED STUFF